How To Create The Picture Perfect Mid-Century Modern Home Office
A home office is a great way to increase your productivity and reduce your travel cost if your job allows it of course. If you are working something that does not depend on a location, then you probably will be able to bring your work home and be able to take care of it in your home office. Whether you lived through it and loved it the first time around or have only fallen for it during its recent revival, Mid-century modern is a design trend that isn't going anywhere. Retro drink carts, Knoll sofas and Eames lounge chairs have been creeping back into our homes ever since shows like Mad Men graced our screens.
THE RIGHT CHAIR FOR THE PERFECT MID CENTURY MODERN OFFICE
Picking out just the right chair to compliment the incredible desk in your office can be a tricky feat. There's an undeniable flair to the mid-century modern days. A tangible energy that lines the stark vectors and muted colors of living and working spaces. It was definitely a time of change and awakening to new ideas and modern design. Sadly, in today's world of plastic and gimmicky design, something has been lost when it comes to the soul and life of interiors. Most modern spaces have become sterile and lack the warmth of handcrafted furniture; everything seems mass produced and bland. Here is list of office chairs we've put together that could perfectly accompany your mid-century modern chair.
Soft Pad office chair, produced by Herman Miller for Charles Eames.
Midcentury Swivel Office Chair by Giancarlo Piretti for Anonima Castelli, 1970s
Set of two Eames Office Chair Mesh EA117 Aluminum Group Low Back
Executive Tulip armchairs by Eero Saarinen editor Knoll
Vintage chair "Les Arcs" by Charlotte Perriand – Cassina edition – Circa 1960
Herman Miller by Vitra ea216 lounge/lobby chair vintage design
Model 3207 Armchair By Arne Jacobsen For Fritz Hansen, 1999
1930's Bauhaus Cantilever Chair by H.J.Hagemann for Mucke-Melder
Easy chair designed by Eileen Gray "Non Conformist", 1926. Vereinigte Werkstätt…
Chairs by Ettore Sottsass for Olivetti Synthesis, 1971, Set of 2.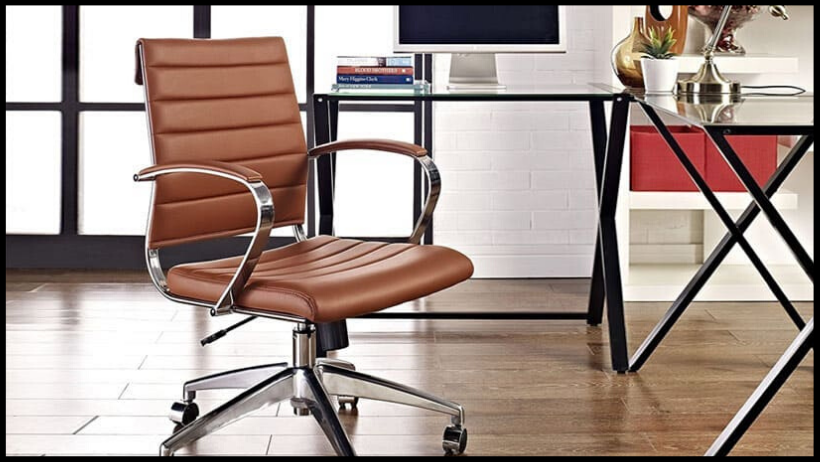 CHOOSE THE RIGHT MID-CENTURY MODERN DESK FOR YOUR OFFICE
If you're trying to strike a balance between modern and functional for your home office, you know what an agonizing challenge it can be, especially when it comes to choosing the right desk. Because lets face it, we want our desk to be useful and practical, but we want it to look great while doing it. To help you out, we've rounded up a collection of the best mid-century home office desks for your workspace. Here is list of office desks we've put together that could perfectly accompany your mid-century modern office.
Jules Wabbes Writing Desk by Bergwood, Belgium, 1969
Olivetti synthesis desk series 45 design Ettore Sottsass 70's
Kai Kristiansen desk in rosewood with aluminium details – Model EP 401 – Denmark…
Italian modernist Spazio desk, 1959.
Pierre Guariche – Office desk model 620 – circa 1960
Rare Desk by Willy Van Der Meeren
Willy Van Der Meeren's office for Tubax
Large Rosewood Executive Desk by Arne Vodder
Rare Extraordinary Bauhaus Chrome Writing Table or Desk 1930s
Midcentury desk with bookcase, Arne Vodder, Denmark, 1960s
Bauhaus steel tube desk, worktop back linoleum
GO FOR CLOSED STORAGE UNITS
When it comes to creating the retro home office of your dreams, storage is key. Once you've decided that mid-century modern cabinets and chests are the right match for your décor, you can begin comparing pieces. Consider what items you need to store and look for chests and cabinets that have the right combination of cabinet doors, open shelves, and drawers to meet your needs. Even if your work is largely paperless, the unavoidable creep of bills, post and archived documents needs to be pre-empted. Here is list of office storage units we've put together that could perfectly accompany your mid-century modern office.
Danish Rosewood Wall Unit by Preben Sørensen for Randers Møbelfabrik, 1960s
Lefèvre Omer Meubelfabriek (O.M.F.) Teak Highboard
Wall Unit by Tjerk Reijenga for Pilastro, 1960s
Italian design bookshelf in bamboo
Midcentury Italian Shelf or Room Divider by BR Italia, circa 1960
1960 Kai kristiansen Teak Chest of Drawers, Denmark
Mid-Century Modern Metal and Smoked Glass Italian Bookcase, 1970
Wall Unit by Louis Van Teeffelen for Vbwebe
Set of four wall shelves by Alvar Aalto
1960 Johannes Andersen Teak Chest of Drawers
Dutch Teak Wood Shelving Free Standing Library system
MidCentury Teak Filing Cabinets from Serota London
Modernist wall unit from 1959 by Erich Stratmann for Idee Möbel
1950s Bookcase, Modular Shelves in Style of Pierre Guariche
MID CENTURY LIGHTING OFFICE SPACE
A great desk lamp makes for an excellent investment piece for your mid-century home office. When choosing lighting, think simple but sculptural. In an otherwise minimalist interior the right light fixture can make a striking statement – the curved silhouette of an arc lamp or a bright anglepoise adds an instant Mid-century feel to a room without going overboard. Here is list of pieces we've put together that could perfectly accompany your mid-century modern office.
Kartell black table lamp for use in the office design studio of the 80's mod. 41…
Iconic industrial desk lamp from Brottby Verkstads AB, Mölnadal. Sweden 1950s
80's 'Wall Street' – style desk lamp with glass disk
1950's Italian Design Sleek Desk Yellow and Brass Table Lamp
1980's Italian Memphis Design Adjustable Ball Shade metal Desk Lamp
Red Industrial Office Lamp By Jan Suchan For Elektrosvit, Czechoslovakia, 1967
Rare Egon Hillebrand desk lamp for Hillebrand
Dark Brown Hala Desk Lamp, 1970s
Meridiana Table Lamp From The 1980's By Stefano Cevoli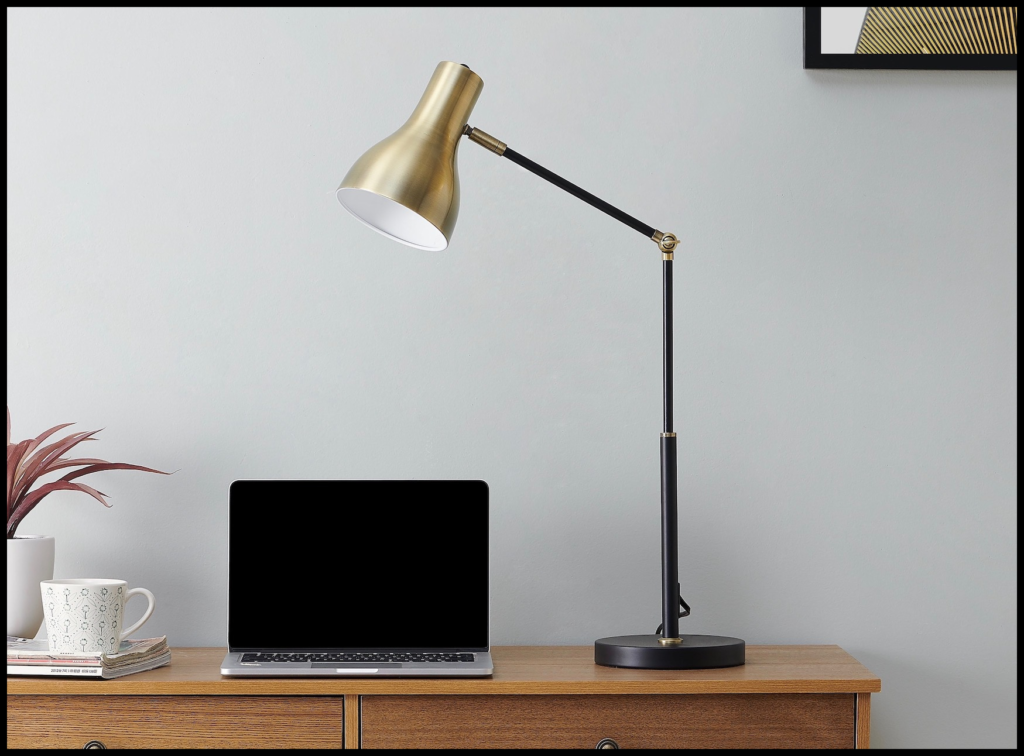 SPICE THINGS UP WITH A NICE ACCESSORY
To complete your mid century modern home office you need a final touch of design with an accessory. For example a unique statue, vase or a piece of timeless wall decoration. Here is list of decoration pieces we've put together that could perfectly accompany your mid-century modern office.
Large Danish Wall Hanging by Hans-Jürgen Schöbel for Södahl Design A/S, 1970s
Steel vintage Wall clock, Olav Joa – Norway 1970s
Bruno Munari – Nella Nebbia di Milano – 1968
1980s Large Neon Sign Downstairs in a Acrylic Showcase
Large Vintage Reversible Wall Chart of the World & Europe
Elegant jumping vintage Copper Deer 1960/70s-Chile
Colorfull glass vase soliflore in the style of Delatte
Scandinavian sea lion by Gunnard Nylund for Rörstrand, 1960s
German Wooden Table Clock from Ruhla Electric, 1970s
Large Midcentury Pragotron Industrial Wooden Wall Clock Type PPH 410, 1980s
Large wall artwork in aluminium & metal – Produced in France – 1970's