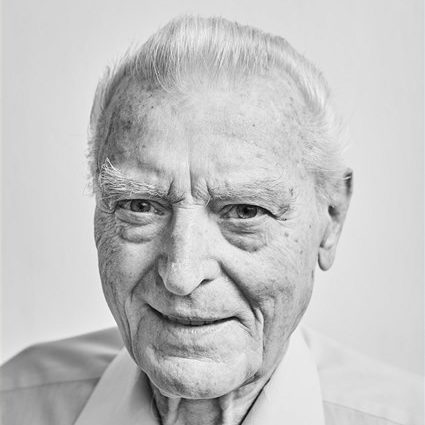 Jiří Jiroutek
Jiří Jiroutek is a Czech furniture and interior designer whose renown culls from his midcentury tenure at Interier Praha, during which he orchestrated the firm's famed U-450 series of modular sideboards—today, perhaps the leading exemplar of Czech "Brussels Style" furniture.
Born sometime around 1912 or 1913 (his specific birth date remains unpublished), Jiroutek spent his adolescence in the provincial Bohemia town of Chrudim, where he attended secondary school. Like seminal Czech industrial designer Jindřich Halabala, Jiroutek completed his professional studies at Prague's Academy of Applied Arts (today, the Academy of Arts, Architecture & Design). In 1951, Jiroutek began his career at the just-born Interier Praha. In contrast to Halabala and the other midcentury Czech modernists, Jiroutek, it seems, never worked for the other prominent national furniture manufacturers like TON, and UP Závody.
On the heels of early successes, Jiroutek became the head of design at Interier Praha in 1958 and soon after began work on the U-450 series. The designs were heavily inspired by the watershed '58 Expo in Brussels, which moved Czech postwar design generally toward "softer" modernism—one characterized by pastel colors, new geometries, and the use of modern materials like engineered composites, glass, and concrete. Jiroutek became know especially for the simple morphologies of oak-veneered sideboards and cabinets with sleekly color-blocked sliding doors and drawers.
Immensely popular, the U-450 series pushed Jiroutek and, subsequently, Interier Praha to focus mainly on the large-scale production of modular furniture. Onward into the 1970s—even after the design-stunting Prague Spring in 1968—Jiroutek continued to add new editions to his already robust oeuvre, contributing opaline glass tables, and armchairs, as well as entire kitchen suites (his KU-550 series) and living room suites (his U-550 series) sets to Interier Praha's catalogue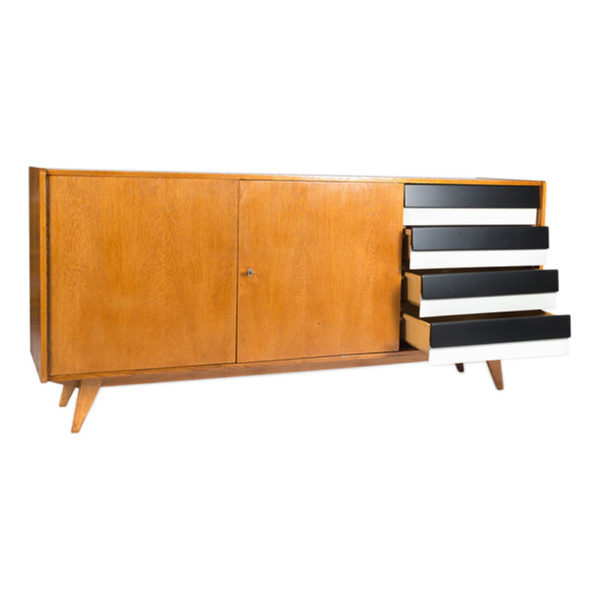 Sideboard U-460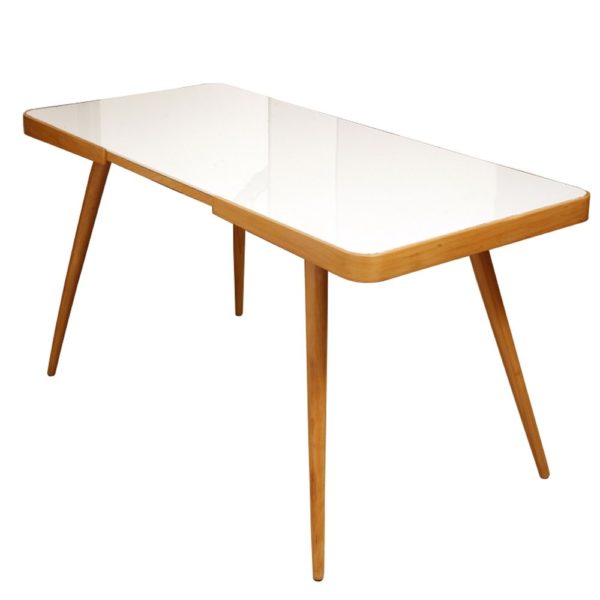 Cofee table (1960)
Cabinet (1960)