Finn Juhl Bwana chair
I've rescued a Finn Juhl Bwana chair from the rat-infested crawlspace in the family home (before the house got sold). I remember this chair well from my childhood in the 60s. I've found a wonderful upholsterer to work with. The chair is in pieces and one important bit has gone missing -- the curved piece of teak at the top of the chair. I don't suppose anyone might have a line on a broken down chair I could get a replacement part for or, barring that, a woodworker/artist that might be able to re-create this missing piece? This chair is a labour of love, and wouldn't be for resale, obviously. Any thoughts or advice welcome!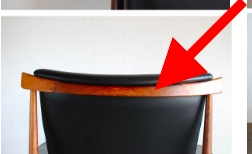 Good luck finding a parts chair. Chances are slim, but you never know.
Based on the top rail shape and construction, it looks like a difficult piece to create from scratch correctly. The cross section is not rectangular, there are zigzag joints at roughly the quarter points, and the curve needs to be exact to have a good fit with the backrest. It's certainly possible to make, but if you don't do it yourself, I could see custom fabrication for that being pricey.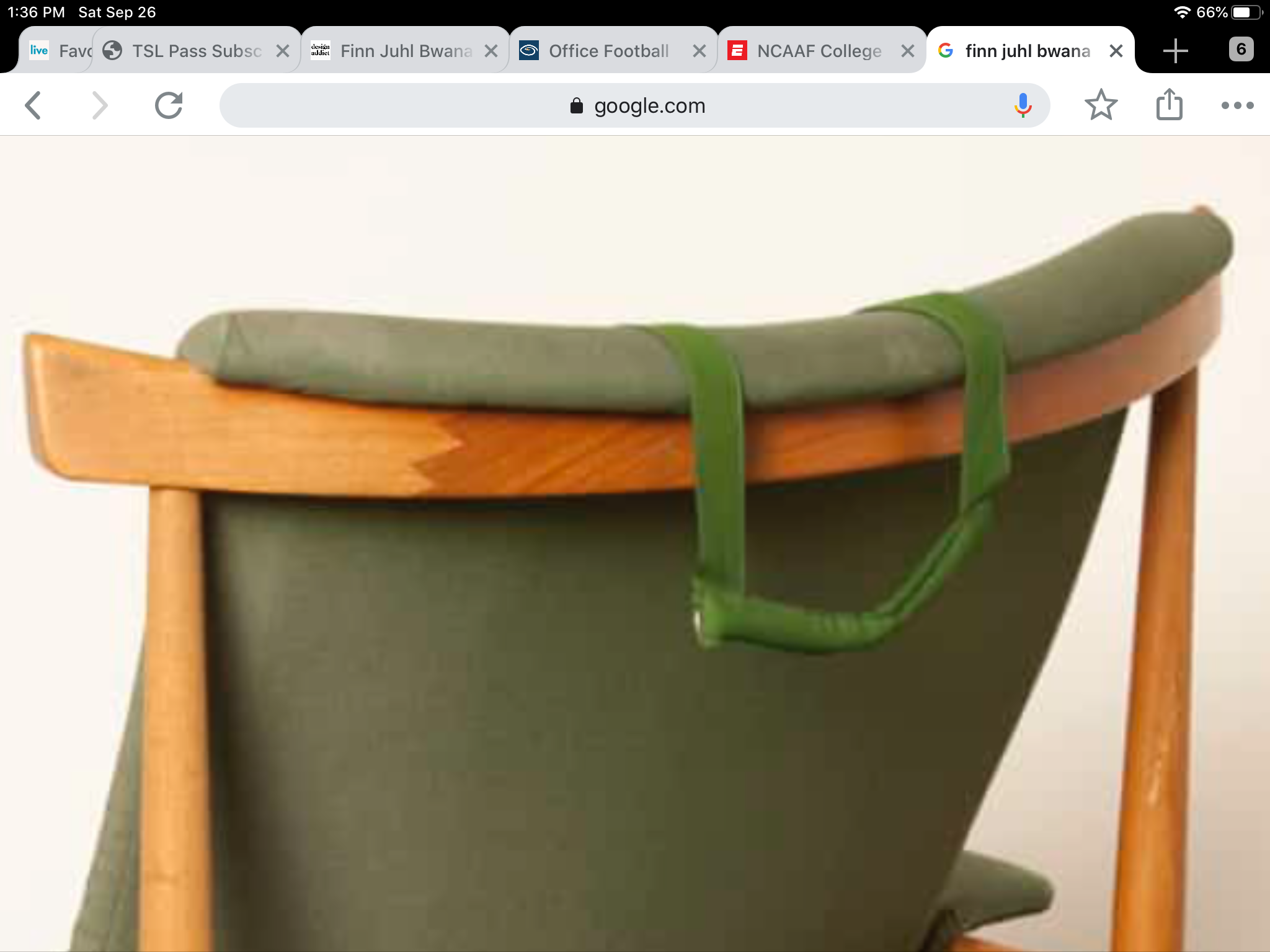 Yes, I'm suspecting that I'll have to lay out some cash. I have a strong memory of the wedge shape of the piece, but thank you for the close up of the toothed join. I'm thinking that someone will need to make some kind of cardboard piece to get the dimensions right first, and then fabricate the actual wooden piece. A work in progress, for sure! But what's the alternative? Throw out the pieces I have? No way! 
Of all the parts to lose! Seems possible that having an accurate reproduction of the crest rail fabricated and competent reupholstering done might add up to a sum flirtatiously close to the price of a vintage teak example in reasonable condition. Of course if it's truly a labor of love then perhaps price isn't a factor. Maybe ask around the higher-end dealers for restorer references.
That's an unusually tricky piece to make from scratch without measured drawings. Less so sans the fancy joinery if you can live without that detail, but still challenging. Great chair to save no doubt. Good luck!
It's maddening that that is the missing piece, isn't it? Honestly. But I do think the investment will be worth it, but it certainly won't be cheap. There are other pieces that I've inherited (including a Grete Jalk chair and matching loveseat), but this one would be the star. I think I can live without the joinery detail, but that wonderful wedge shape and curve need to be exact. 
The zigzag joint isn't there for fun. The curved wedge top rail is solid wood. If the cross section was  instead rectangular, you could use thin teak strips and laminate the curve. But the wedge section would make lamination a lot more visible. With solid wood, a single top rail would require a lot of wastage from a single piece of wood. So joints at roughly the quarter points allows for more efficient production, while avoiding cross grain weak points and mitigating warping. 
without having an existing top rail, I would find this shape very difficult to make accurately. My guess is you would pay a lot of money for the effort, and that effort would not fit properly.
I think the solution is to buy a Bwana chair so you have a proper template for the crest rail. 
@cdsilva, @leif-ericson, It's an interesting mental exercise to help soothe one's anxieties, isn't it? I've told my clients many times over the years, when they ask if they're asking too much, that anything is possible given the necessary resources. That said, I concur with both of your assessments and I'm sure glad any decision regarding the future of  Mr. Doyle's chair is not mine to make.
Thank you all, especially for the insights to the joinery aspects. We have feelers out for Bwana chairs we can look at and have even tried to contact the original makers (this was a France and Sons effort) for specs. It seems that Juhl's widow (or heirs?) have held on to the design specs for this. I'm not giving up, but the idea of simply putting the pieces into storage for years may be my only option. 
You are going to get nowhere with France and Søn or Finn Juhl's widow's foundation.  Both those are a waste of time in this case.  Buy a Bwana chair, so you can get the appropriate template, then sell it when you are done.