The Obsession with Mid-Century Modern design
Today, more than ever, the midcentury modern look is everywhere
Midcentury modern is an architectural, product, interior and graphic design that generally describes mid-20th century developments in modern furniture design, architecture and urban development from roughly 1933 to 1965. Mid-Century modern furniture first showed up in the 1950s and '60s. Midcentury modern was reaffirmed in 1983 by Cara Greenberg in her title of the book, Mid-Century Modern: Furniture of the 1950s celebrating the style that is now recognized by scholars and museums worldwide as a significant design movement. In the 1984 seminal book Mid-Century Modern: Furniture of the 1950s (Harmony Books, Crown Publishers, Inc New York). The author Cara Greenberg gave a term to the style of design, furniture, architecture and accessories that had proliferated since World War II.
Mid-Century has seen streaks of popularity, yet it had a dedicated and consistent following, like ModCom group of Los Angeles Conservancy. With the extreme accuracy and detail, the Mid-Century's design has been reintroduced to devoted fans of the series "Mad Men".
Midcentury modern style has been a growing trend, even though most people don't want to live in a home that looks like a time capsule. Midcentury furniture pieces have been characterized by their clean, simple lines. Wood pieces, that are often made of teak and simply finished to showcase their natural beauty. Mid-Century architecture was frequently employed in residential structures with the goal of bringing modernism into America's post-war suburbs. Many consider Frank Lloyd Wright's principle movement of organic architecture combined with Arts and Crafts as an American jumping point for the aesthetic of Mid-Century Modern.
Mid-Century modern collectibles range from furniture and architectural fixtures to accessories like glassware, lamps, clocks and artwork. The prominent designers of Mid-Century modern furniture include: Harry Bertoia, Arne Jacobsen, Charles and Ray Eames, Isamu Noguchi, , George Nelson, Vernor Panton, Eero Saarinen and Hans Wegner Mid-Century Modern is not synonymous with the Art Deco, Art Nouveau, "deco" or any misused 20th-century design terms. Mid-Century Modern furniture also describes more high style, the designer items from the era rather than unclassifiable kitsch from the same period.
Midcentury modern furniture design has reflected the clean, the houses, with curves, polymorphic and geometric shapes replacing any busy or highly ornamental details. A number of chairs crafted during this timeframe were produced of molded plastic perfect for the busy homemaker as they could be easily wiped clean. Boxy upholstered furniture was popular during this era featured very durable fabrics designed for family wear as well.
How to incorporate The mid-century design trend
Leather details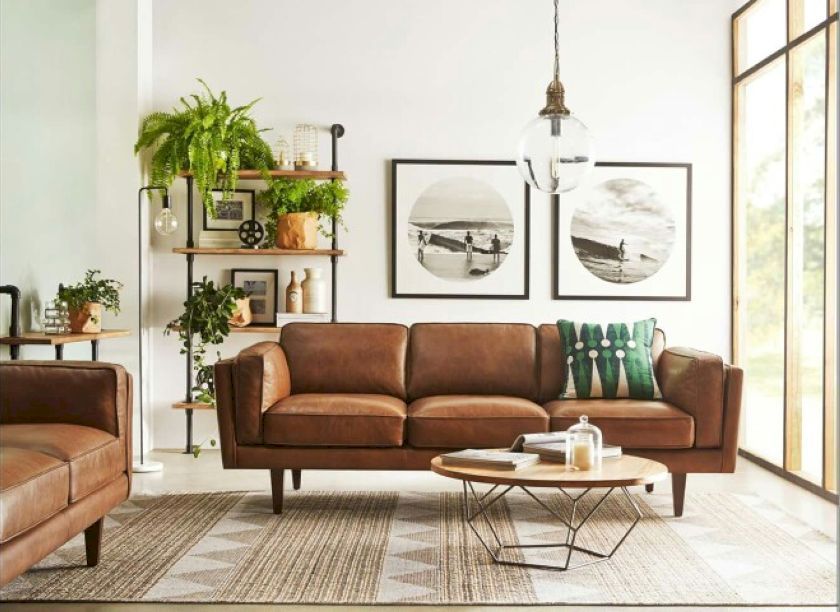 A boxy leather couch may spring to mind when you think of a mid century modern living room, but if you don't plan on changing up your couches anytime soon, leather detail additions to a room can help give it that mid-century feel.
Bold Color 
Colours around this trend range from the kitschy brights of the 1950s to the more sophisticated earthy colours of the early '60s. If you're only incorporating a nod to mid-century, a bold statement of color is a good way to do it, especially on a very common mid-century style, as with the Eames chairs.
Sleek lines
Clean lines and contemporary wood furniture are key to mid century style. 'Sleek' pretty much embodies all things mid-century so keep it in mind when selecting pieces to add to your room.
Symmetry
Throw anything that looks even a bit cluttered out the window. Symmetry, like that created with these lamps and the painting in between, creates a balanced look that keeps things looking clean.
Key pieces
Picking one key piece of furniture and keeping everything else sleek and clean, will allow your one incredible piece to take centre stage and give off that mid-century vibe.
In the Design Addict catalogue you will find everything you need to give your interior that modern mid-century feel.