You are probably familiar with the surprising imitation of nature that is organic design. It appeared in the 1950s, based on an architectural concept introduced by the work of the American architect Frank Lloyd Wright.
Organic design is concerned with the harmony between the habitat, the environment and the individual, and focuses in particular on the integration of architecture into its natural environment. For organic design, rounded forms are in the spotlight.
---
The main founders of organic design
___
Arne Jacobsen
How can we talk about organic design without mentioning Arne Jacobsen, one of its precursors. Danish architect and designer, best known for his furniture, he is part of the Scandinavian functionalist movement. He is the author of the famous Egg and Swan armchairs, the Ant chair and the famous 7TM series.
He favours natural materials and soft, comfortable lines for his work.

---
Alvar Aalto
He was a major influence on post-war designers such as the Eames couple. Together with Arne Jacobsen, he helped to affirm the potential and resonance of Scandinavian design.
With its flowing, nature-like forms, the Savoy vase became Aalto's classic. Meaning "wave" in Finnish, it was developed in 1936.
---
Eero Saarinen
Architect, designer, and son of architect Eliel Saarinen, he is one of the main architects to popularize Scandinavian organic design in the United States. In 1941, he collaborated with Eames and participated in the Museum of Modern Art competition where they won the prize in the chair design category with the famous Organic Chair, which has become an icon of the organic style and is now published by Vitra. With its ample and supple forms allowing for comfortable seating, it completely defines the organic style.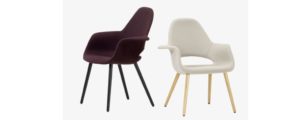 ---
Charles and Ray Eames
Charles and Ray Eames were also icons of organic furniture design. He was more technical, she more creative. And thanks to their complementary work, this has brought them success, especially since their entries for the Museum of Modern Art's "Organic Design for Home Furnishings" competition.
Using new materials and industrial production methods, the couple's ambition was to create high-quality, affordable everyday objects. Eames came up with a remarkable piece of furniture in 1956: the Lounge Chair.
But, The Chair is without a doubt the icon of organic design par excellence. Created in 1948 and very modern, this CE94 chair is still relevant today.
Organic design can nowadays be called Scandinavian design as it has the main features of organic design, and has been very much linked to this style since its birth in the 50s