Kintsugi, the art of sublimating objects
When something breaks and you decide to accept it as a change and choose to build something new from the broken pieces. You are revaluing what's been broken and also recycling. In Japan they have been doing this for hundreds of years and they call it Kintsugi. It's a real alternative philosophy to throwing away, in which objects are sublimated instead of discarded.
© Marcantonio.it/design/kintsugi-seletti
A little history about Kintsugi
Originally, Kintsugi consisted of repairing broken porcelain objects with gold. In this way the history of the object was highlighted and value was added.
The legend comes from the 15th century, when the porcelain used in Japan came from China and was also repaired there. The Kintsugi was born out of the disappointment of Shogun Ashikaga Yoshimasa when he received his favorite bowl repaired for the tea ceremony. He asked his craftsmen to remove the metal staples and find a more functional and aesthetic solution. With this request, he gets to love his new and revalued tea ceremony bowl again.
© Célin Santini, "Kintsugi, the Art of resilience"
Transformation towards the sublime
Shogun Ashikaga Yoshimasa, rescues the beloved object by creating a new one from it.
The old object, broken, far from disappearing, becomes the basis of a new one, different and more valuable. All this comes from the new care, the contribution of creativity and more noble materials, following the tradition of this Kintsugi discipline.
With this method and philosophy, even a simple dry leaf becomes a unique piece of craftsmanship.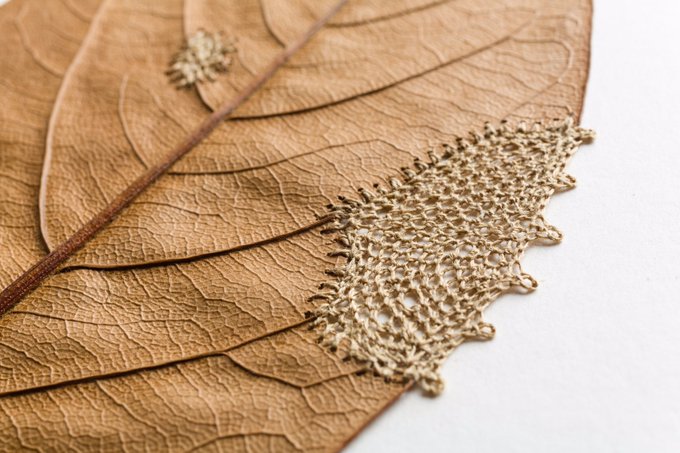 © Susanna_Bauer
Sublimate furniture with Kintsugi
Restore, highlighting the breakage with almost opposite materials. In this case we see the play of materials between the artificial and the natural, the translucent, transparent and opaque:
© tatianefreitas.com
© Anna ter Haar www.annaterhaar.nl
Renovate to adapt to new likes, taking advantage of structures:
© charlottekingsnorth.com
Revalue with more noble and natural materials or by joining several damaged objects:

© Chairs Kenya – Chair armchair stool.  © Courtesy Nilufar Galery, Milano und Martino Gamper, London; Foto: Åbäk
Claiming the right to break
It is not by chance that the term Kintsugi is used in psychology as a symbol and metaphor of resilience. What Kintsugi states in conclusion is:
Claiming the breakage as part of the life cycle and not to discard it. 
To value the richness of the potential of what is broken and damaged so as not to turn it into garbage. 
To accept the breakage as a sign and an opportunity of change and the beginning of a new different and more valuable cycle. 

© streetsofsalem.com
What do you think now about Kintsugi? Any idea about fixing with resilience to inspire all of us?
If you want to know more about this topic, take a look at Célin Santini's book "Kintsugi, the Art of resilience".