Urban Furniture Company - Sweden - need info.
Hi:
About 2 months ago I started a thread trying to ID my bedroom low boy dresser. (See photos below and related link below) There were lots of guesses - most here seemed to think it was American and had echos of Broyhill Brasilia and other such models. I was able to confirm it was made by the "Urban Furniture Co." of Sweden.
But haven't had much luck finding out much about this company so was hoping maybe someone here would have some information. Urban had at least one well known designer working for them - Joseph Hinn. The pieces I've found by Hinn for Urban are incredibly beautiful. Unfortunately about the only info. I can find about Urban is as a result of it being mentioned in passing with Hinn's designs.
I can't find any other details so far, except on some Swedish websites which just confuse me further. Google translate does a shit job in swedish to english. But Urban furniture seems to have been or is related to some Swedish design institute.
So does anybody here, ESP our European posters, know anything about Urban furniture? One of the problems trying to do research online is the word "Urban" brings up so many unrelated results - to wanna be hip stores, to hip hop sites, to blogs and govt programs. It was one of the reasons it took me so long to confirm my dresser was actually made by Urban - trying to verify the company ever existed was half the battle.
Any help or info would be greatly appreciated.
(btw the white paint on my dresser in the photo is not original - it was originally all that one color of wood you see on the handles and top. Luckily the paint isn't oil based and I can easily take the piece back to it's original look if it's ever needed. But as long as it's in my bedroom the white contrast stays)
http://www.designaddict.com/design_addict/forums/index.cfm/fuseaction/thread_show_one/thread_id/13311/

Anyone?
Come on, I know someone on here must have at least heard of Urban furniture co. The Hinn pieces made by Urban go for 5 and 6 figures so there's at least some dealers here who would know about Hinn, and maybe via default more could be found out about urban. Please? Anyone? Bueller, Bueller.....

Urban Furniture was my family's company in midtown Manhattan from the late 1940's until 1959.  My Grandpa Michael Labriola started the business and my dad Frank, my Uncle Lou, and Aunt Eleanor shared in the day-to-day duties.  This was a small custom design furniture manufacturing and upholstering shop with a busy sales showroom  across the street from The United Nations compound on the lower east side.  Supposedly we were the first to represent and import William Hinn's incredible furniture.  Open the drawer on any piece and look for a metal badge with the words "Urban Suburban NY".
Interesting, good to know.  Do you have an archive of old brochures and catalogs that you could share?  Thanks.
I don't know if it is related but probably two companies using the same name.  I used to have a double sided sideboard with open shelving on top and it was also called Urban Suburban, designed by Merton Gershun and made by American of Martinsville.
Yes, thanks indeed for that info, and welcome to the forum. We bought one of the long dressers a couple of years ago. I had not previously realized that Urban was not the manufacturer of the William Hinn pieces, but rather the importer. I would also be interested in seeing catalogs of Urban. The two pieces of vintage references that I have previously come across are an ad and a 1955 newspaper article. I had not previously mapped the NYC address in the ad, but sure enough, it was right next to the U.N.
I went down a bit of a rabbit hole on William Hinn and Edmond Spence last night and thought I'd share what I found in terms of markings.  I looked at many of the Hinn "Swedish Guild" pieces and none I saw had an Urban Furniture metal badge.  It looks like they all had ink stamps on the back or underside of "Made in Sweden - Factory No 24" as shown in first photo.  I did see a couple of dressers that had tags of New York furniture retailers, such as Daniel Jones and A.H. Stiehl.  From the labels shown in photo 3, it appears that Urban imported these pieces and then sold them to furniture retailers like Daniel Jones and Stiehl Furniture.
And it looks like Urban also distributed Spence's designs made in Sweden, which had similar ink stamps, though different factory numbers (photo 4) .  This could explain how the Hinn pieces were misattributed to Spence, who was better known in the US.  
 According to Esoteric Survey, Edmond J. Spence (1911-1986) was born in Montreal but set up a design firm in New York City in the 1940's and by the early 1950's was very successful.  Swedish industrialist, Wolfgang Thomas, hired his firm to design an extensive line that was produced in 17 Swedish factories for the American market. 
I could not find any info on Hinn other than a couple of entries saying he was Swedish.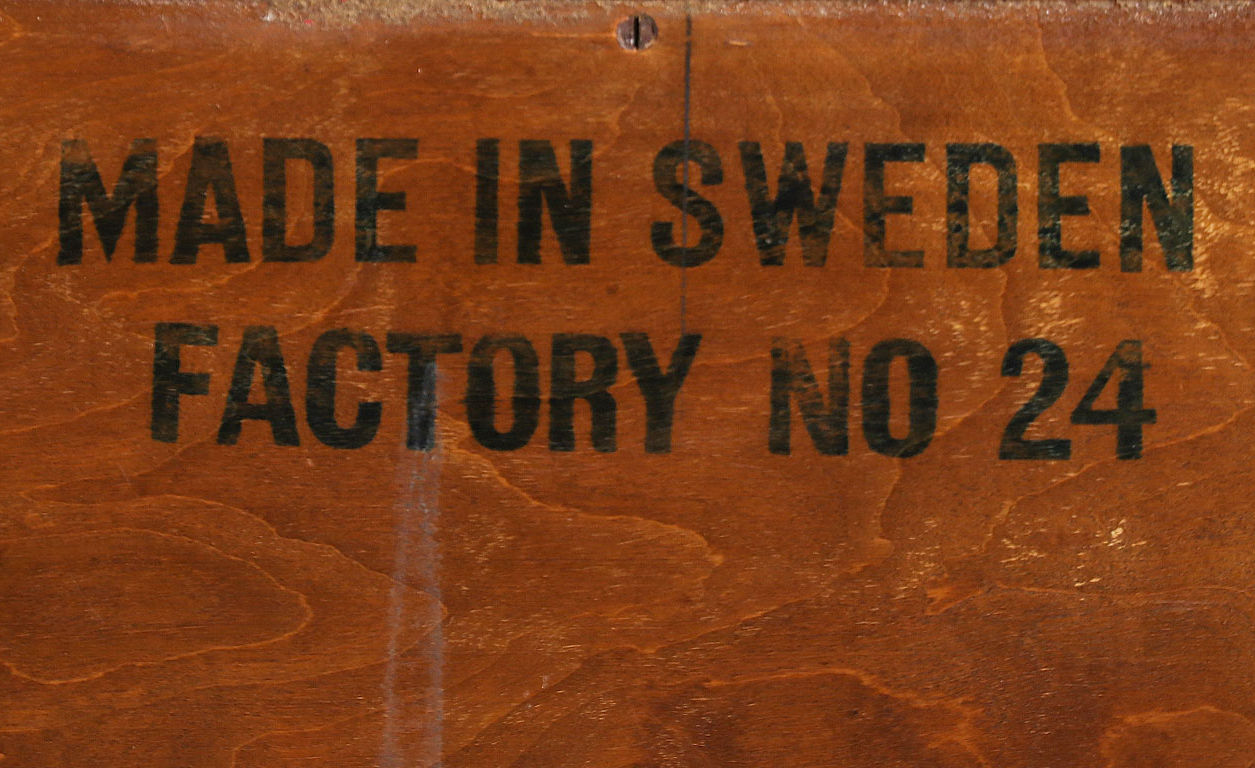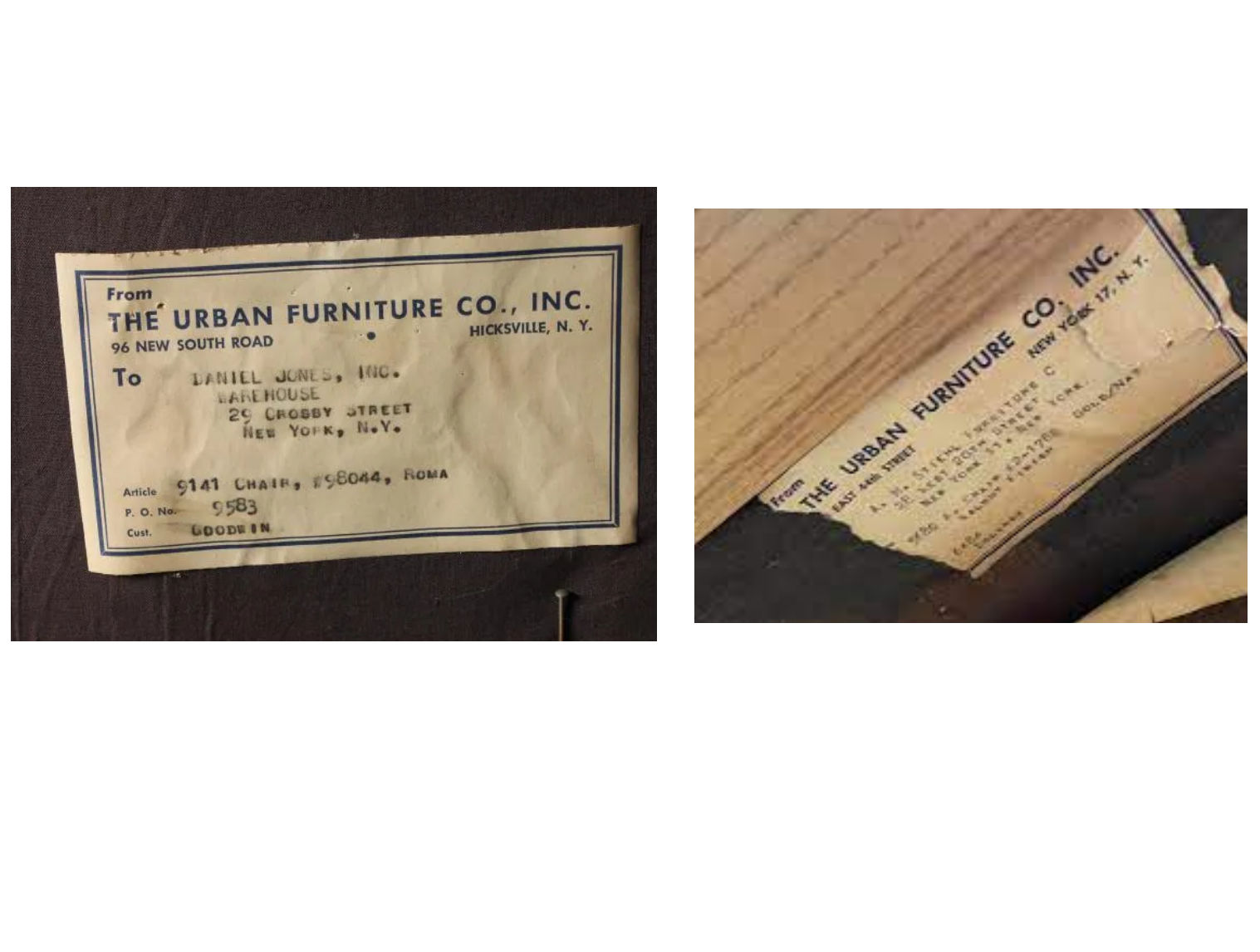 @mark737. Nice research. I looked into Hinn pieces in 2019 when comparing them with Jorgen Claus ,Brande Mobelfabrik chests of drawers, which are very similar. Saved images of marks from two  Hinn drawer sets. Factory 14 and Factory 24. As you say , just ink stamps.
Knowledge shared is Knowledge gained
Thanks for sharing this article.  Makes sense that he was American - William Hinn isn't a very Swedish name.  And it's interesting that he, like Spence, designed for Swedish and Mexican makers.   And, of course, was good to learn he was married to a pretty brunette named Thelma.  Here are a few other pieces attributed to him for White.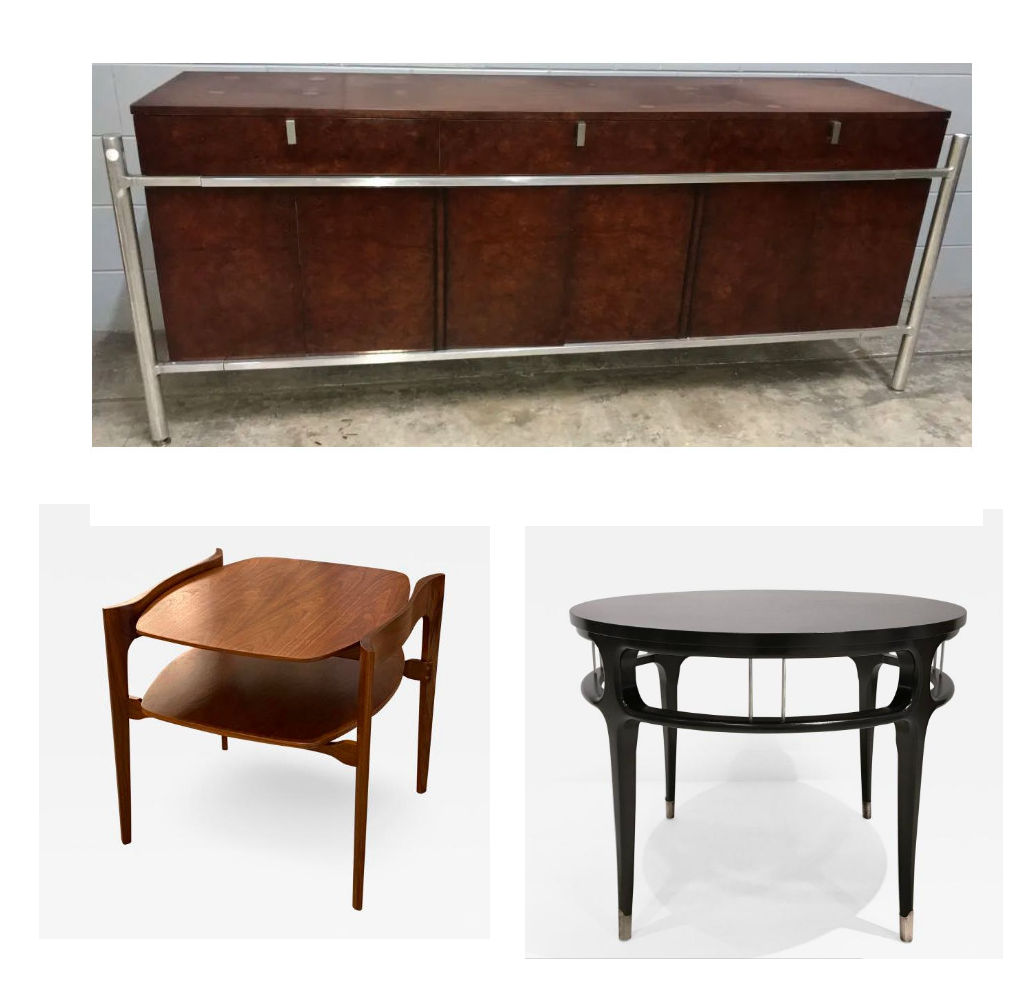 Im a dealer here in Sweden and I can say with almost 100% certainty that these pieces of furniture ever was sold here in Sweden.
They must have been produced here for the American market exclusively, they have never showed up in the second hand market as far as I know.
One little clue is in the Urban ad above which mentions that they had an office in Stockholm, so most likely there was a connection to some manufacturers here.
Aren't the Hinn pieces also made of walnut?
That is a very rare wood here that almost never was used for furniture in Sweden, but maybe was specified by Urban?
That's interesting to learn Edmund Spence was born in Montreal.
I have some bedroom pieces that were produced by Quebec furniture maker Gibbard which look distinctly like other pieces credited to Spence.
Supposedly they were designed by Wesley Griffith of Gibbard but I've never been able to find primary source evidence.