Nice new old seat
@brumbrum. I have found a few chairs like yours and  the sellers say  "in the manner of Erich Dieckmann". ( no labels or marks shown).
Your chairs could be described as Bauhaus style, and  inspired by "rustic" chairs  designs.
Knowledge shared is Knowledge gained
@brumbrum. On further searching, the name Vroom & Dreesmann pops up a lot. V&D were a chain of stores in the Netherlands. They sold furniture by designers/manufacturers from other countries, but also made their own furniture. Your chair might be an "in-house" design inspired by chairs from the Bauhaus movement which might explain why none of the examples, I have found on the web, have a stamp or label.
@wesemael mentioned this company in a previous thread on the Forum so maybe wesemael can find further information, such as newspaper articles or adverts (as they were so helpful with regard to Bovenkamp adverts in the Madsen and Schubell thread. 😊 )
Knowledge shared is Knowledge gained
@lexi i have seen this or similar chair also mentioned as V&D also by trustworthy sources and i think it is I searched a lot but could  not find  a catalogue or advert or folder of V&D with this chair You also find it quite frequent on german ebay
a similar chair  has however the same construction wich  can be proven V&D  cataristic are celulose(cheap) laquer, the seating is put into the framer an then screwed so not a intergral part as with the real Dieckman and also how the back is formed is quite cataristic  foor the V&D
3 foto's 1 the similar chair very likely V&D 2 the proven V&D 3 the proof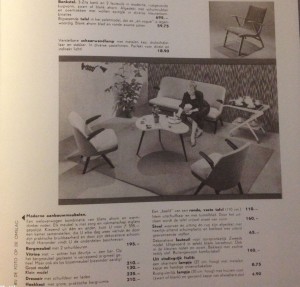 @wesemael. Thank you for the information. I also found some of those adverts you posted. As you say they do appear quite often for sale in Germany and also France..
Knowledge shared is Knowledge gained
@lexi i never found the producer but it must be large given the amount you see and find in the Netherlands and Germany And the one with the back as shown are quite certainly V&D
the last two "adds" you probably saw are pages from a book "tegendraads modern"(modern against the stream?)discussing design (movement) and culture in the 50/60's  
@wesemael. Yes the last 2 are the ones I found but not on that site. They were posted by a seller who had the 2nd chair you posted. That seller most likely got the images from that site ?
Knowledge shared is Knowledge gained
@lexi the last two are from a book  "tegendraads modern"  these pictures are quit often used by dealers   
they or found the book them self or just copied/pasted  from dealer like Z-tijl or bebob