Brussels Design Market 2020
Since its creation in 2002, the Brussels Design Market has evolved into the "largest design market in Europe" and quickly became a must-attend on the international vintage design circuit.
Maintaining its unique flea market atmosphere, the Brussels Design Market has continued to grow attracting more visitors each year, and developed as a true gathering and exchange platform.
Dealers, collectors, interior designers and design enthusiasts uncover the most outstanding pieces for their collections, projects or new homes!
Over the years, the variety of merchandise has greatly increased. Alongside anonymous and exclusive design pieces at affordable prices, the Brussels Design Market hosts exhibitors from all over Europe. The dealers present an eclectic collection, bringing together multiple styles and trends that have impacted the 20th century. Visitors can discover original, iconic design pieces from Italy, France, the United States and Scandinavia created by the biggest names in design history such as Sottsass, Le Corbusier, Eames, or Jacobsen and Panton.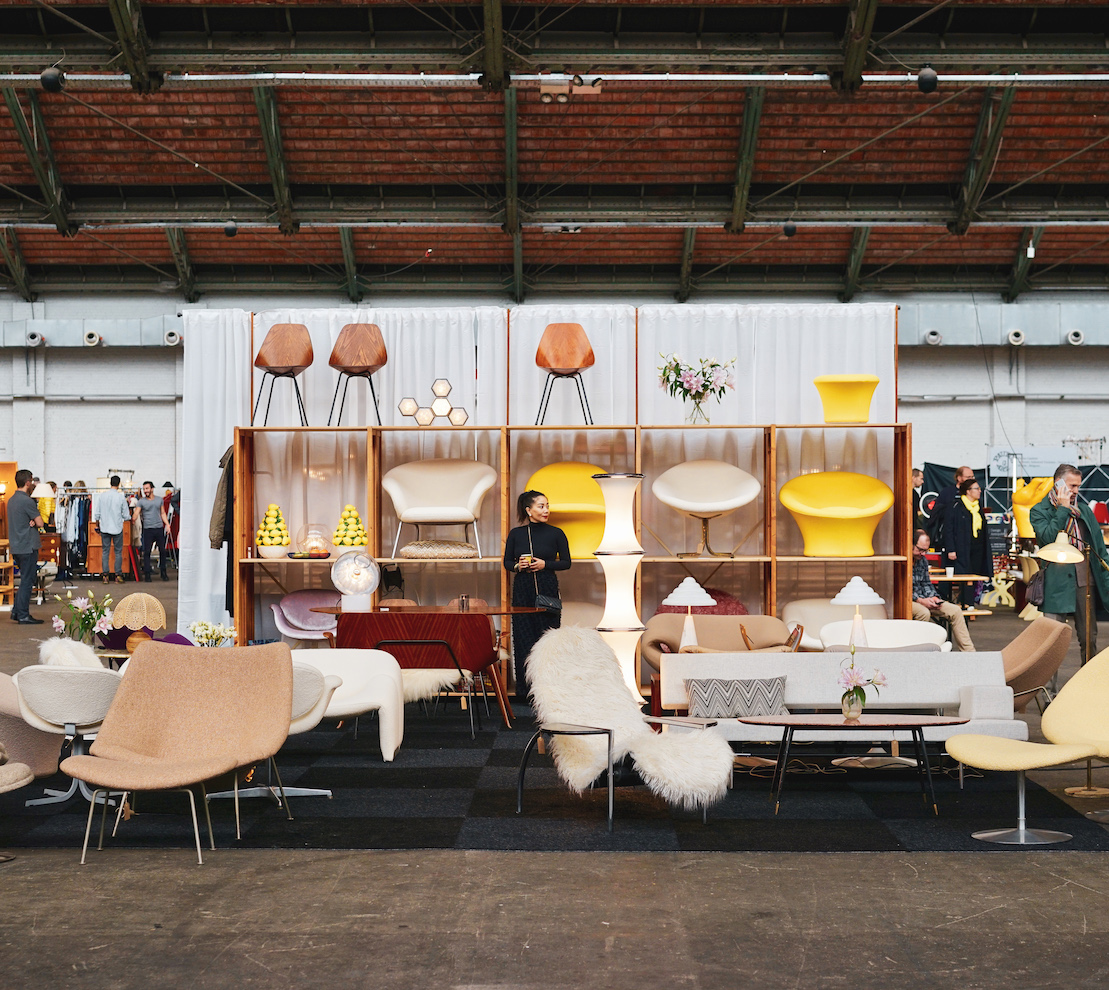 The Brussels Design Market organises thematic exhibitions highlighting the works of interior designers, designers and collectors that marked their era and continue to influence today's designs.
This spring, the Brussels Design Market will present a special exhibition dedicated to the inflatable furniture created by visionary designer Quasar Khanh.
On this occasion, rare pieces form the original stock will be showcased !
Benoît Ramognino, mid-century art dealer and owner of the Velvet galerie, will present the collection "Aerospace", the first line of inflatable furniture ever designed, as well as the first concept car in history, the "Quasar Unipower".
Quasar Khanh is part of the small circle of designers who marked the 20th century.
His most emblematic achievement "Aerospace", alone embodies the design renewal spirit of the 1960s to 1970s: a breath of fresh air freeing itself from historical and cultural references to propose an alternative world imbued with great utopia.
Beyond its innovative design, it is also a symbol of the civil engineer's atypical career. He never stopped making his wildest inventions a reality whether it be in fashion, furniture, cars, cities and even flying saucers.
Although little known by the general public, he remains a reference for a whole generation of creators and free electrons.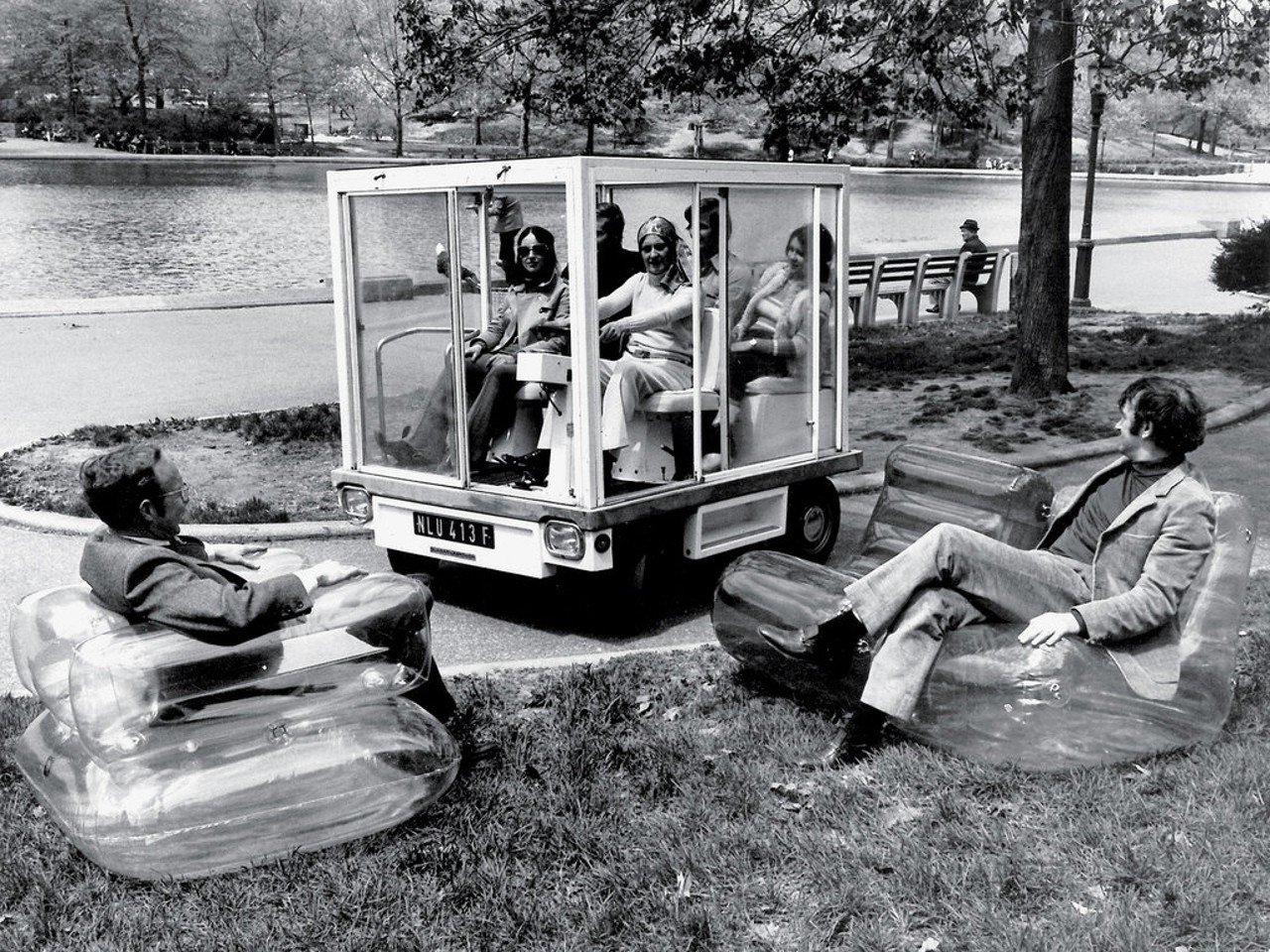 Quasar Khanh, whose real name is Nguyen Manh Qhanh, was born in 1934 in Hanoi, Vietnam. He arrived in Paris with his family in 1949 and graduated as an engineer from the prestigious Ecole des Ponts et Chaussées.
In 1957, he married a young fashion designer. Both of them will mark their era and form an avant-garde, creative and media couple. This extraordinary meeting of two great creative talents will mark a major turning point in their lives: he will be "Quasar" (a shining star billions of light years away) alongside the woman who will become the famous Emmanuelle Khanh. In those years, she will develop women's ready-to-wear collections and the famous eponymous eyewear brand.
Quasar Khahn devoted herself to all fields of creation. Sometimes described as the "inventor of branded ready-to-wear" for his men's fashion collections, Quasar Khanh was above all interested in a single themewhich he never ceased to explore: transparency.
Working on the design of a dam, he studied the deformations exerted by heavy materials such as lead and mercury.
The toxicity of mercury led him to think of a new material that could exert a higher pressure than lead. After several experiments, he turned to air, and more specifically, compressed air. From this scientific discovery was born Quasar Khanh's interest in the alliance of opposites, massiveness and lightness.
The Aerospace Collection 1968
Khanh then designed the first range of inflatable furniture, the "Aerospace" collection, which immediately became a design reference. In 1968, he designed the "Quasar Unipower" car foreshadowing the city car in the form of a rolling glass cube meant to be mass-produced. Although only six models were ever produced, it remains a landmark of its time due to its innovative and futuristic appearance.
"Aerospace": revolutionary transparency
Trained as an engineer, Quasar Khanh discovered the amazing properties of plastic once it becomes a container for compressed air. He then decided to design, in 1967, a line of inflatable furniture which was produced by a factory in Montreuil the following year. As its title suggests, the collection "Aerospace", was inspired by the conquest of space in the sixties, and is composed of several models among which the Chesterfield sofa, the Relax chaise longue, the Saturn, Venus, Pluto, Apollo and Mars armchairs, the Neptune seat, the Satellite pouffe, as well as a variety of lamps, footstools, and foam sofas.
Made of translucent and coloured polyvinyl chloride, a totally new material at the time, these inflatable pieces of furniture are entirely assembled by hand and some, by means of metal rings. The aerodynamic shapes of "Aerospace", whose massiveness contrasts with their lightness, quickly became symbols of pop culture and were exhibited at the Museum of Decorative Arts and at the Milan Triennial in 1969.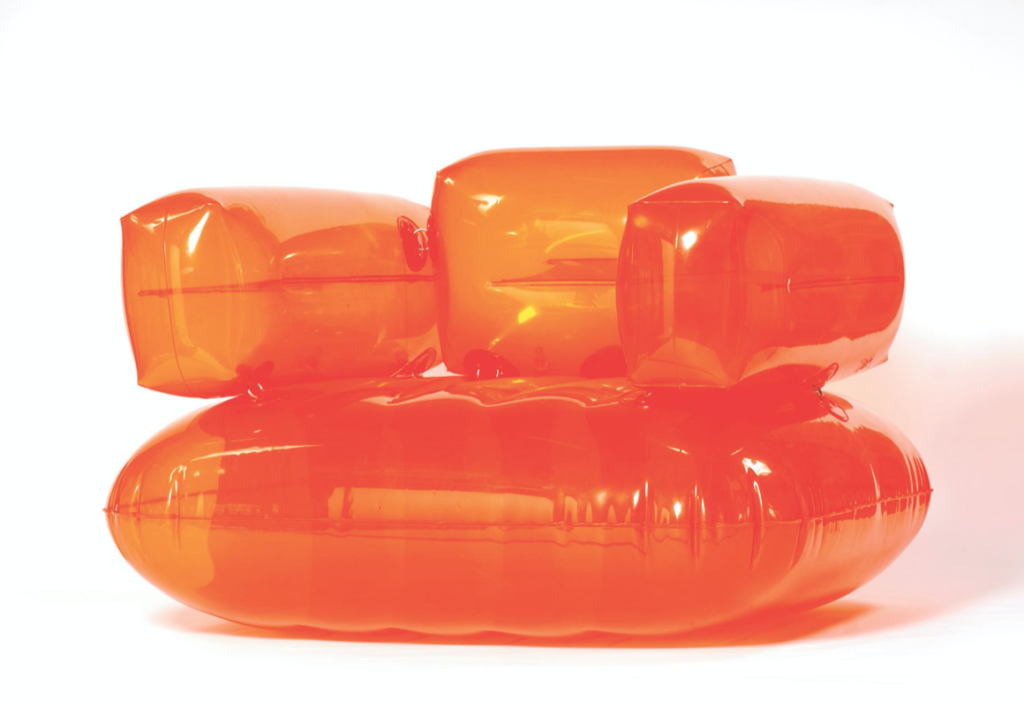 The event takes place the weekend of March 14-15, 2020, in the Sheds of the Tour & Taxis in Brussels they are the ideal place for a quality fair dedicated to 20th century design. Built in the beginning of the 20th century, the building is part of the city's architectural heritage.