An inheritance can sometimes upset a well-laid-out life.
This is what the Franco-Belgian photographer Serge Anton felt when he received this family house built 100 years ago by his great-grandfather. Located on the eastern edge of Sedan, in the heart of the French Ardennes, his ancestor named it "Mon Désir", as evidenced by an inscription on the façade.
At first," confides Serge Anton, "I wasn't particularly inspired by this name, but then I found that it had its full relevance. The important thing in life is to have desires. After 30 years of traveling around the world, I realized that this house embodied a desire, a strong desire of my own. That of settling down and returning to my roots."
This small house from the last century, with its simple and pure silhouette, is only 65 square meters on the ground. Its classic plan, composed of small and narrow rooms, corresponded to a way of life of another time. Serge Anton, a photographer with a passion for architecture and design, chose to supervise the layout and decoration.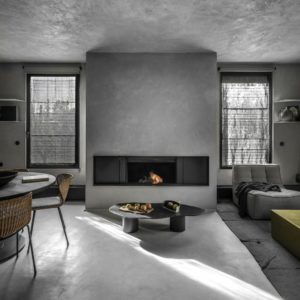 "When I took possession of the house, imagining it in a different way was a difficult exercise," he explains. I sat on a stool for long hours to understand the place and grasp its potential. "
After a long process of reflection, he decided to knock down the non-load-bearing walls and create large, barely partitioned volumes where cooking, entertaining and lazing around would flow seamlessly.
 "Optimizing every nook and cranny and imagining an intelligent circulation that makes daily life comfortable was my leitmotif. "
The other strong idea of this construction site is to open the house as much as possible on the wooded garden of almost 1000 square meters with a poetic view on the lake of Sedan. The old windows with small panes are replaced by glass openings that drain the outside light. From room to room, the surrounding landscape is framed. Fascinated by natural materials, Serge entrusted the firm L'Ocrier with the task of covering the walls with hydraulic lime and the floor with a micro-concrete – a composite material mixing lime, marble powder, cement and quartz – both in a warm gray color.
Contemporary furniture with clean lines completes the decor: walnut stools and armchairs from Ethnicraft, Feelgood Design chairs, a round table from Heerenhuis…
In the same spirit," adds Serge Anton, "I designed thin metal shelves coated with micro-concrete to create niches that go all around the room. These niches house unusual objects, dishes and lamps found during trips or selected at Atmosphère d'Ailleurs. The side benches also contribute to lighten the space and accentuate the feeling of depth.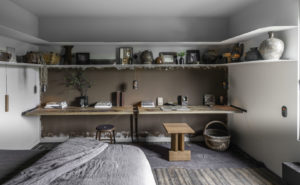 Upstairs, the three bedrooms have a chromatic identity inspired by the surrounding nature: earth brown, nature green and deep sky blue. Each room also has a desk and storage shelves in wood and metal designed by the design firm Dirk Cousaert and drawn in collaboration with the owner.
 Sensitive to the wabi-sabi way of life," he concludes, "I have a predilection for raw materials, whose intrinsic beauty lies precisely in their imperfection or rusticity. From the erosion are born forms and textures with a timeless elegance ".
"My Desire" responds to this quest: a setting conducive to quietude and in osmosis with nature or, as Shakespeare so aptly put it in his play "As You Like It," to "that existence sheltered from the public rush that reveals voices in the trees, books in the flowing streams, lessons in the stones, the good in everything. "