20th century French rugs: from Art Nouveau to contemporary creations
France shines as much by its creativity and know-how as by the attraction it exerts on artists from all over the world. Through the major periods explored: Art Nouveau, Art Deco, neoclassicism, artist rugs, contemporary creations, models and achievements of major names in the carpet are presented.
This article is inspired by Françoise Siriex's book tracing the history of the carpets from the Art-Deco and the Modernistic periods created in Europe and especially in France from the beginning of the 20th century until nowadays, incorporating most of the classic and contemporary artists.
Organised chronologically, Françoise Siriex's book reviews the different trends in carpet production that flourished during the 20th century. It reviews Art Nouveau, with artists such as Paul Follot or Gustave Fayet, Art Deco, carried – among others – by Maurice Dufrêne, Édouard Benedictus, or Jacques-Émile Ruhlmann, the neo-classical style (Paule Leleu, Eugène Printz, etc.) and the various post-war trends, with artists as different as Sonia Delaunay, Eileen Gray, Fernand Léger, Guy de Rougemont, Pierre Paulin, Camille Henrot and Matali Crasset. The book also opens up perspectives on the carpets of the 21st century.
Art Nouveau from 1900 to 1920
Paul FOLLOT & MAISON COUPÉ – Circa 1920
 Gustave FAYET, circa 1920
Art Décoratif from 1920 to 1930
Maurice DUFRENE (1876-1955) – Circa 1920-1925
Edouard BENEDICTUS – 1924
Neoclassical from 1930 to 1945
Paule Leleu – rectangular rug with geometrical pattern, circa 1950
Eugène Printz – circa 1930
Postwar: the Renewal
Rug « Pierrot Lunaire » by Sonia DELAUNAY – Circa 1980
Sonia Delaunay's rugs are made of wool. They are inspired by the artist's geometric designs, tribal motifs and music (the Pierrot Lunaire carpet, 1980, could echo Arnold Schönberg's eponymous piece).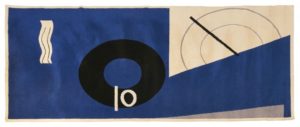 Eileen Gray. The Blue Marine rug is part of a series of rugs designed by Eileen Gray in the 1920's and 1930's for various interior projects.
Fernand Leger – a wool rug, circa 1930
Contemporary creation
Pierre PAULIN  Tapis-siège, 1980
Knotted wool carpet and corners in plywood and melamine.
François-Xavier Lalanne – mouton rug, wool – circa 1982
Camille Henrot – Circa 2010
This work is a carpet with patterns of Navajo appearance, containing the silhouettes of iconic monuments of modernist and contemporary architecture (Villa Savoye, Empire State Building, tours Petronas, Grande Arche de La Défense). The carpet, for Le Corbusier, is the most elementary form of architecture – the basis of nomadic settlement and a primordial form of mobile architecture.
A contemporary Belgian designer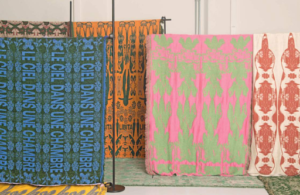 Les Monseigneurs is the artistic alias of Thomas Renwart (°1995). He graduated in 2019 at LUCA School of Arts, Ghent gaining his masters in Textiles. His work is continuous meeting point between craftsmanship and poetic/visual depictions of A Horticultural Society. He makes the drawings of his tapestries starting from his herbarium of pressed flowers and found butterflies, which he translates into various worlds and textile adaptions, presented as unique works of art. A close knit relationship with Belgian and Dutch textiles manufacturers and a research of weaving, embroidery and quilting belong to his portfolio. He has his studio at NUCLEO, where he's building a Daffodil garden to continue to work on the ever growing herbarium and works as a guest lecturer at LUCA School of Arts in Textiles.