The Most Alluring Art Nouveau Buildings Around the World
Art Nouveau may go by many different names, but its look is unmistakable. Also known as Jugendstil, Stile Floreale, and Sezessionstil, the decorative arts-and-architecture movement flourished in Europe throughout the late 18th and early 19th centuries. Architects such as Hector Guimard and Antoni Gaudí became famous for their expressive, organic-inspired designs, which commonly featured colorful flourishes and detailed iron- and glass work. The interiors of Art Nouveau buildings were as ornate as their exteriors, and were decorated using exquisite materials, custom furnishings, and hand-painted wall treatments. Filled with romantic flair, the style emphasized craftsmanship over the industrialization that was occurring at the time. From Latvia to Scotland, gorgeous examples of Art Nouveau architecture can still be found around the world. Take a tour of these architectural wonders.
Casa Batlló, Barcelona
Antoni Gaudí brought his exuberant take on Art Nouveau to Barcelona, creating many of the city's architectural landmarks. Casa Batlló, situated on the Passeig de Gràcia, is one of his best-known works and features allusions to the legend of St. George and the Dragon. Its exterior is sheathed in colourful pieces of broken ceramics, while the roof is covered in scalelike tiles. You can see that Gaudí, like most Art Nouveau artists, was inspired by nature: there are few straight lines, the building seems to 'move' like sea waves. The house was redesigned by Antoni Gaudí in 1904 for Josep Batlló I Casanovas.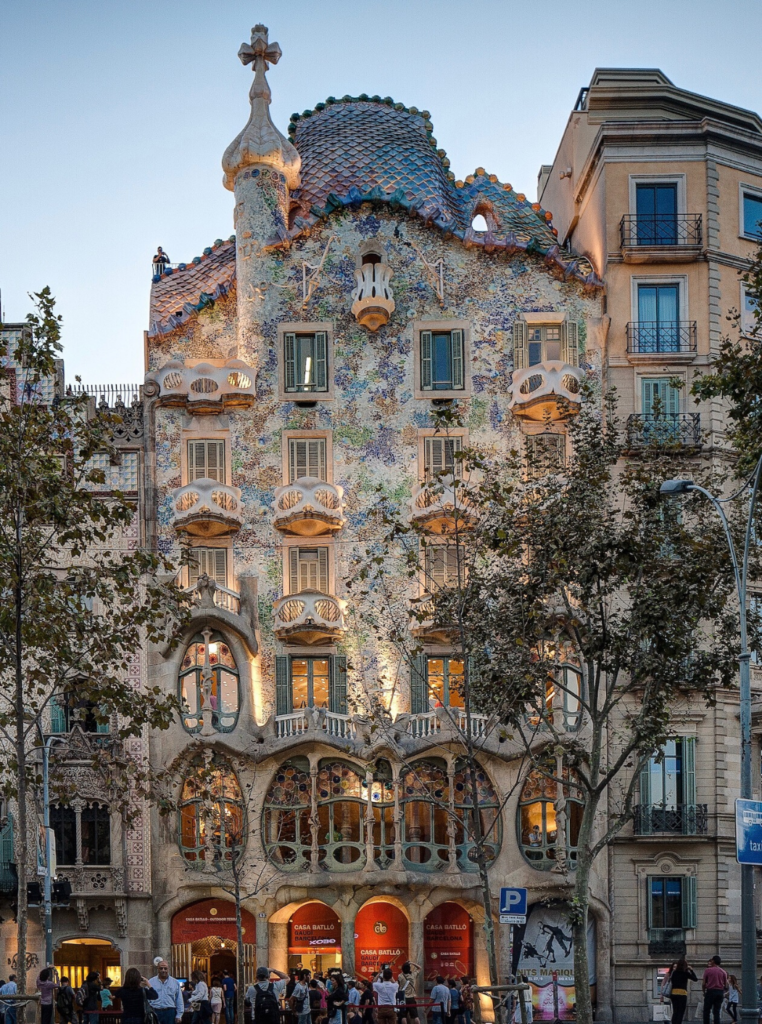 The Old England Building, Brussels
Designed by architect Paul Saintenoy, the Old England building was constructed in 1899 and is considered one of Brussels's Art Nouveau gems. The former department store now houses the Museum of Musical Instruments a celebration of music in all its forms, as well as a repository for more than 2000 historic instruments.
Majolikahaus, Vienna
Architect Otto Wagner was a key figure in the reinvention of Vienna at the turn of the 20th century. One of his most beloved works is the Majolikahaus apartment building, which was completed in 1898 and is decorated with vibrant floral motifs. In Vienna this was referred to as the Secession style, with the same connotations of Art Nouveau but in a more specific context of their country.
Glasgow School of Art, Scotland
One of Scottish architect Charles Rennie Mackintosh's most important buildings was the Glasgow School of Art. Mackintosh blended Art Nouveau and traditional Scottish influences for the building, which was completed in two phases. The second phase included the iconic library and was finished in 1910. This incredible school withstood two fires in the last decade and is still standing to this day.
The Secession Building, Vienna
Designed by architect Joseph Maria Olbrich, the white cubic building was constructed as an exhibition hall for the artists and designers of the Secessionist movement. The structure, which opened in 1898, is topped with a distinctive dome of gilt wrought-iron laurel leaves. Secession refers to the seceding of a group of rebel artists from the long-established fine art institution.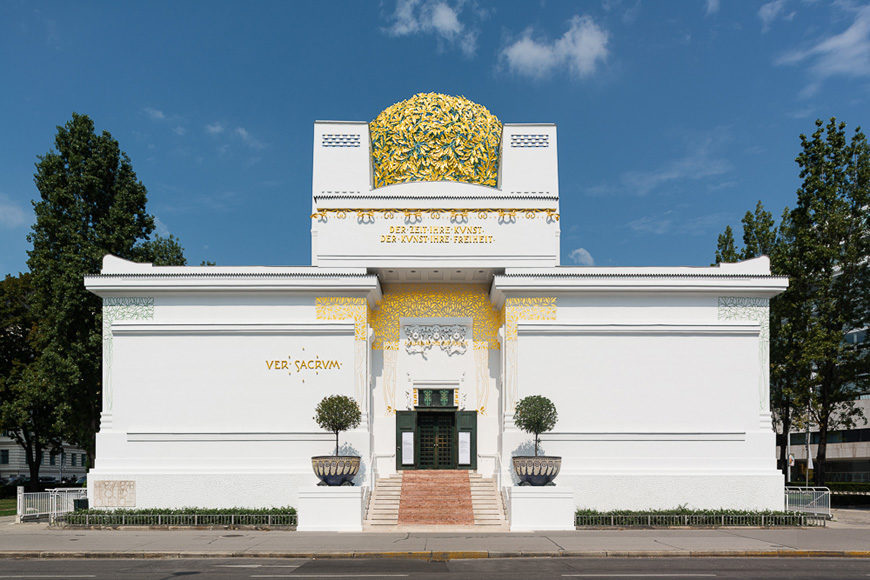 Agoudas Hakehilos Synagogue, Paris
The Synagogue set in Paris rue Pavée intrigues. You can't walk by it without noticing the undulations of its Art Nouveau façade. Have you ever been in Le Marais wondering what's this curious Art Nouveau building is in rue Pavée? I bet you'll never guess but it's the Agoudas Hakehilos Synagogue also known as the Synagogue de la Rue Pavée. It's the one and only Art Nouveau building in Le Marais. Built in the heart of the Jewish neighborhood in 1913 at the instigation of the Russian-Polish association Agoudas Hakehilos, the Agoudas Hakehilos Synagogue is the work of architect Hector Guimardmaster in the Art Nouveau movement. And the least we can say is that this façade is intriguing. Undulating, it gives a weird impression of height to the building despite the fact the latter is stuck between two buildings. The many and narrow windows and the vegetal patterns contribute to the originality of the Agoudas Hakehilos Synagogue.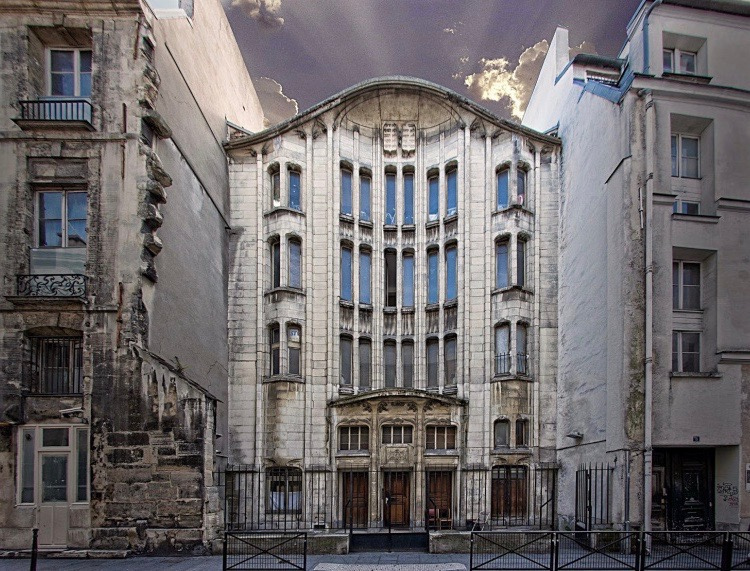 Albert Street, Riga
The Latvian city of Riga is celebrated for its astonishing amount of Art Nouveau buildings. One of its most prolific designers was Russian-born Mikhail Osipovich Eisenstein, who devised a number of these structures, including many of the highly ornamented apartment buildings on Albert Street. It was built in 1901 and named after Bishop Albert, who founded Riga in 1201.
Jugend, Finland
Finns are widely known for their stoic nature, so it may be a bit surprising that Helsinki is a top address for seeing playful Art Nouveau architecture. Indeed, the style is much more restrained than in other parts of Europe, but it is Art Nouveau nonetheless. In Finland, Art Nouveau is known as Jugend and can be found in both, works of civil engineering as well as residential buildings.