The Glorious Thirty: a new era in furniture design
From 1945 – 1975 furniture design underwent a big shift from tradition to a desire for freedom and practicality. 
This period referred as Les Trente Glorieuses (The Glorious Thirty) between the end of World War II and the oil crisis is marked as a time of economic growth and well-fare. With support of the Marshallplan, France was able to recover from the war and experienced a consumer boom in the 50s and 60s.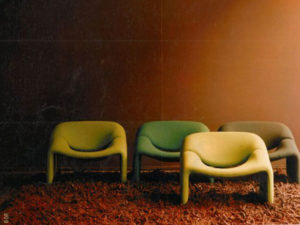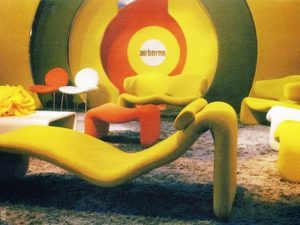 The needs of the consumer changed, tradition had to make place for practicality. Designers began to experiment with new materials, technologies, shapes and colors.  Wood was used less as a material and was replaced with plastic and other materials such as formica, plywood, aluminum, and steel became more popular. This also led to a switch to mass production and lowered the price of furniture.
Companies such as Roche Bobois, Ligne Roset, Airborne and Prisunic let designers to make fun creations. This enabled the designers to experiment with unusual shapes and bright colors. 
Also the architectural landscape changed, flats were smaller so there was a desire for functionality and decent storage. 
Examples of pioneers in this new design era were Pierre Guariche, Joseph André Motte, Charlotte Perriand, Jean Prouvé, Marcel Gascoin, Marc Held, Roger Tallon, Olivier Mourgue.
© images: DR from MaxiTendance