Contemporary Design Market 2020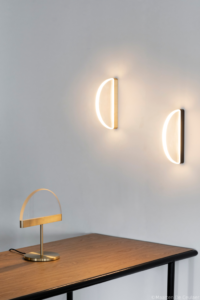 The Contemporary Design Market is a special presentation and sales moment of well-known Belgian based designers and upcoming talents in a variety of different design disciplines with diversified materials.
Join this unique market to discover, meet and buy Belgian design. Professionals, collectors, advisors, (interior) architects and design lovers are invited to discover a curated selection of the contemporary design scene.
Carefully selected by a committee of design experts, designers will showcase their last creations during a weekend long event.
For the second year, an area of Brussels Design Market will be dedicated exclusively to contemporary design!
Brussels Design September, Flanders DC and Wallonie Design are proud to present the second edition of the Contemporary Design Market, powered by Ik Koop Belgisch/J'achète Belge (I Buy Belgian).
Our guest of honour for this year's edition is Brussels based designer Maarten De Ceulaer. You can find more info on Design Addict by following this link.
Also two young guests of honour will be showcased in this year's fair: Axelle Vertommen and Les Monseigneurs.
Axelle Vertommen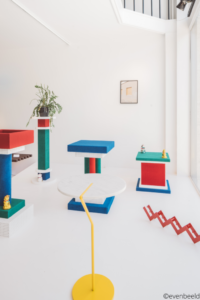 One of our showcases on the Contemporary Design Market is the young and talented designer Axelle Vertommen. After her studies in interior architecture and furniture design, Axelle started working as freelance designer. She is currently freelance furniture designer at dries otten and freelance interior architect at studio haver. Under her own brand Axelle Vertommen designs interiors and objects, with a focus on detailing and contrasting. She gets inspired by daily objects and extraordinary architecture from modernism and postmodernism.
Axelle approaches existing objects from a different perspective without losing sight of the practicality. The base of Axelle's designs is functionality as well as aesthetics. Axelle Vertommen designed scratching posts that are not only practical but are also added value to an interior. Another example is a bed she designed; the head board consists of colorful, reversible pillows that are simple, functional and eyecatching. She tries to find unexpected combinations of materials and colors that form a perfect balance in her designs.
In July 2018 Axelle Vertommen opened a temporary design store for one month in the center of Antwerp called VENSTER (window). On a weekly basis the shop window highlighted a new designer or collective. Axelle wanted to showcase young and talented Belgian designers through her store. The designers were: Dialect, LABT, Dries Otten and VORMEN. The final shop window showcased Axelle's most recent pieces of design.
The store was only open for a month and showed several young, talented, Belgian designers of which I think deserve more attention. By launching this platform she also wanted to lower the threshold that you do not have to be a design connoisseur to (window)shop at VENSTER.
When growing up Axelle visited museums, architecture and design stores with her family. Her affinity for design has always been a part of her; this could explain her innovative approach on practicality and aesthetics.
Les Monseigneurs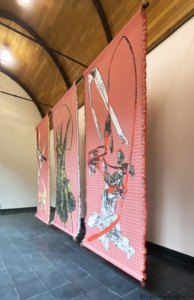 Thomas Renwart is graduated a textile designer from LUCA School of Arts, Ghent. He launched the artistic practice Les Monseigneurs that was first part of a collective with graphic designer Victor Verhelst but in June 2020 Thomas moved solo as Les Monseigneurs and is represented by Bruthausgallery.
He considers the practice as a Horticultural Society where other artists, designers and thinkers interact with textiles and graphic interventions within the canvas of a woven object as a medium. Craftmanship, technology and digital transformations are the base of this often collaborative practice. The objects are woven together with Belgian weaving mills.
But due the COVID-19 pandemic, felt the need to return to the essentials of technique and material. For his tapestry forms he had to work without weaving mills due to the lockdown and shifted his focus on embroidery and quilting.
Thomas Renwart forms his visual identity and language by applying layers on a canvas, he merges tapestry weaving and applied interventions together that is an ongoing research. Les Monseigneurs is also inspired floral researches: he started a big herbarium with flowers from his mother's garden, words, analogue to digital transitions, scanning, collecting and surface interventions belonging to his daily work.
WHERE & WHEN :
SATURDAY 26 SEPTEMBER 2020 – 9AM > 6PM
SUNDAY 27 SEPTEMBER 2020 – 9AM > 6:30PM
TOUR & TAXIS
Avenue du port 86c
1000 Brussels