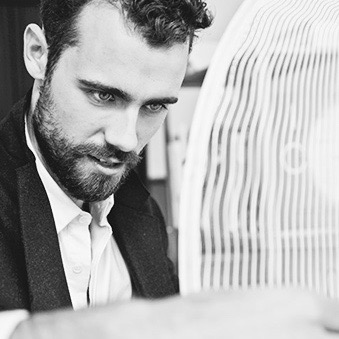 Meijer Arnout
Designer Arnout Meijer was born in Rotterdam in 1988. He attended the Technical University Delft from 2006 to 2008 before going on to study at Design Academy Eindhoven; he graduated from the latter in 2012 with a Bachelor's degree.
In 2011, he interned at Studio Richard Hutten in Rotterdam. Meijer established his eponymous studio, also in Rotterdam, in 2012. In 2014, he relocated to Amsterdam.Meijer's commissioned and self-initiated projects range from public sculpture, architectural interventions, and interiors to video and product design.
His work is characterized by ongoing explorations of perception and light. As the designer tells us, "The way we perceive the world around us defines the reality we live in. Undeniably our most dominant perceptive sense is our vision, which depends entirely on the presence of light."Notable projects to date include the sculptural light series Thanks for the Sun (2013, the designer's graduation project), Thanks for the Planets (2014), and Thanks for the Sky (2015), all of which feature color-changing LEDS that emit a range of warm and cool light. With the aforementioned, a user can alter a space's atmosphere by changing the lamp's chromatic tones. Additionally, in 2014, Meijer worked for Studio Richard Hutten on the interior of the Gemeentemuseum Den Haag, the contemporary art museum in The Hague, the Netherlands.  Meijer's 2016 One Point Perspective lighting series for the Brussels-based Victor Hunt gallery also stands out, featuring lamps that encapsulate light shapes that shift depending on the observer's position in space.Meijer's work has been included in several exhibitions, including presentations at Musee des Arts Decoratifs, Moscow Biënnale, PAD Paris, Salone del Mobile Milan, Villa Noailles, Het Nieuwe Instituut, and Art/Design Basel among others.
To date, his work has also been featured in publications such as Frame Magazine, The New York Times Magazine, Architectural Digest Germany, Wallpaper, and Wired