Refinishing Anderstrup 88 (aka Erik Buch 89) teak chair to look like walnut?
Hi all, I just discovered this wonderful forum and after reading a few posts about the subject chairs, thought I'd jump right in with my particular questions. So I just got these four Anderstrup 88/Erik Buch 89 chairs (I see there are conflicting opinions on the name) - these particular ones have a Scandinavia Woodworks/Made in Singapore label. I will be moving in less than two weeks and the intent is to combine them with a round Article walnut table at the new apartment. Putting the whole upholstery/padding issue aside for a moment, I am wondering if it would be worth trying to refinish the wood on the chairs to make them look more like walnut and better match the table. The mismatch is not offensive per se, but the slightly reddish/orange tone of the chairs with the warmer brown hue of the table is just noticeable enough.
Needless to say, I will be gutting the chairs down to the wood anyway, not just because of the previous owner's extra foam and floral fabric, but also because they smell musty. I wonder if that's all in the padding or also the wood. The condition of the wood itself looks ok to me besides some scratches and stains, but it could probably use some love. My question is, would it be worth trying to refinish the wood to make it look darker? How would one go about this? I am an architect and also have some experience making rectilinear plywood furniture, but have never really dealt with furniture restoration, curvy things, or color matching. Would the old finish need to be stripped with chemicals and/or sanded? I'm not a fan of chemicals and also worry about shaving off too much with a power sander.. Is there an easier way with just steel wool and oils etc? I will need to decide if I'm going to try to tackle this while I still have access to my garage workshop before the move. Will leave the upholstery for later. Any thoughts appreciated.
P.S. Couldn't figure out how to add more than one photo right now, so just chose the one that best shows the color difference.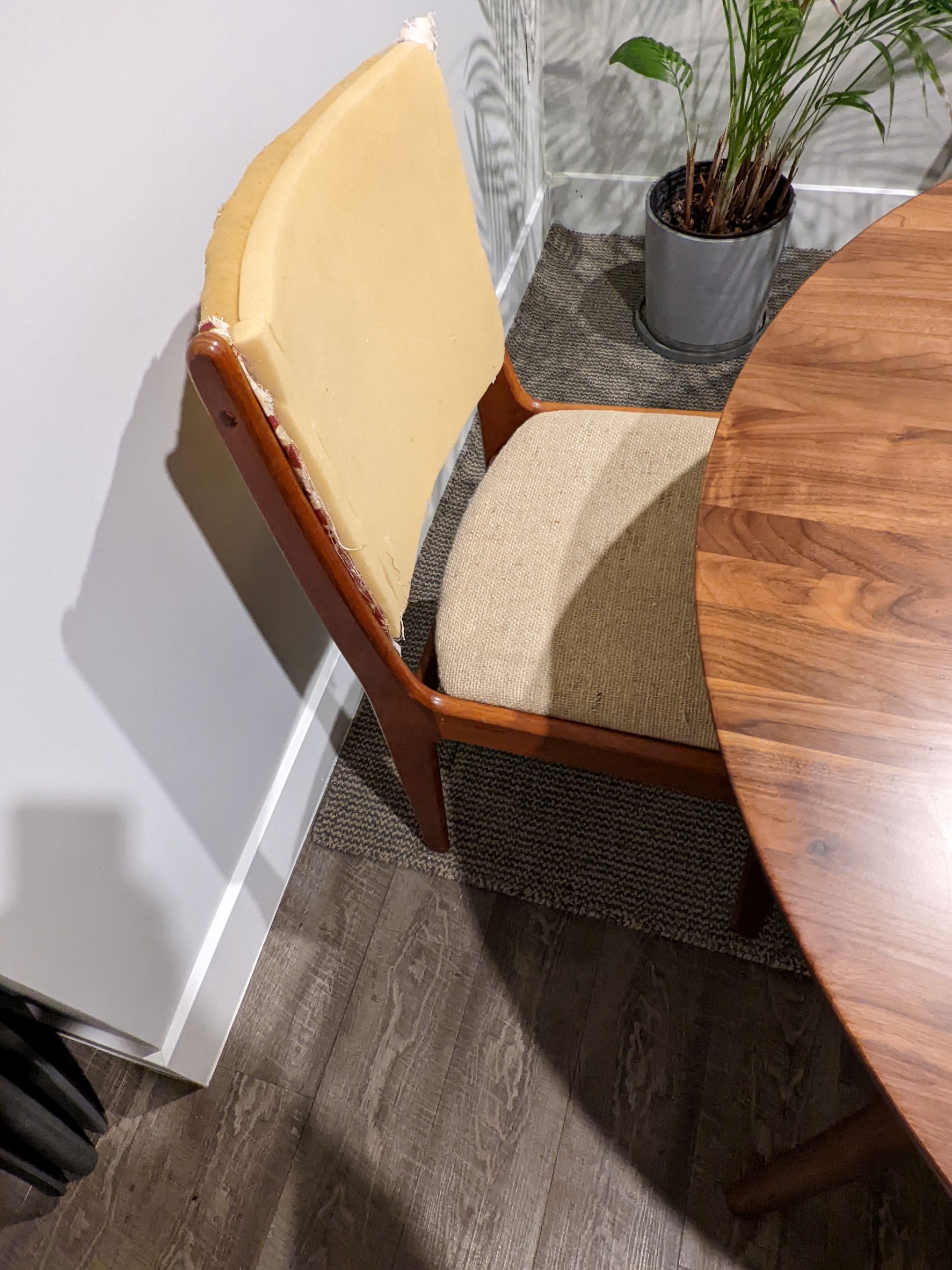 This topic was modified 5 months ago by
karlrak