Bringing back gloss and color on Artemide Selene chair by Vico Magistretti
Hi,
I'm new to this forum. Let me introduce myself. I'm Robin, living in the Netherlands and a I have a true passion for design. Some of my favourite designers are, Magistretti, Prouvé, Panton, Ponti and Colombo
I like to restore the items I find and bring them back to how they were new.
Here a project I really liked. I found a set of early edition Artemide Selene chairs in a really bad condition. I think they were outside for quite a while. There was a lot of dirt, scratches and the gloss was gone.
First thing I did was cleaning with water and some green soap, to get of the first dirt. After that I hand polished them to get rid of the deep dirt that sat in the scratches. After cleaning them again with soap I took the machine and polished again. To finish them off I used the well known Turtle wax to give them the nice gloss and protection.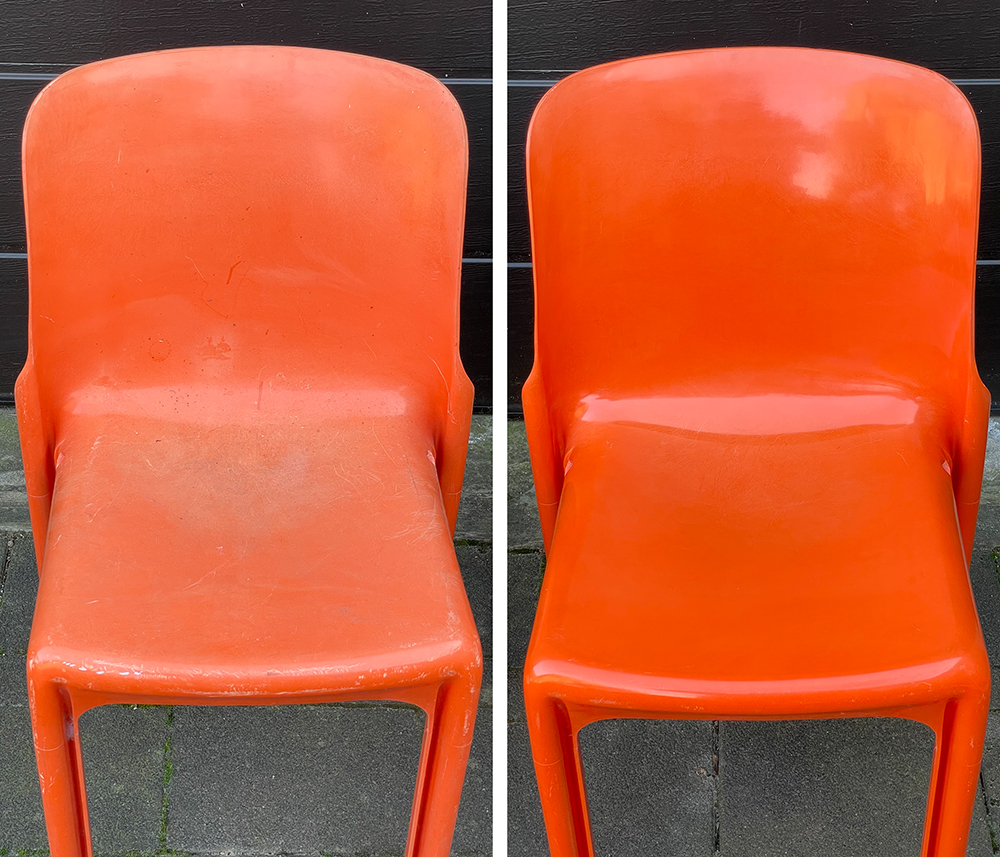 Hi Robin,
Welcome to DA Forum!
Are these photos of your chair prior to restoration treatment?
@maber_interior That's quite cool indeed! An amazing result. I'm not too much into plastic furniture but I wasn't aware that it was possible to bringt faded pieces to life again in such a convincing way. (From what I can see on the pictures). 
"People buy a chair, and they don't really care who designed it." (Arne Jacobsen)
@maber_interior, Thanks for posting after-treatment photos. The chairs really do look almost new now!
Were you able to identify the specific polymer? I know that certain plastics/resins are difficult if not impossible to polish to a high-gloss finish.
Hi @tktoo2 It's a plastic called Reglar, Artemide wrote:
"Reglar® is a thermosetting plastic (solidifies under heat) consisting of a thick mat of glass fibres, impregnated with polyester resin."
It's a hard plastic coloured through and through. I also did it once with a Joe Colombo Universale from Kartell, a more soft plastic but technique still worked out! 
@maber_interior, I should have simply looked it up myself but assumed you might know already.
Nice work. Thank you!