McIntosh table top
Folks,
we bought a McIntosh table from ebay. 2 years in - and its showing some wear - need advice please!
1) in general - the fold-away extension leaf is not used much, and is nice and shiny. the main table is quite 'dull'.
2) we TRY to be careful, but there is the occasional 'glass ring' etc.
3) the other day some water spilled onto a letter, and you can see where the wet paper was, and also some ink bled from the envelope onto the table. 
So advice on general maintenance [some people have said Bees Wax?], general removal of glasss rings etc. please!
Charlie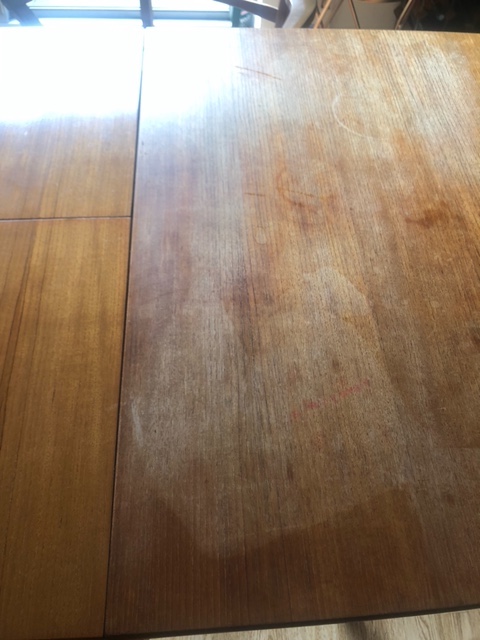 This topic was modified 2 months ago 2 times by
IAmCharlieC
Hi iamcharliec
It looks at those very light areas the finish may be completely worn away, that silvering or greyness is exposed un finished wood I suspect.
I would take a scouring pad and some alcohol to the top to clean it as best you can and remove any unstable finish + you may even find you strip it entirely with this process. Then aftering leaving it to dry, finish it with several coats of oil applied with fine wire wool. If you want a sturdy finish that you can worry less about I think there are other products out there. I just don't know how they fare over a partially stripped table, and I am quite traditional in liking the oiling method.
The staining from the ink might be tough. If it's from toner (I think that is more likely if it was from a commercial printer, if it was shiny printed), it might be that the alcohol strips it. If it's pen or from a household printer it's more likely to be ink and then you may have an irreverisible stain.