Maurice Burke - Intl Man of Mystery
@mark737.  Arkana produced 3 other well known ( in the UK anyway) chairs. A chrome sling chair called the Orbita 125, the "Alpha" Chair and the "Chelsea" safari chair.
I have found the last two chairs with a Maurice Burke connection. Both made by Pozza , Brazil.
The chrome sling chair has been attributed to a few designers including Duncan Burke & Gunter Eberle; called the "Zermatt" chair and supposedly made by Vecta, Italy. The only Vecta I can find is an American company in Mockingbird, Dallas which was bought out by Steelcase.
1st images are the Alpha chair; one with the Pozza label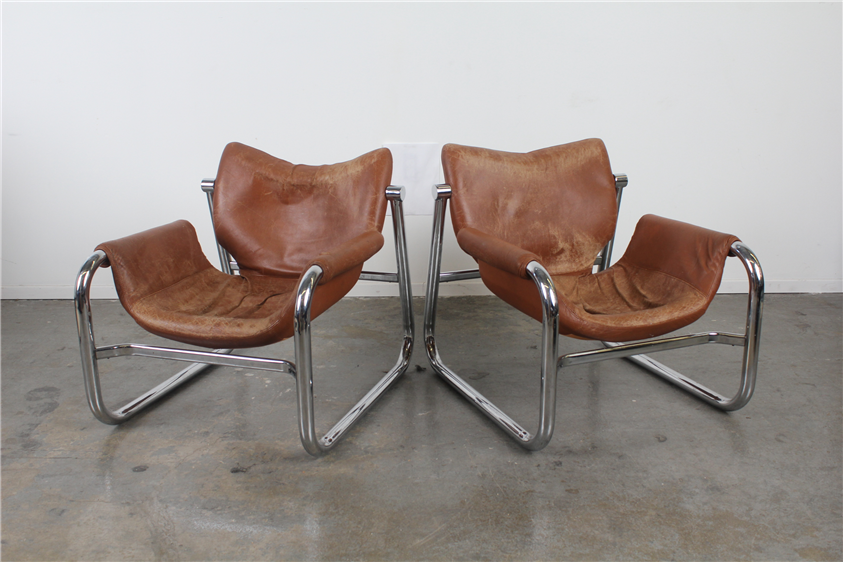 Knowledge shared is Knowledge gained
And lastly the chrome sling chair: aka "zermatt" chair.
1st image courtesy of the Design Council and The Manchester Metropolitan University.  No mention of Maurice or any other designer, just "Design studio".
This is the model that is attributed to Duncan Burke and Gunter Eberle with no documentation provided by any of the sellers.
2nd chair pic is the vecta version and the attached label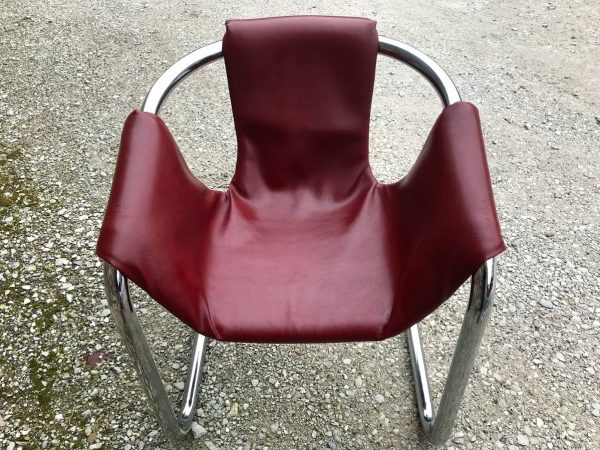 Knowledge shared is Knowledge gained
A post from 2010. on this Forum, from the daughter of the agent for Arkana in Holland. She mentions in some other post that she set up a Facebook page for Arkana furniture ; possibly the one mentioned earlier in the thread. At least we have a "Duncan" ( son) mentioned, so that's settled.
"Arkana , Maurice Burke
my father represented Arkana in the Netherlands from 1965 till the early 1970s. We knew Maurice Burke very well and I am very anxious to get into touch with his family. If I remember well, he had two sons, one of them was called Duncan. Arkana had offices in Bath, which my father often visited in the swinging sixties. The factory was based in Falkirk, Scotland.
My father passed away three years ago, but the Arkana furniture that is left is very dear to me and a vivid memory of my father too!
Pauline Stroosnijder, Amsterdam"
Knowledge shared is Knowledge gained
@lexi  Thanks for all the addl info.  I think we've now officially gathered the most information on Maurice Burke to be found anywhere.    According to testimony in a lawsuit over injuries suffered from a collapsed chair, Vecta acquired Burke Inc in 68 or 69.  And Vecta's address before they were acquired by Steelcase in 1979 was 740 Mockingbird Lane, which is just a few blocks north of Burke's address at 5140 N Westmoreland.  I nearly bought a set of those Vecta "Zermatt" chairs recently , in lime green.
@mark737. My daughter and son-in-law live in the UK. They once rented a house which had 2 of those sling chairs; it was summertime when I visited and they were very comfortable to sit in while having a few sundowners. If memory serves the seat height was lower than the vecta ones.
Knowledge shared is Knowledge gained
FWIW, saw this in a 1978 edition of Texas Architect magazine, which also had info on Vecta products deigned by Duncan Burke, John Mascheroni, and Hugh Acton.  J.M. Lynne Company made commercial wall coverings.  
Link:    https://usmodernist.org/TA/TA-1978-05-06.pdf
@lexi  Also, that magazine had this ad confirming Burke and Eberle as the designers of the Zermatt chair.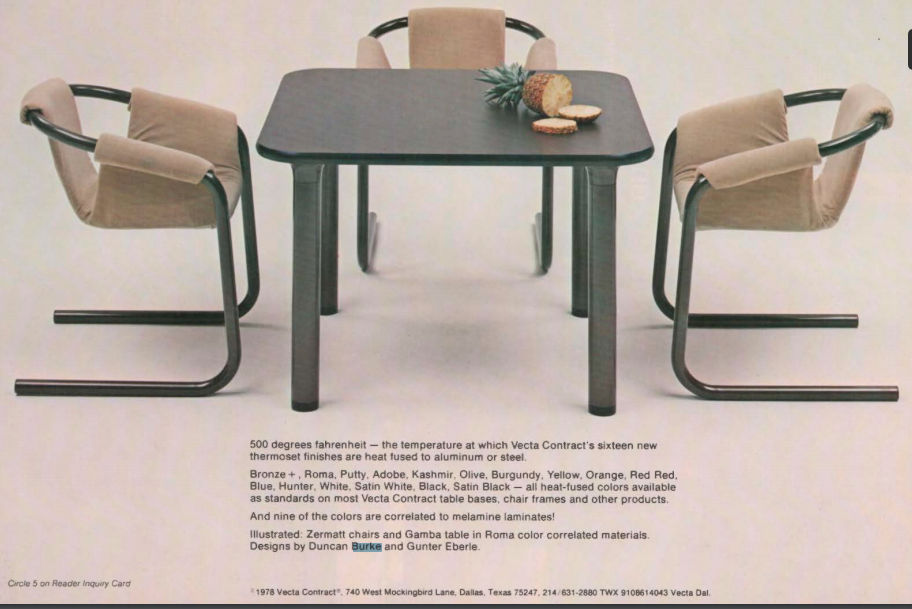 @mark737. Hopefully more information/leads will come to light. So far so good.
I forgot to add an image of a stamp from under an Arkana chrome sling chair. Note the Bjorgensen name.
Knowledge shared is Knowledge gained
@lexi  Just stumbled upon this newspaper story from Jan 1965 that gives a brief history of Burke, Inc.  Based on this, the company was started in 1960 and acquired by Brunswick in 1963.   Funny how the writer gushes about the innovative designs and never mentions the fact they are essentially Saarinen knock-offs.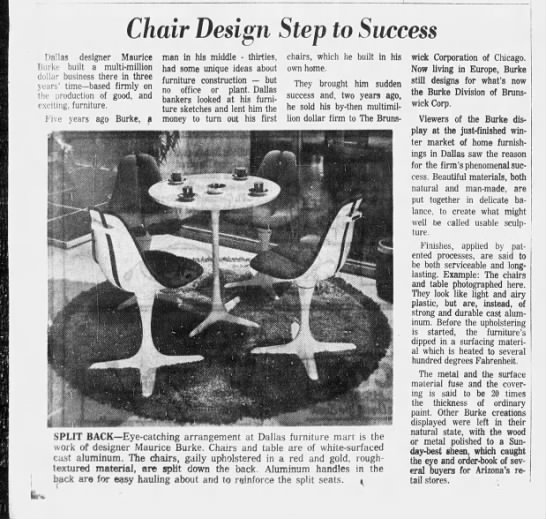 @mark737.. Yes it makes you wonder how he managed to get away with it and not end up in court; 
Knowledge shared is Knowledge gained