John Stuart History
John Stuart's name seems to come up regularly here, mostly because of the Danish furniture his company imported and sold in the 50's and 60's.  So I thought I'd share a little historical info on him I've dug up recently.   
John Widdicomb Company:  Stuart joined the John Widdicomb Company of Grand Rapids in 1929 as sales manager and minority owner.  He became majority owner in 1939 and was President by 1943 and then later Chairman of the Board.  Stuart died in 1966 and his family sold their majority interest in the company in 1969.  The Widdicomb Furniture Company, by the way,  was a separate company started by John Widdicomb's father.  Known for their modern lines by designers like Nakashima and Robsjohn-Gibbings,  Widdicomb Furniture was eventually purchased by  the John Widdicomb Co in 1970, and since 2002 has been part of Stickley.  
John Stuart Inc:  Sometime in the early 1930's, John Stuart Inc. was formed.  A catalog from 1935 lists a factory in Grand Rapids and showroom in New York City on 4th Avenue.  There is no record that there ever was a John Stuart Inc. factory in Grand Rapids.  It's possible the "factory" was really the John Widdicomb Co., which he co-owned and worked for at the time.   The 1935 catalog contains mostly traditional styles, with one modern collection under the headline: "Is Modern Furniture a Fad".  At least some of the modern pieces are said to be designed by a "Swedish artist".  I can't tell when John Stuart Inc.  went out of business, but their contract division, John Stuart International, was around until at least 1977.
 The Danish Connection:  Sometime in the mid-1950's John Stuart Inc. started importing and selling Danish furniture, mostly made by France and Daverkosen/Son, and some by Soborg Møbler.  Interestingly, a 1954 John Widdicomb catalog also included the Kindt-Larsen "Fireplace" chair as shown below. 
American Furniture:  John Stuart Inc sold modern styles made by Johnson Furniture of Grand Rapids (including designs by Paul Frankl), and Mount Airy Chair/Furniture Company of North Carolina.  Mount Airy made the Finn Juhl-style chairs and case pieces for Stuart that are often misattributed.  
Feel free to correct me on any errors and add any additional John Stuart-related info or photos.    
This topic was modified 1 year ago 6 times by
mark737
@mark737 - Thanks a lot! The company has been quite a blank spot for me like most of the American import companies from that time and area. The Kind-Larsen chair is interesting though. Is it possible that Widdicombe tried to produce their own Danish furniture, like Baker did? What else is in that catalog?
"People buy a chair, and they don't really care who designed it." (Arne Jacobsen)
@Herringbone  The Kindt-Larsen chair appears to be a one-off experiment by John Widdicomb and is the only Danish piece in the catalog.  Link to catalog: https://www.grpmcollections.org/Detail/objects/142339
I looked in a 1960 catalog and there was nothing Danish. Perhaps Mr. Stuart decided it was better to sell the Danish pieces through the John Stuart Inc. showrooms and keep it separate from John Widdicomb. According to a history on 1stDibs, John Stuart Inc was sold to John Widdicomb in 1952 but I have not seen that anywhere else. 
The 1954 catalog does contain a number of pieces from their collection called "Mid Century Modern", which they introduced in 1949.  Quite ahead of their time to choose that name in 1949.  
I recently picked up a gorgeous John Stuart dining table that I was hoping to find more information about, since I was recently informed that JS was a distributer/importer rather than a manufacturer. Would love to know the maker/designer of this uniquely beautiful table. It is a narrow oval, 60" L and expands with 3 leaves to a sizable 108". The top floats on buttressed legs at the corners. If anyone has any info or leads it would be much appreciated!
I saw a couple of examples of this table on Liveauctioneers and one on Chairish but none had a maker's mark.  This one here from Liveauctioneers shows the underside with a stencil of what looks to be the model number - 1491.  Definitely looks  American made and the most likely suspect would be Mt Airy, since they worked with John Stuart and made other Danish-inspired pieces for them.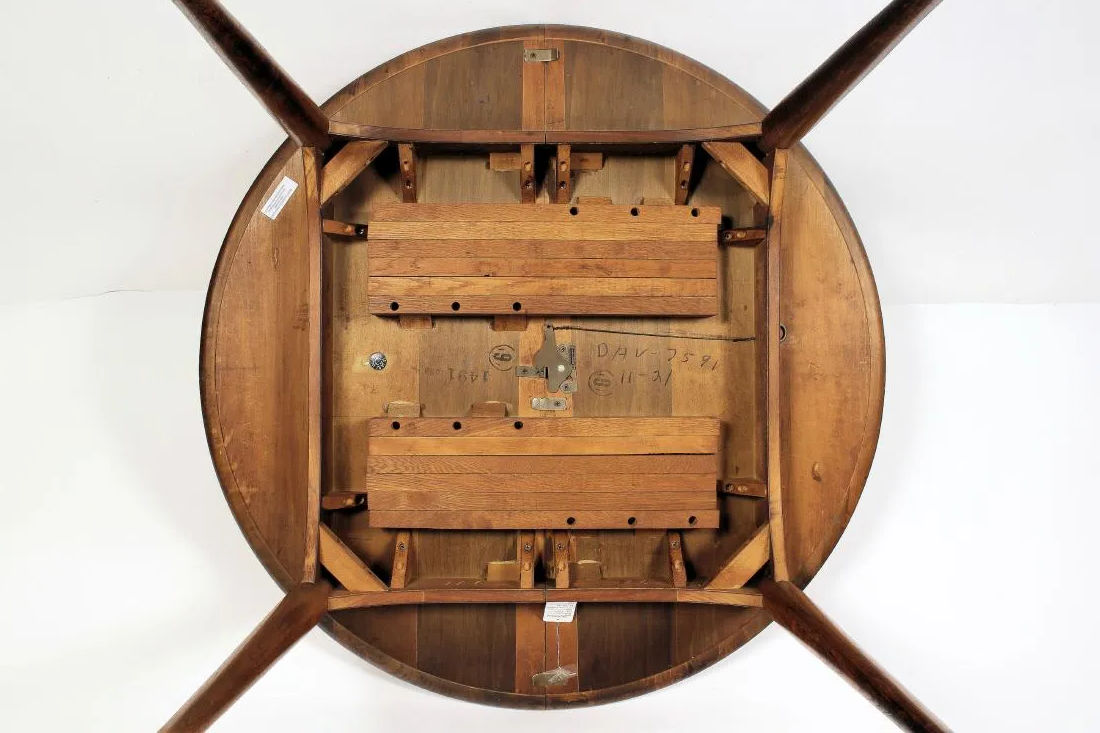 No mark that I could find on the chairs and did a pretty thorough check as I had to replace the seat support straps and foam on a few of them.  The vinyl is pristine though so they were perhaps recovered at some point and the paper tags not transferred over :/.  Good guesses on the Widdicomb or Airy though 🙂
I have a coffee table and corner table of a similar style.  No maker marks on either, though the corner table has a label indicating the finish color as "Tobacco" and the Item I.D. as "#9032 Corner Table". I have been trying to identify the maker and due to the similarity of the floating table top in your photo and the beveled edge of the table top, I am wondering if my tables might be from John Stuart?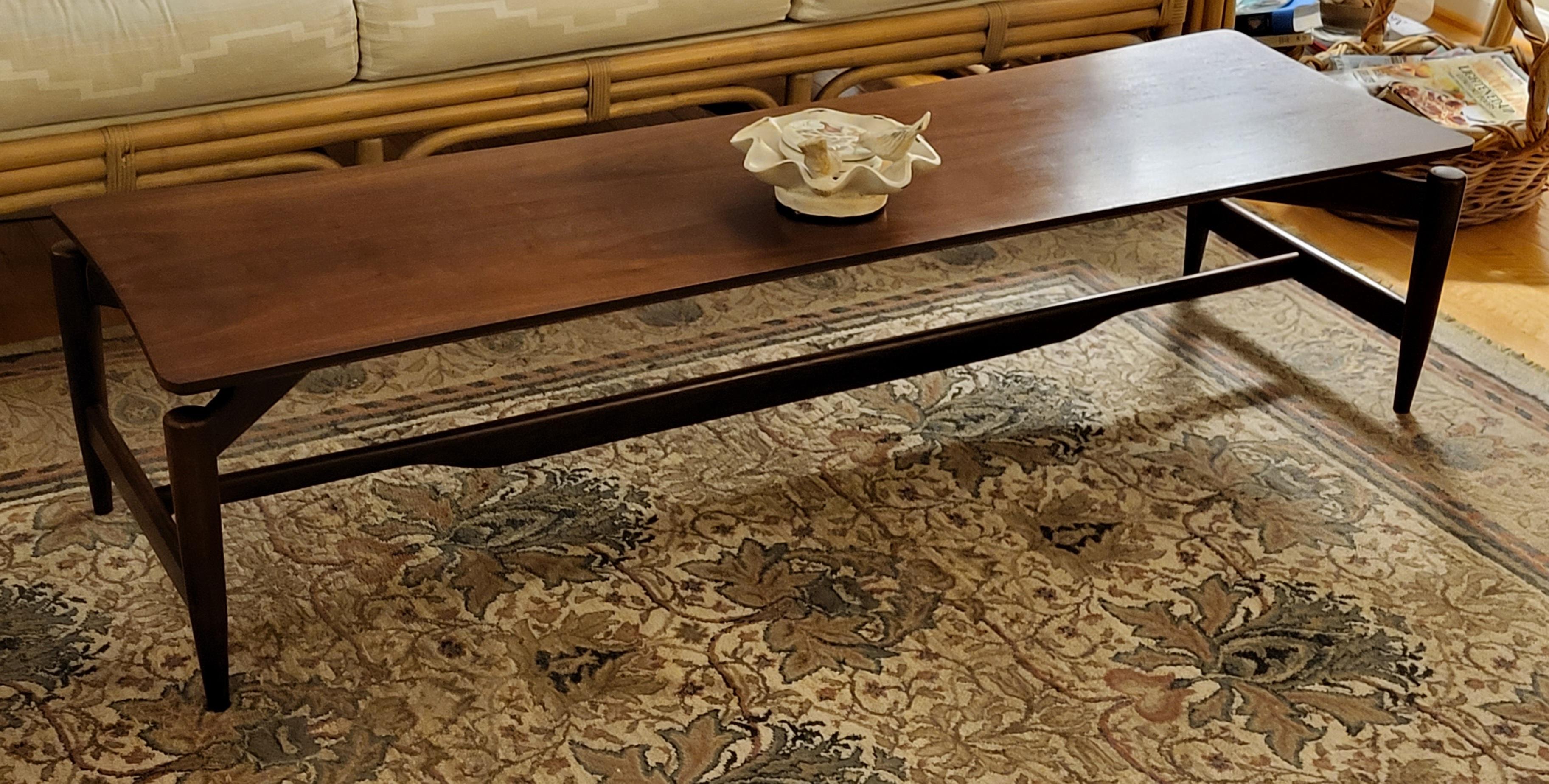 @annet Most likely made by Mt Airy and retailed by John Stuart.  Please post a photo of the label.
Thank you for your reply.  Attaching a photo of the label for the corner table. It does not have the name of the maker, unfortunately.  Is there a way to verify if it was made by Mt. Airy for John Stuart?  Are there old records with pictures?  My table top does have the same type of beveled edge  underneath, which makes the table top appear to be much thinner than it actually is.  I like that effect because it makes the top look more delicate and the "floating" appearance more convincing than a massive edge would.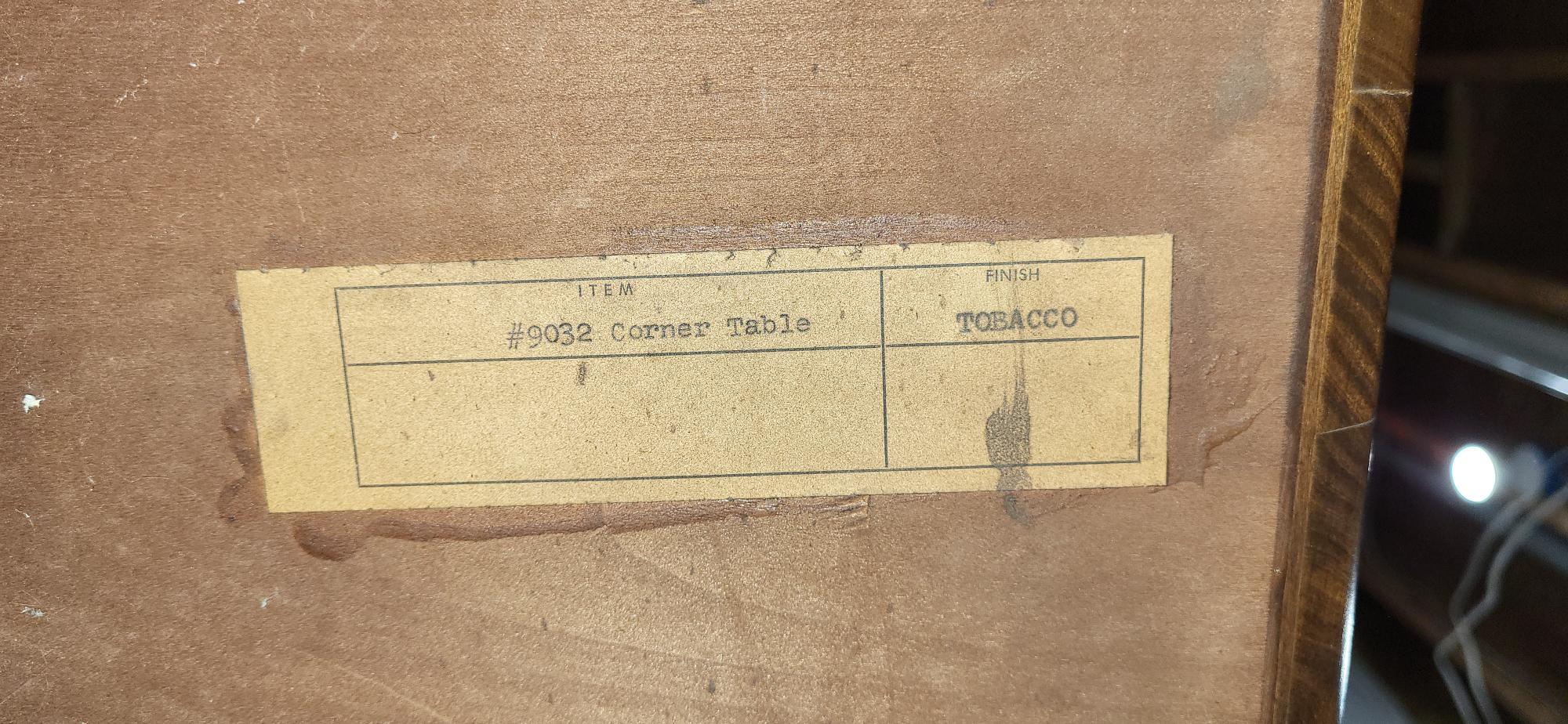 @annet  I have yet to come across a John Stuart or Mt. Airy catalog online but I'm sure someone out there has one.  John Stuart sold several Danish-inspired lines made by Mt. Airy, including Janus, Facade, and Contempora.  I think the Finn Juhl style chairs and case pieces may be from the "Contempora" collection but I haven't seen an ad or catalog to confirm.  If so, your tables and Rah Decor's dining table could be from this collection.  Good thread here from 2016 that discusses Stuart and Mt Airy:  https://designaddict.com/community/main-forum/Finn-Juhl-for-John-Stuart938/#post-12933
Here are a couple listed as Contempora.