The Last Thing That You Acquired #41.
Thanksgiving at Mom and Dad's (82 and 83).. My wife and I gave my father a pre-birthday gift (12-05-32) for use at the Thanksgiving table... the Paola Navone Hot Pot I plate warmer for Driade. He was pleased with the design and performance.
My birthday is Sunday (11-29-52) and the Achille Castiglioni Servopluvio umbrella stand (aluminum color) for Zanotta is a gift from me to me. I have already have two black Servopluvio ashtrays for exterior use.
Get Dad a gift and get me a gift. This is good.


Today is my 63rd birthday...Oh boy.
My sister gave me the Neil Cohen Star Stream for Steuben 8567 (new in the original gray linen box). My wife believes I should record the dog walking with a GoPro Hero 3 Silver Edition. Mom and Dad think I should begin fly fishing and gave me the Orvis Practicaster (bamboo fly rod to follow at Christmas).


minimoma,
Insanely jealous of that floating top boomerang coffee table.......
I never go to thrift shops, but you just changed my mind about that.....
I have a HUGE Salvation Army right down the road, and if I can find anything close to what you just scored, it just might become my second home!!!
Peruche

Planter for Architectural Pottery by John Follis. original redwood stand included. Got it from a local picker that specializes in vintage fishing and hunting gear, but is getting familiar with mid-century stuff. I've found a couple of these online, and dig his designs generally. I'd love to know more about the era of production or any other info if anyone knows.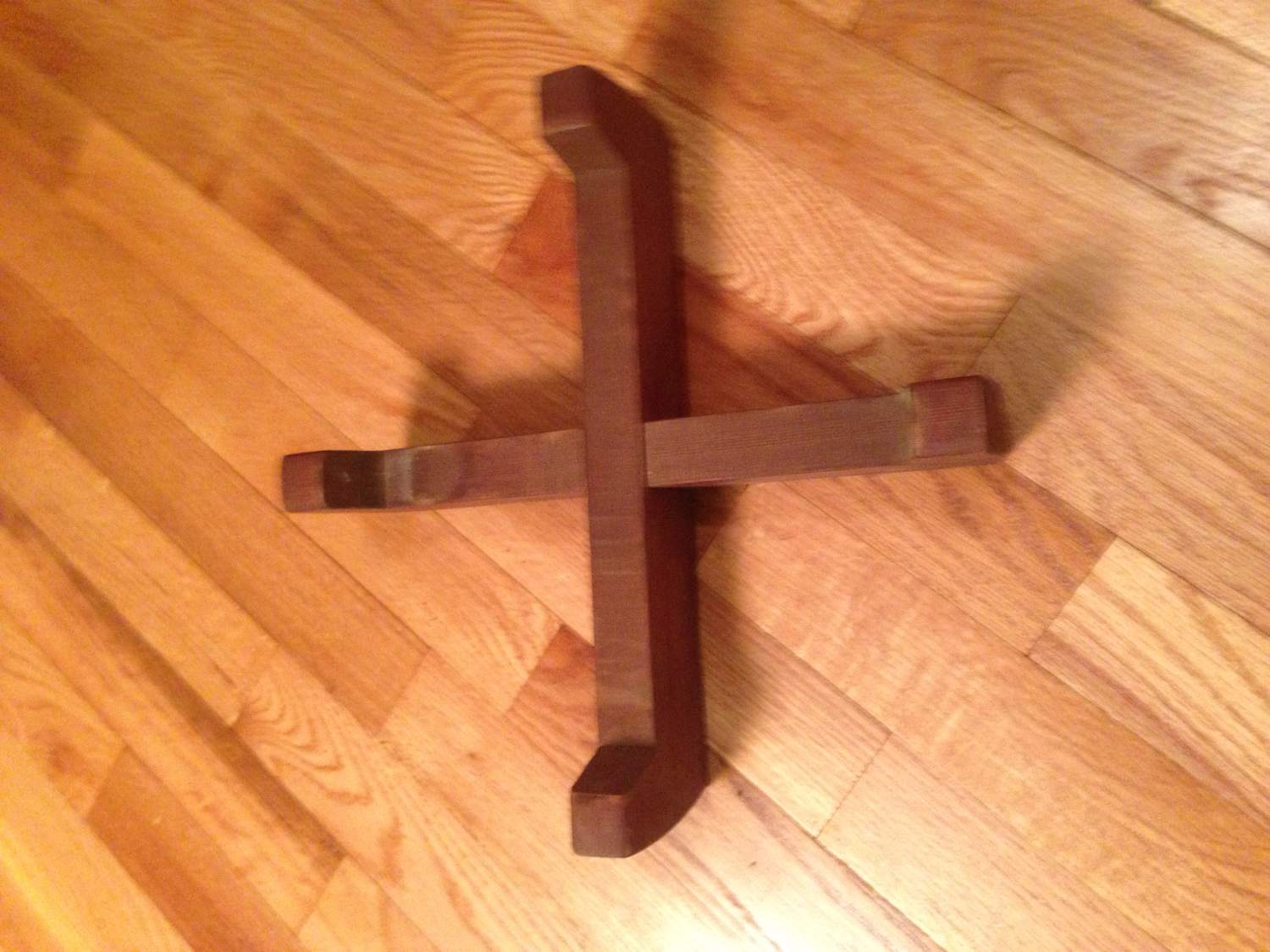 I believe I had posted here before that the entire cost of what I had furnished minimoma totals to about the same or even less than what my friends spend on their annual smart phone bill.
When I got into reusing/re-purposing vintage stuff, it is primarily for the economical and ecological reasons, passion for good design and less into nostalgia, and if a pedigreed stuff falls into my lap, I'll take it.
Peruche and Reamie, thrift stores/charity shops generally are 99.9% pure junk. I have zero expectation when I go to this places but if something/anything is meant to be for you, it will be there regardless...
I am in the process of trading 2 of the 3 Brown Saltman pieces for a brand new roof shingles, gutters, downspouts and an energy efficient furnace including installation for the 100 year old four square fixer upper called minimoma (minimoma was paid in full and cost less than a brand new Egg chair by Fritz Hansen in leather so no more mortgage for life).


Congrats on your recent finds and on your paid-off four square, minimona! I love four squares but I'm happy to be done with old house maintenance, I must admit.
I am not a believer in fate. I think if you lucked into something fabulous at a thrift store for cheap, it's just that---luck. You happened to see it before all the pickers and dealers did. And the more often you patrol the thrift store aisles, the more lucky you'll be. (OK, I guess that's where vigilance and persistence come in---and of course you need a knowledgeable eye, too. Knowledge isn't luck.)
I spotted this little Arabia annual plate amongst the Norman Rockwell and Courier and Ives type souvenir plates at my main haunt yesterday. I got all excited thinking it was very valuable, but it's not so much---but that's fine because now I don't have to sell it! I love the style and the colors and it was $4. I love Arabia.
I also got a biggish vase in earthy colors with a big drip glaze which I love---the work of an amateur potter but I'm not picky. Also, it was on sale.


Eventually, the old house will be my lab rat to pursue my interest in sustainable design and living off the grid. Anything old that still works will be saved but the design direction will definitely not be historic restoration but 21st century living in an old house now.
Waechter Architecture in Portland, OR did a great job bringing an old house into the 21st century.
http://www.dezeen.com/2015/11/20/red-house-ben-waechter-architecture-mon...


It is also called frugal living and I had been doing it all my life. It's not always buying what I want but more like what I need.
And I know it will never be featured in any high design magazine spread ever, but this is what a under $500 sitting room looks like at minimoma. The Knoll tulip chair was free left on the side of the road, the Corbu leather sofa by Cassina was marked down from $199 to $99 for failing to sell at the Salvation Army for 3 months (new ones starts at $12,000 down the street at DWR), the early birch Noguchi table was $3 for the "wood carving" and $20 for the glass top and the signed Ellsworth Kelly serigraph was $14 and so on...


Well, I do have an excuse. Yes. It's all getting a bit fuzzy. ...oh... ( After a belt of decent vodka, my thoughts will return). ok. I blame SDR. He was the one who wanted to raise those nasty chickens on our patio. I agreed that the lanai needed a pet or two...I'm all about sustainable living. Pets? Meat? whatever. I do sell the eggs is anyone is interested. So I am partially to blame, I know. Next thing I know, SDR is off crisscrossing the USA continuing his quest to collect more autographs and personal paraphernalia from American television goddess, Rose Marie. He is having car trouble somewhere near Gary Indiana (if anyone is close, or want to sell,swap or trade eggs any authentic Rose Marie item..please help). And Aunt Mark is left knee deep in yard birds and squawk in the swamps. Bottom line, I was distracted and blazed. Guess what's for dinner?
I blame SDR.
ps I'm easily mistaken.