Potential Ole Wanscher Arm Chair Identification
Hi there,
First post here!
I recently acquired two arm chairs and a foot stool. They look like early Ole Wanscher chairs (FD-107?), however I was hoping someone could help me confirm. Two things are throwing me off with respect to the chairs:
There is no makers mark/id (I understand France and Sons/Draskoven were quite consistent with these).
The method of connection between the frame components looks is via a metal keyhole-like system, which I am not sure was a method used by France and Draskoven.
If someone could assist at all it would be most appreciated!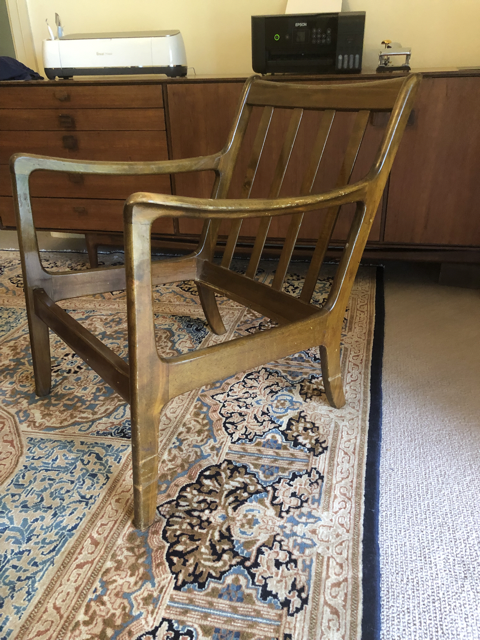 This topic was modified 7 months ago by
eviou
The chair looks very much like Wanscher. I've never seen one in person but the knock down construction also looks legit to me. That there's no makers mark is odd indeed. But where did you buy it? Maybe it's an early John Stuart import model where they messed up the marking. 
"People buy a chair, and they don't really care who designed it." (Arne Jacobsen)
the connection is absolutely conserved across many France and Sons models irrespective of the designer. The lack of brand is indeed strange, because France and Son somehow was very consistent with that. The wood looks a bit weird. What wood is that ? These chairs were offered only in teak as far as I can imagine. Unless this is a super early model made with mahogany and not labelled because of export, but also there, usually the John Stuart label would have been put by France and Son itself with a medallion too if I recall correctly.
@Andersen I'm pretty sure the early models came in stained beech. It was Juhl who introduced teak to France, but Wanscher's first desigs were introduced a couple of years before Juhl's.
"People buy a chair, and they don't really care who designed it." (Arne Jacobsen)