Pls ID this striking original DANISH (?) ARMCHAIR from a valuable house 8 photos
Please help me identify this striking original DANISH ARMCHAIR from a large house in one of these most expensive roads in Brighton & Hove.
The house had actual Danish furniture in it.
This chair is all original.
I assume it is Danish or scandi or something special. 
Thank-you in advance for sharing your knowledge.
Additional.
NB '7 K' in pencil underneath.
I've also added more photos of the underneath.
If it had tilted I think there would be clear evidence - where as there is none.
The chair has all original joints, no moment - rigid.
* This chair was one of a pair - the sister chair looked the same but - from memory - was adjustable *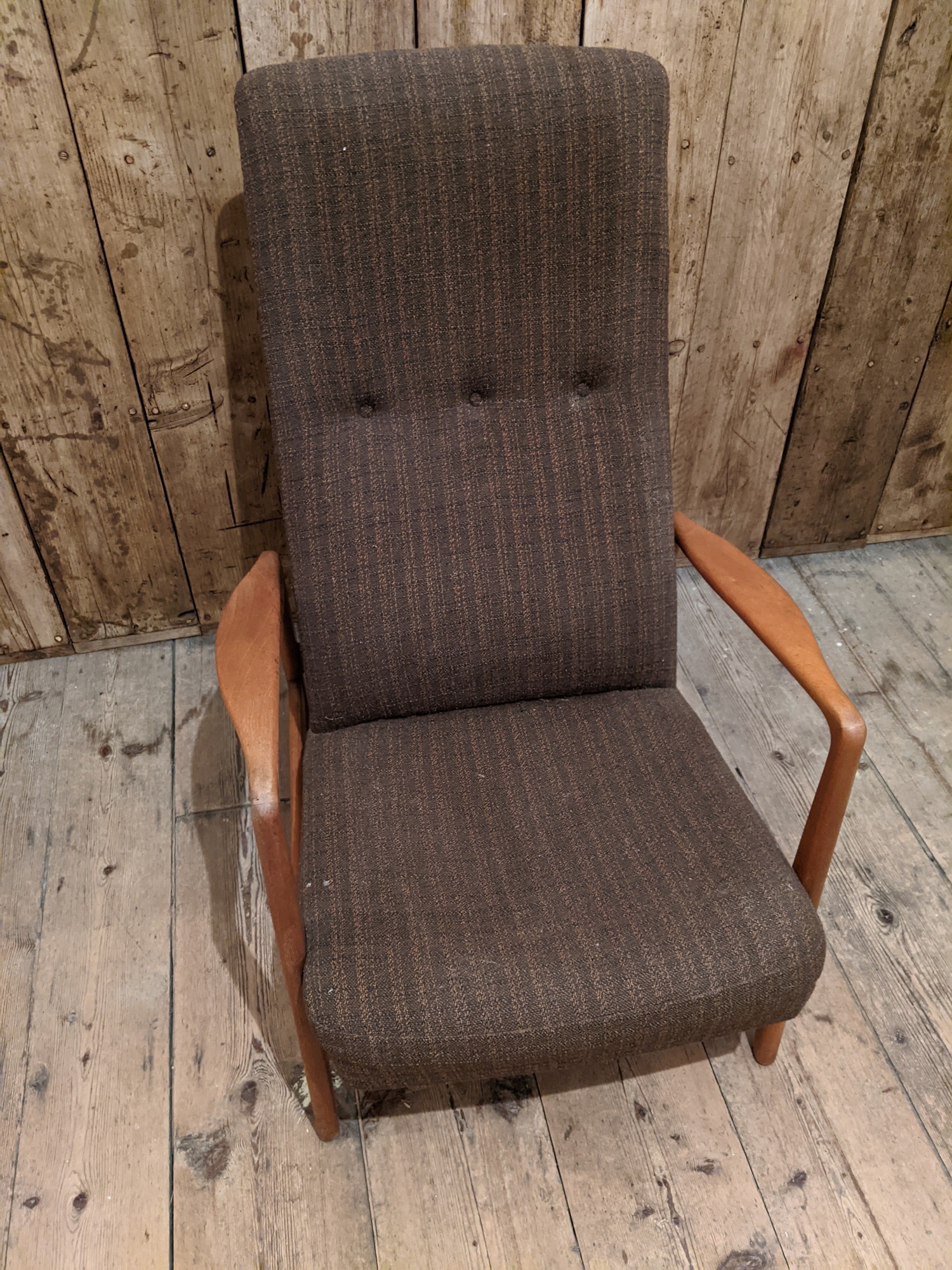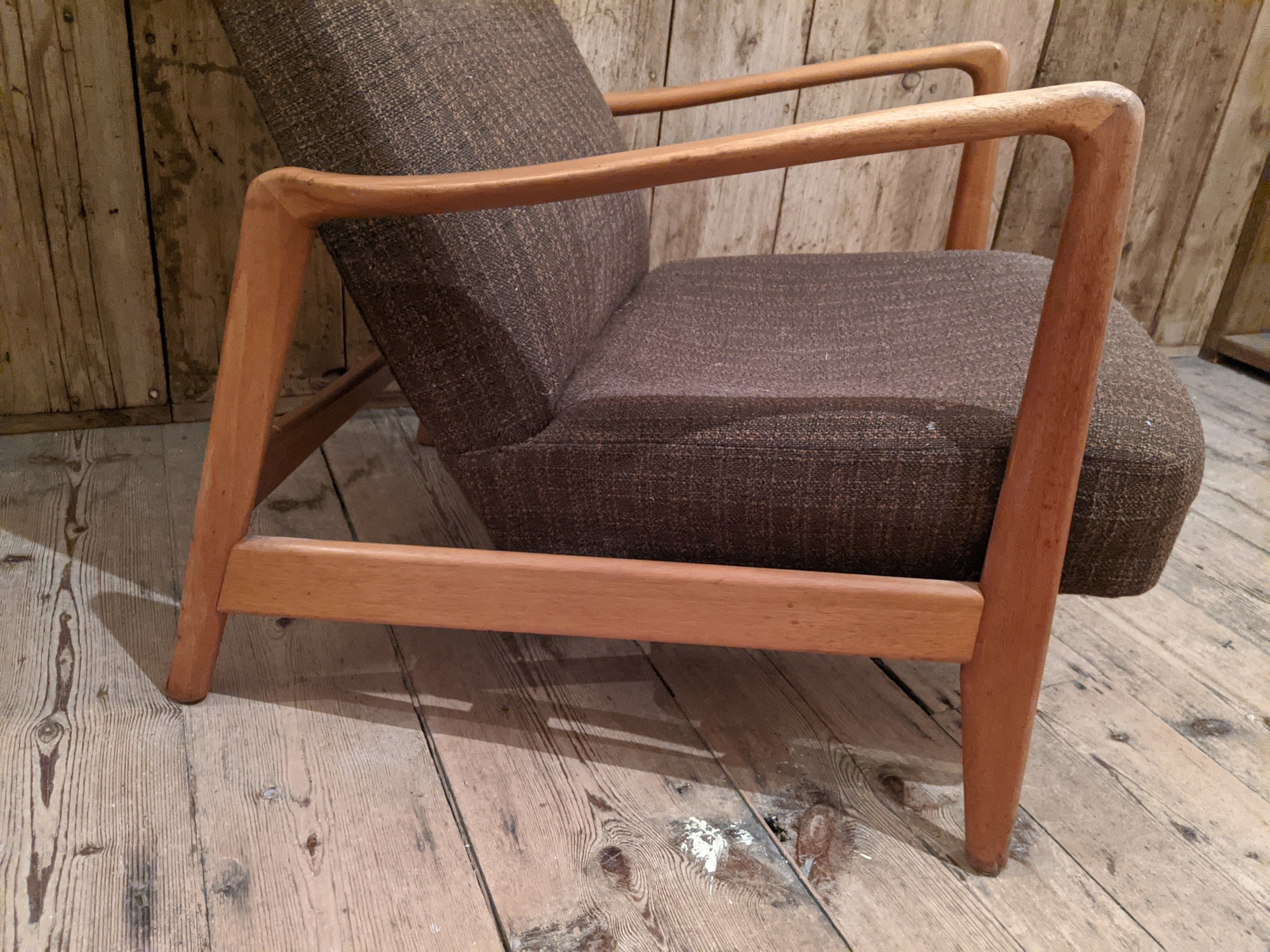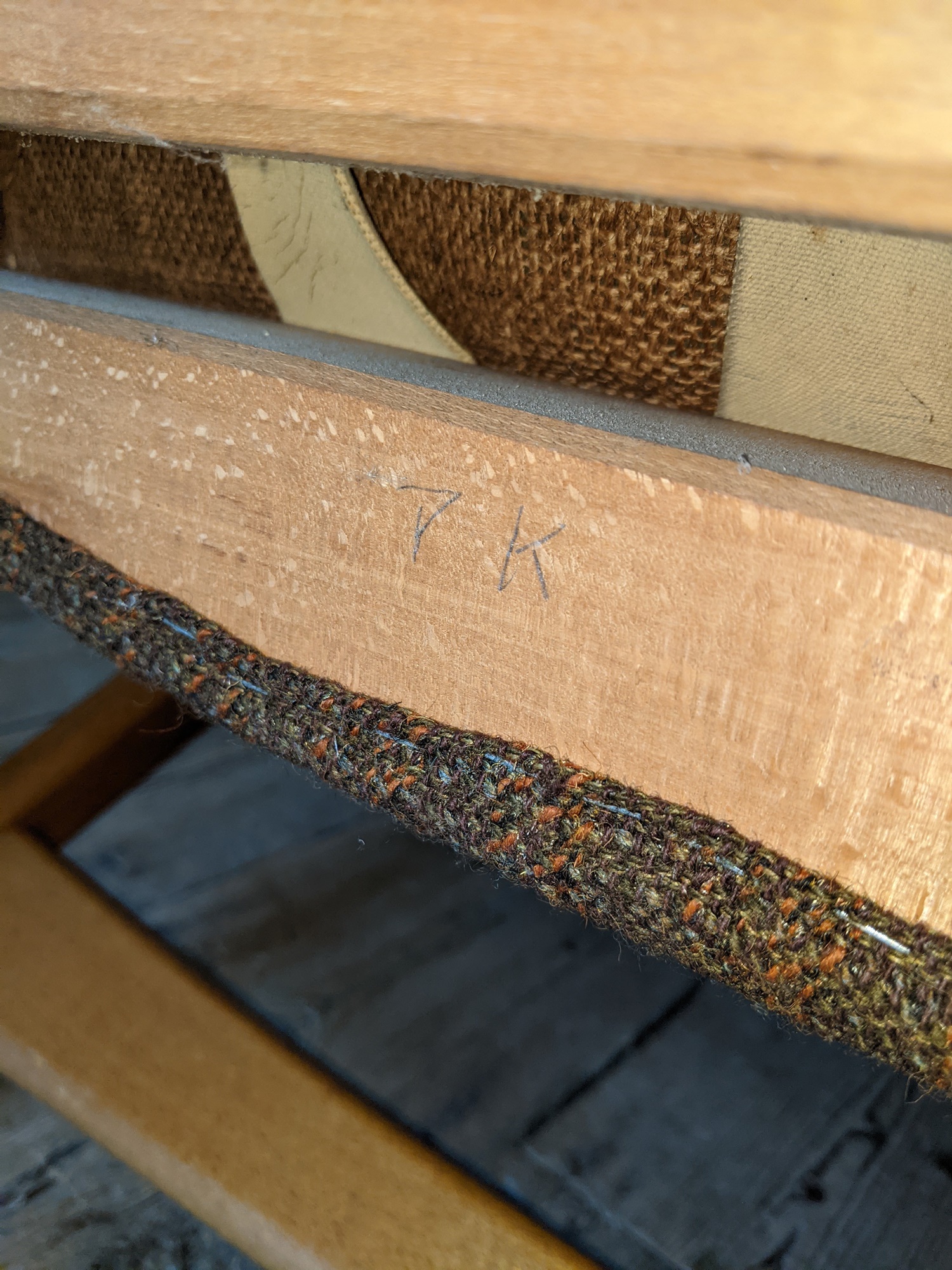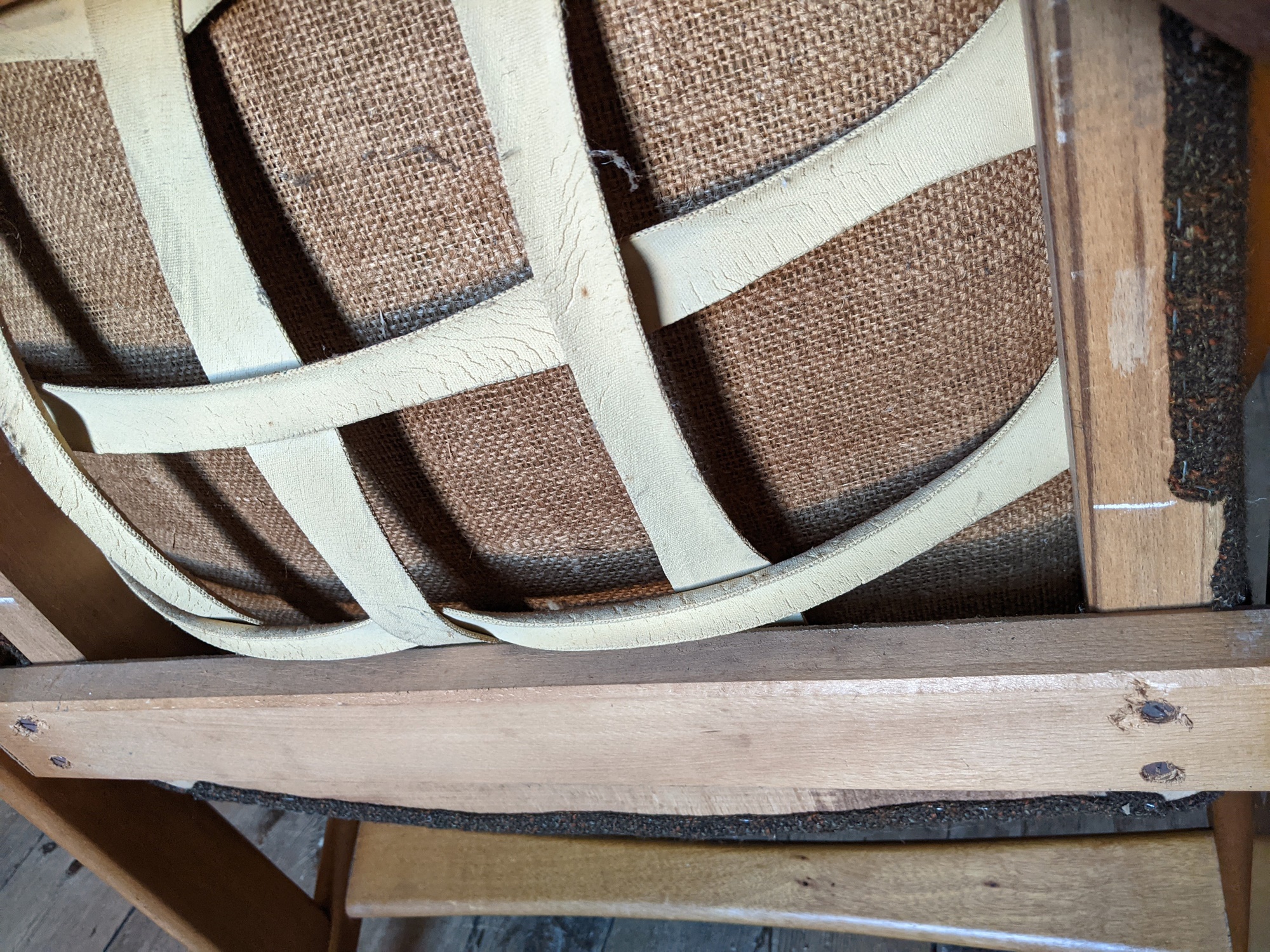 This topic was modified 3 months ago 16 times by
gplanera
@salesgplanera-co-uk. It is very similar to a chair by Arnestad Bruk,( Norway ) called the "Rock'n Rest but your chair does not have the tilt function/ mechanism so maybe a different design /designer altogether. 
Will investigate further....
I notice a Y and K on the underside ;also what looks like the impression of a rectangular stamp or label.
Could you get a better picture of this ,if at all possible?
Knowledge shared is Knowledge gained
@lexi Why would it be a different designer when it's exactly the same chair, just without the mechanism? I think it's much more likely that this just the same model without a tilting function. But well found. I was thinking British, but you outdid me once again.
"People buy a chair, and they don't really care who designed it." (Arne Jacobsen)
@herringbone. The reason I mentioned the possibility of a different designer/ manufacturer is that Gimson and Slater , British, made a chair that is almost identical to the Rock'n Rest model. I did search to see if they also made a chair like the OP's but did not find anything like it. I also think this is the Arnestad Bruk model. Perhaps the mechanism failed and was removed ? I did ask on the Norwegian FB page and one knowledgeable poster said they had never come across this model without a tilting mechanism. This model was also produced by Cassina, under licence and is often misattribted to Gio Ponti. Interesting history about this in link attached.
Knowledge shared is Knowledge gained
Thank-you very much indeed @lexi & @Herringbone
I always knew this chair was something. I've had it quite a while.
I asked to look in the garage of this house as I always do and was told there was only rubbish in there ready for the skip.
I insisted - again as I always do - you never know what relatives of the owner think is rubbish.
They took me to the garage and indeed it was full of rubbish but this chair was in the middle of it.
I said 'You're throwing this away?!' And they said 'Yes, as soon as the skip gets here'.
I recognised that the chair had a sister chair upstairs. I think they were a pair but obviously the one in the house looked better. (I have professionally cleaned this one (first stage)).
From memory - and it was a few years ago - the sister chair upstairs was adjustable. 
I would never, ever split a pair but they never replied to my offer for the other furniture in the house but on the day casually offered it to me as I clearly didn't want it to go in the skip - that is how wealthy they were - this was rubbish to them.
Even though the chair has no defects at all.
I will look at the bottom of the chair more closely and report back.
@salesgplanera-co-uk. Having viewed numerous images of the "rock" series made by Arnestad Bruk ,which only show partial images of tilting mechanism, I remembered that this tilt type, it appears to be the same ( ?), was posted on a different chair on the Forum; it was on a MS 20 chair,  designed by Madsen and Schubell and manufactured in Denmark.
It might be of interest to you with regard to looking for signs of a previous mechanism on your chair. Images attached.
Thank you for posting the extra photos.
ps: Also found out from archive pics, posted on a Norwegian Forum, that the chair is a design by Adolf Relling and Thorbjorn Bekken, who worked in Rastad and Relling's drawing office.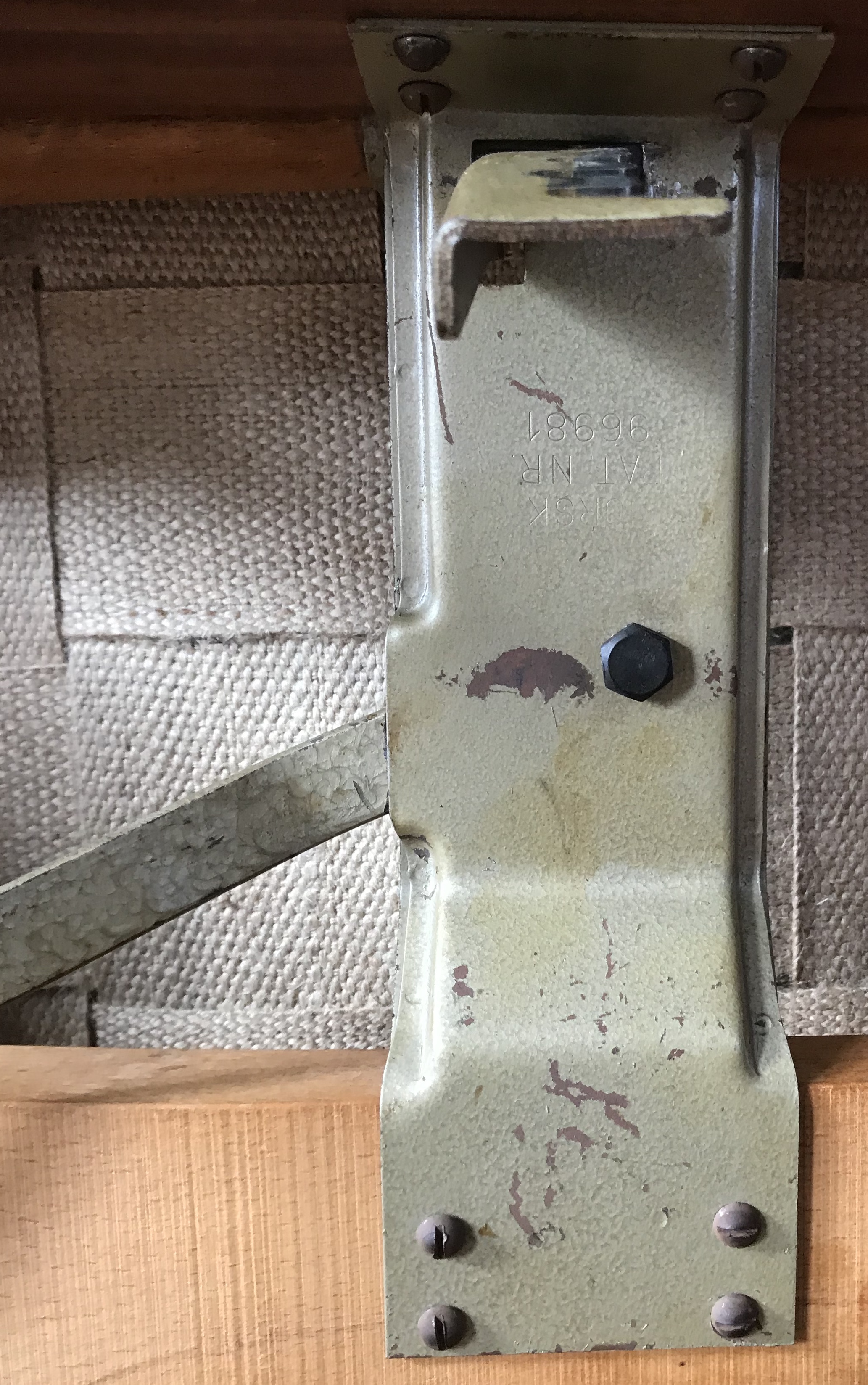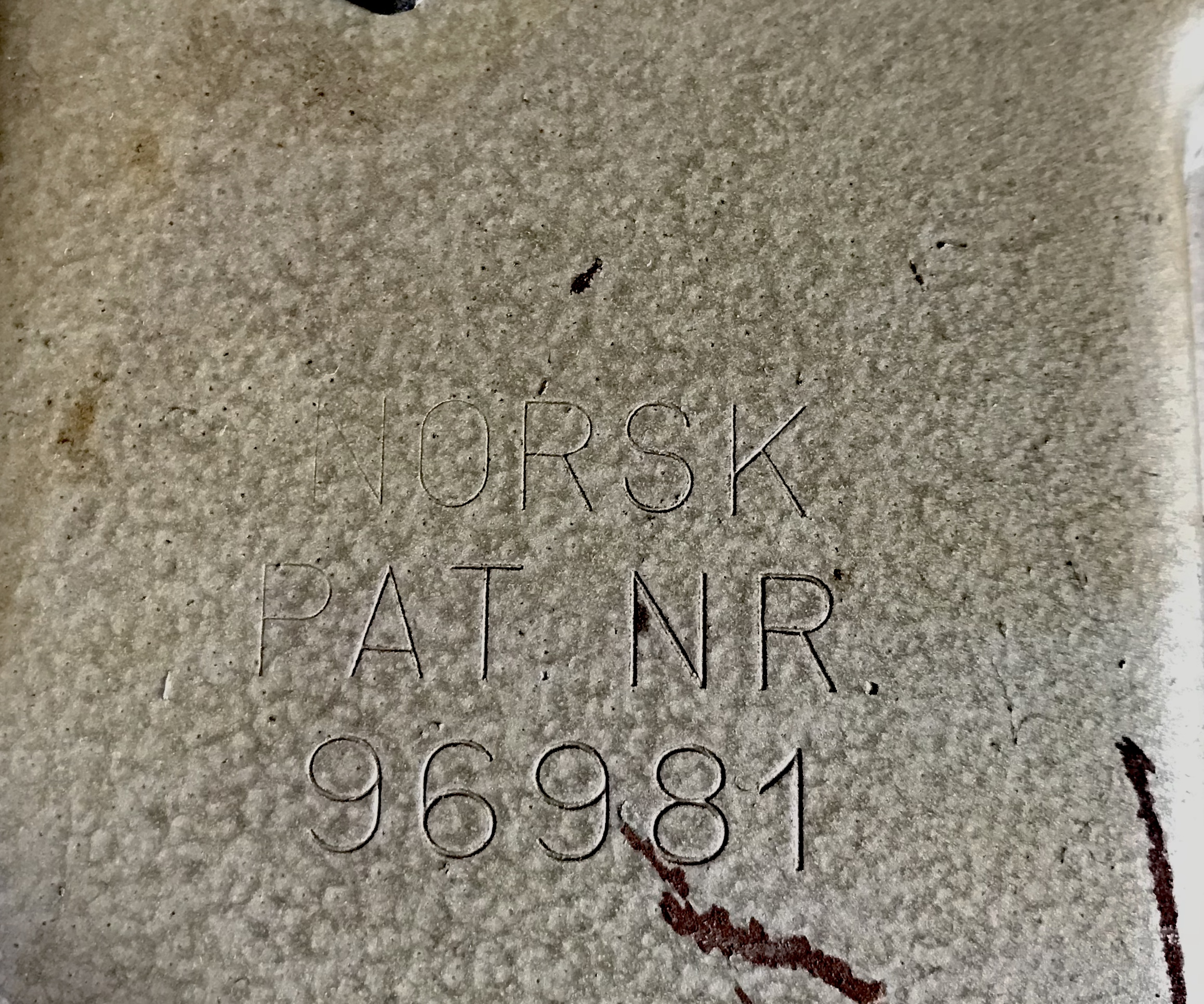 nother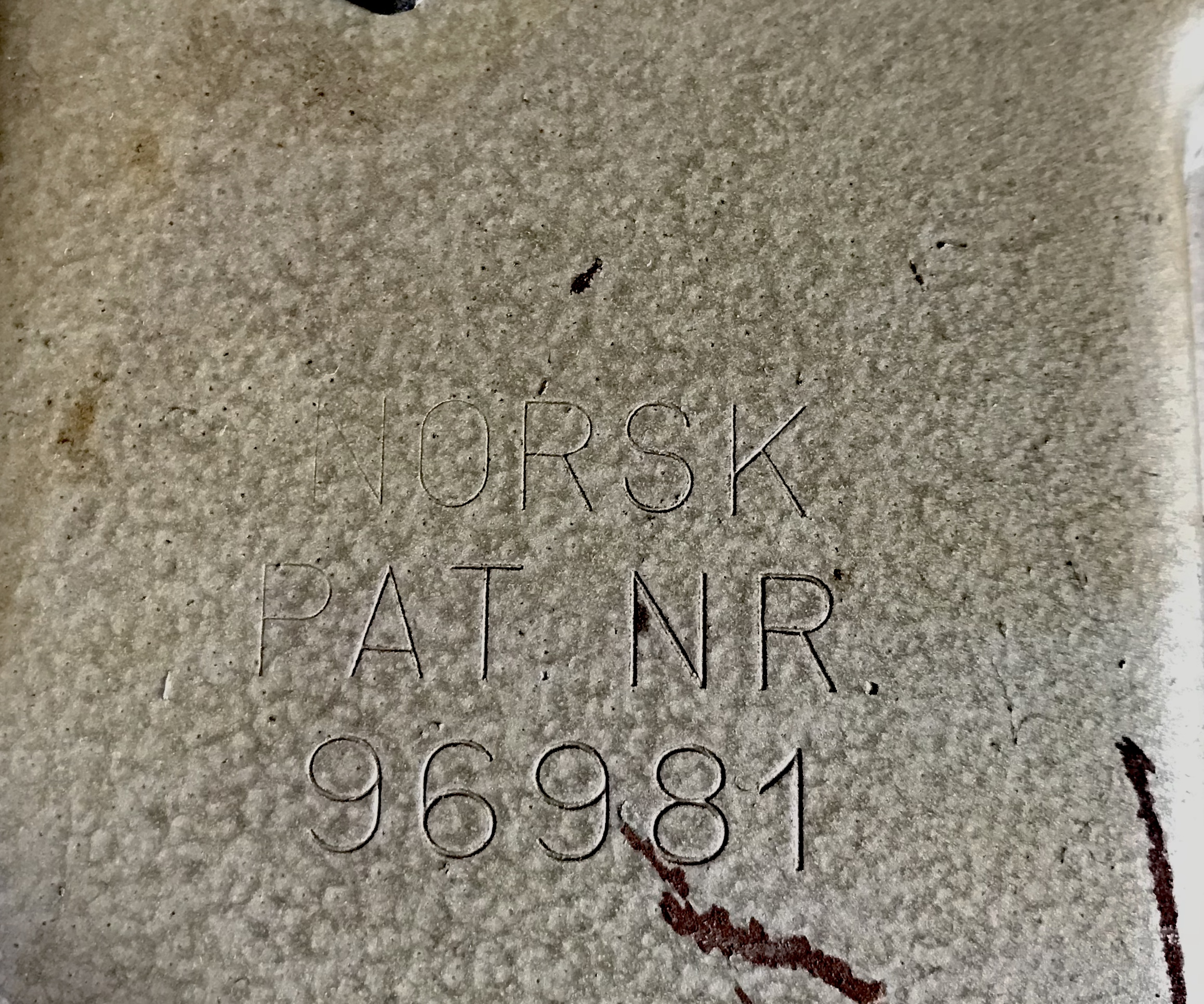 Knowledge shared is Knowledge gained
Hi @lexi, thanks for that. I can see zero evidence of a removed tilt mechanism though. 
Thank-you for the extra info re the designer.
From my research online I cannot see a single sold example.
Any idea on retail value for this chair - retail equivalent of an eBay sold price i.e. not topped up, not Vinterior or 1st Dibs etc?
Many thanks, Mark