The 20th century was rich in furniture designs, which today have become vintage classics. Despite less recognition and visibility, many women have contributed to enriching this beautiful collection. Whether they have worked alone, in a group or as a couple, they are an integral part of the great design adventure. Today we present to you a few of them in association with one of their creation.
Eileen Gray (1878-1976) – Bibendum Armchair 
Irish designer Eileen Gray, trained at the Slade School of Fine Art in London, mainly developed her art in France. She is known for having designed, in association with Jean Badovici, E-1027 Villa, located in the Alpes-Maritimes, but also for creating pieces of furniture, including the Bibendum Armchair, which takes its name from the Michelin company mascot.
Aino Aalto (1894-1949) – Riihitie Plant Pot A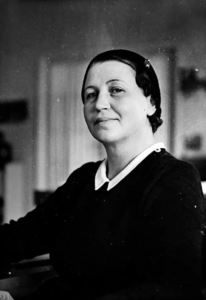 Finnish Aino Aalto is best known for her collaboration with her husband, Alvar Aalto. Yet her artistic and professional career is incredibly rich. A graduate in architecture, the designer was at the base of several architectural projects and furniture designs, but also co-founded the design company Artek which she led. Artek created a new edition of the Riihitie Plant Pots, made of ceramic.
Charlotte Perriand (1903 – 1999) – Pivotante à poser 
French designer Charlotte Perriand has undoubtedly marked the history of design. She notably collaborated with Le Corbusier, working in his studio and contributing to the design of The Unité d'Habitation in Marseille. Her tubular steel chairs gave her notoriety, but she also designed adaptable lighting.
Ray Eames (1912-1988) – Lounge Chair & Ottoman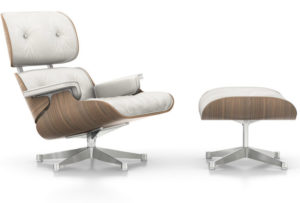 Ray Eames is one of the big names in 20th century design. In collaboration with her husband, the American designer has created some great iconic pieces, including the Lounge Chair & Ottoman, made of leather and molded plywood.
Lucienne Day (1917-2010) – Their Exits and their Entrances silk mosaic
Lucienne Day is an English designer, who has mainly worked in textiles. Like her husband, Robin Day, who met at the Royal College of Art in London, Lucienne made design history through her modern style, but also by creating extremely inspiring patterns.
Grete Jalk (1920-2006) – GJ Bow Chair/Shell Chair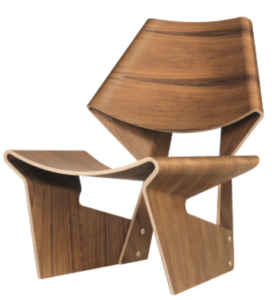 Danish designer Grete Jalk is best known for her GJ Bow Chair, which she designed in the 1960s by combining two pieces made of molded plywood. Before opening her own studio and developing this characteristic piece of Scandinavian design, Grete Jalk studied at The Design School for Women in Copenhagen and at the Danish Royal Academy, among other places.
Andrée Putman (1925-2013) – Crescent Moon 
French Andrée Putman embarked on a career as a designer late in life, having initially considered a career in music and then worked with magazines and agencies. In the 1970s, Andrée Putman founded Ecart International, which aims to reissue and bring to light little-known furniture from the early 20th century. Crescent Moon sofa, designed by Andrée Putman herself, is part of the agency's fine collection. The designer is also known for having designed various interiors.