Bar Luce is a cafe designed by Wes Anderson that is located in Fondazione Prada, Milan. It is a typical Milanese cafe that is inspired by 1950 – 1960's popular Italian aesthetics. As the American film director is known for his iconic and charming sets in his movies he was asked to design this cafe and it feels like it came straight out of one of his movies.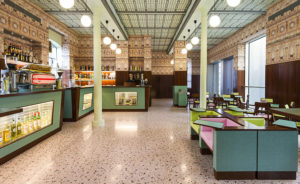 The decor is inspired by the typical 1950 & 1960's design of the typical cafes in Milan and pays a tribute to the vaulted glass roof of the Galleria Vittorio Emanuele II in Milan. The color palette, floor, formica furniture echoes to the interior inspired of that period. You can also find some hints to his movies like Steve Zissou and Castello Cavalcanti pinball machines.
Wes Anderson wanted to design a space where writers would get inspired and where the director would go often to spend the afternoon. As he is known for his mad sense of symmetry and details, Bar Luce is asymmetrically designed that there is no dominant perspective from any space or any point of view.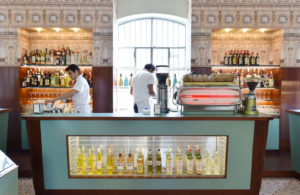 He wanted "to design not a set but a space for real life—but maybe it will be a good place to write a movie." He intended to create a place for drinking, eating, talking, reading, etc.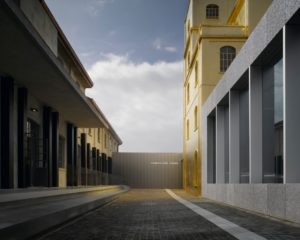 Bar Luce is located in Fondazione Prada
This building is designed by OMA the architecture firm run by Rem Koolhaas and used to be a distillery before 1910 when they transformed the building to its current state: a venue that exhibits contemporary art.
As stated by Rem Koolhaas: "The Fondazione is not a preservation project and not a new architecture. Two conditions that are usually kept separate here confront each other in a state of permanent interaction–offering an ensemble of fragments that will not congeal into a single image, or allow any part to dominate the others.
New, old, horizontal, vertical, wide, narrow, white, black, open, enclosed – all these contrasts establish the range of oppositions that define the new Fondazione. By introducing so many spatial variables, the complexity of the architecture will promote an unstable, open programming, where art and architecture will benefit from each other's challenges".
Bar Luce is open on Friday, Saturday and Sunday from 10am to 7pm.
The address is Largo Isarco, 2, 20139 Milano MI, Italy