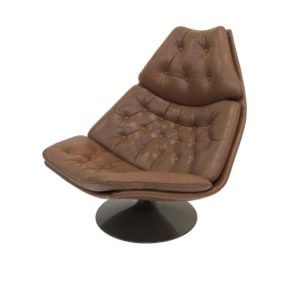 The comfortable brown leather shell is resting on a dark brown lacquered metal swivel base. The cushions in brown leather are tied up on the shell with buttons. The leather has a beautiful patina and is still in very good...
This table lamp was designed by Uno & Östen Kristiansson for Luxus Vittsjö in Sweden in the 1960s. It features a teak base and an acrylic white shade. Can be used as a table or wall light.
P.J. Muntendam for brothers Jonkers (Gebroeders Jonkers) design armchair from the 1950s from the Netherlands. This armchair has a beautiful timeless design and has a very comfortable seat.