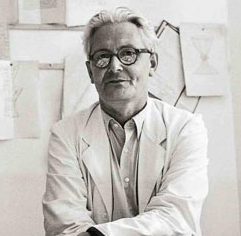 Wagenfeld Wilhelm
As a young boy he studied drawing at the Bremer Knaben Zeichenschule before starting as an apprentice in the Silberwarenfabrik Koch& Bergfeld. He stayed with the company until 1918 and attended the Zeichenakademie in Hanau.
In 1923 he went to the "Bauhaus" in Weimar. He designed the famous Wa24 "Bauhaus" lamp in collaboration with K.J. Juncker in 1923-24, two silver tea boxes in 1924, a so called "Moka machine" and other tableware. Contrary to the large majority of former Bauhaus students, Wilhelm Wagenfeld became a well and widely known industrial designer.
In spite of Laszlo Moholy Nagy's un-founded criticism (…how can you betray the Bauhaus like this?…) Wagenfeld remained throughout his career very loyal to the Bauhaus principles. His greatest commercial success were the "kubus" glass containers for the Lausitzer Glassworks (1938), but well known are also the "Max & Moritz" diabolo-shaped salt and pepper shakers for WMF and the famous Wagenfeld tea service designed with Ladislav Sutnar (1932) for the Glaswerk Schott & Gen in Jena where he started his professional career.
He was part of the legendary Metropolitan Museum's Exhibition of Contemporary Industrial Art in 1930 (3th edition) that had a major influence on the development of american design. He was a teacher at the Staatliche Kunsthochschule in Berlin from 1931 to 1935.
Unlike many Bauhaus teachers he stayed in Germany during the rise of the Nazi regime and the second world war. Because of his reluctancy to serve the nazi regime he was send to the East front and finished the war in a russian prisoners camp.
Before starting his own design office in Stuttgart in 1954 he was a professor at the Hochschule für Bildende Kunste in Berlin.
He received the Grand Prix at the Milan Trienale in 1957 and the Bundespreis Gute Form in 1969 and 1982. He guided his design office the "Werkstatt Wagenfeld" until 1978 and remained active and interested in the design community until his death. Bremen has honoured him with his own museum, the Wilhelm Wagenfeld Haus, and his works are collected by most important museums including the Museum of Modern Art in New York.