Marianna von Allesch
Marianna von Allesch was born Maria Anna Steudel  in Germany.
Von Allesch emigrated to the United States in 1928 and by the late 1940's, had established herself as a formidable creative force (in multiple media, most notably ceramic and glass art) that was as admired by curators and fellow artists as she was by interior designers and collectors.
Maria Anna Steudel trained under Bruno Paul and Adelbert Niemeyer and at the Royal Academy of Arts (now merged in the University of the Arts in Berlin ) in the fields of painting , 'arts and crafts' and textile design.
She was particularly taken by by the art of glass blowing and ceramics in the years following university.
After marrying Gustav Johannes von Allesch, a psychologist from a noble line, she set up a boutique called 'The Blue House" at #244 Kurfürstendamm in Berlin, where she sold her embroidery, textiles and glass sculptures, in the early to mid-1920s.
In 1928, after a divorce from her nobleman husband, she decided to leave Germany for the USA. Maintaining her married name, von Allesch lived mostly in New York , where she initially ran a studio on East 68th Street.
She became known for her avant-garde asymmetrical ceramic pieces, often monumental in size, that were wired as table lamps, as well as her glass sand ceramic bowls, ashtrays and large-scale ceramic wall reliefs (ceramic murals). She eventually became the glass designer for Kensington Crystal Co. and designed the successful furniture line Pulaski Modern Furniture, becoming a known interior designer (for Pulaski Veneer Co. in Virginia) and academic (at the Minneapolis Institute of fine arts) in the decade that followed.
In 1956, Marianna von Allesch was commissioned to produce the lamps in the lobby and in the over 400 rooms of the newly built Americana Hotel in Bal Harbor, Miami , designed by architect Morris Lapidus ; The hotel was renamed Sheraton Bal Harbor Miami in 1980 and blown up in 2007 in favor of new buildings. The works of Marianna von Allesch were shown in exhibitions and museums in Europe and the USA.
The Princeton University Art Museum in Princeton and the Metropolitan Museum of Art in New York also acquired some of their works for their collections. Marianna von Allesch died in 1972 in Elmsford, Westchester County, New York.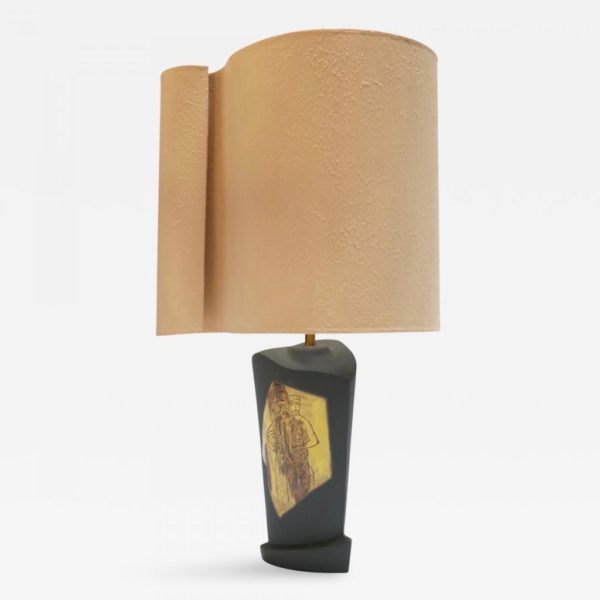 1950s Ceramic Table Lamp
VASE IN THE MIDDLE OF THE ABSTRACT SIGNED MODERN CENTURY
Ceramic Horse Sculpture