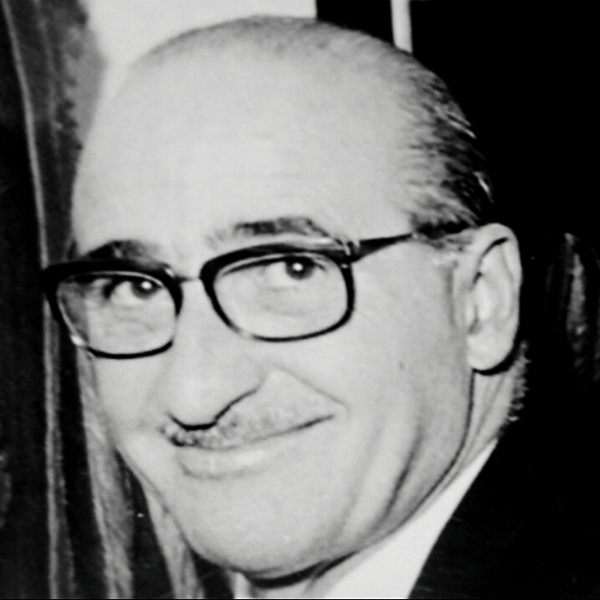 Angelo Lelii
Renowned as Italian lighting designer Angelo Lelii was to become, little is known about his early history other than that he studied at ISIA (Superior Institute of Industrial Art) at the University of Decorative Arts in Monza, outside Milan. It was in Monza also where as early as 1939 he started working out of a small basement workshop, producing lamp and chandelier designs with clean lines, strong attention to detail, and utilizing the newest technologies. After having his work interrupted by the War, in 1946 three of his designs were featured in Domus Magazine.
Founded by Gio Ponti, the magazine was now under the direction of architect Ernesto Nathan Rogers, whose focus was on Italian designers and architects representing the new Functionalism. The featured Lelii designs included the "Tris" lamp in brass and cast iron, with three different adjustable joints. The publicity helped him launch his Monza-based company Arredoluce in 1947, where he continued his dedication to meticulously produced, modern functional lighting.
In 1948 Arredoluce participated in the Milan VIII Triennale, displaying lamp model 12128, an elegant three-armed, standing lamp of lacquered aluminum in primary colors with adjustable light fittings. Often simply referred to as the "Triennale," the lamp became a modern classic, having been also manufactured in the United States for the Raymor Corporation. Another standout Arredoluce design of the period was the aptly named "Stella" ceiling light (1950) with its starburst of multiple luminous spheres.
Lelii's influence through the post-war years proved a significant contribution to the Italian design renaissance. In the 1950s he collaborated with many other important designers, including Gio Ponti, Nanda Vigo, Mario Tedeschi, Franco Albini, Achille and Pier Castiglioni, and Ettore Sottsass, creating many table and floor lamps, sconces and chandeliers. Lelii encouraged his company workers to collaborate with the designers, resulting, for example, in the trademark Arredoluce floor switch. He also started his own distribution company, Prescolight, for exporting his products to the US, and was first to bring General Electric's halogen bulb to Italy, creating a special transformer for it that would be used for many years to come.
Arredoluce lighting fixtures were characterized by quality materials and execution – gracefully sculpted shapes, perfectly welded brass parts that appear seamless, and versatile adjustable mechanisms. Aesthetically, some of Lelii's designs share influences with art of the period; his multi-armed lamps, for example, and Alexander Calder's mobile sculptures. Lelii's 1965 Cobra lamp (model 12919), which he famously first sketched on a paper towel, is unmistakably sculptural.
Misattributed to Gio Ponti for some time, the lamp's highly stylized cobra-hood shape has a futuristic look and was indeed design-forward in that it was one of the first lamps to utilize low voltage, with a transformer hidden in the base and an ocular globe that allows for a highly focused light beam. Also highly sculptural, the President lamp (1970) has 36 downward-inclined illuminated cylinders in an upright stainless-steel square, and can stand on its own as a piece of Op Art. Lelii's Eyeball lamps from the 1960s were also remarkably forward-looking, anticipating the high-tech look of that emerged in the 70s.
As Arredoluce director and designer, Lelii continued producing hundreds of artful lamp designs right up to his death in 1979. Having lived and worked in Monza the entire time, upon his demise Arredoluce closed after some thirty years. Already renowned at the time, his lighting collections have become even more sought-after since. Lelii is regarded now as one of the great figures in modernist lighting design, on par with his most successful contemporaries.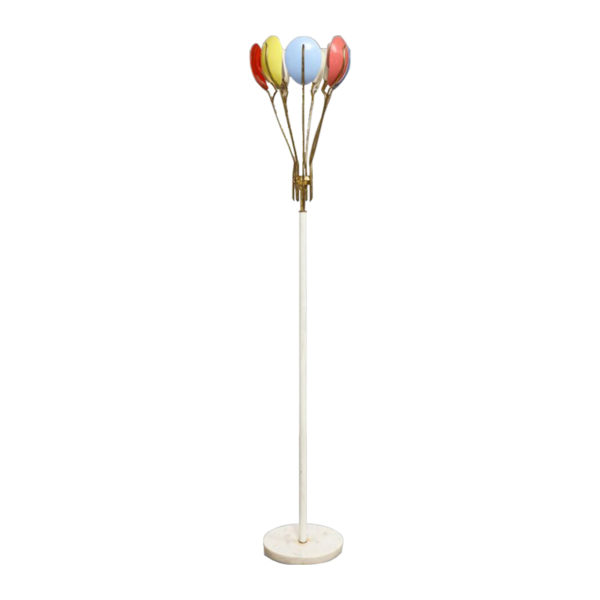 Rare Floor Lamp, by Angelo Lelii for Arredoluce Italy c. 1955
Rare Chandelier by Angelo Lelli for Arredoluce Italy c. 1952
Floor Lamp, 1952