Jørgen Baekmark
The architect Jørgen Bækmark was head of the FDB design studio for nine years from 1958-1967, after Børge Mogensen, Poul M. Volther and Ejvind A. Johansson.
He was born in 1929, educated himself as a cabinetmaker in 1950, and subsequently took an education at the School of Arts and Crafts and the Royal Danish Academy of Fine Arts, Furniture School.
Jørgen Bækmark is today the only living designer from that time, FDB made design furniture available to a common man.
Bækmark was the head of FDB's design studio at a time when the demand for furniture was quietly declining. However, this did not prevent him from being the originator of several furniture classics such as J80 and J81. The two iconic stick chairs were based on what was particularly good at FDB's furniture factory in Tarm, namely wicker and turning and steam bending wood.
Jørgen Bækmark has personally helped to make a gentle adaptation of the J80 and J81 chairs so that they are timely in relation to size and height.
– When making furniture, one must really take into account production opportunities, demand and price. But sometimes I looked away from the economy. Then I drew something I liked to look at and sit in.
Jørgen Bækmark
Jørgen Bækmark's philosophy is that furniture should fit people and not vice versa. Comfort is paramount, but the design is also a corner element. The combination has proven to work because many of Bækmark's designs are popular today.
– When I drew the furniture 50 years ago, I had never dreamed that they would be so popular and even put into production again. I am very grateful for that recognition.
Jørgen Bækmark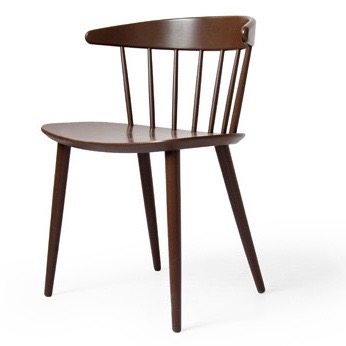 FDB CHAIR
Paper Cord Round Lounge Chair
J108 Side Chair