Design Legend : Jean-Michel Frank
Jean-Michel Frank, perhaps the most influential French designer of his time, was born in Paris in 1895 to the wealthy and well-known Frank family. His father was the banker Léon Frank, his first cousin Anne Frank's father Otto Frank. His projects were often to decorate rooms with Picassos hanging on the walls. He decorated for the elites around the world.
Frank was credited with designing one of the most iconic minimalist pieces of furniture in history—the Parsons table—but would often cover the tables with the most luxe finishes.
In 1904 he began his education at the Lycée Janson de Sailly in Paris, and in 1911 enrolled in law school. This professional course was disrupted by the war—in 1915 his older brothers Oscar and Georges were killed on the front. Shortly thereafter, distraught over the loss of his sons, Jean-Michel's father committed suicide. These tragedies would be the first of many to befall the designer (a decade later his mother would die in a Swiss asylum), and led him to travel the world during the early twenties. In the war's aftermath he drew inspiration from Venice, where he fell in with the sophisticated circle drawn to the composer Stravinsky and the choreographer Diaghilev, and then back home, in Paris, from Eugenia Errázuriz, who revealed to him the beauty of 18th century furniture.
These influences were belied by Frank's polished output and meteoric rise. His aesthetic was equal parts self-assured and innovative, his elegant work spare in form, subtly decadent in ornament. It remains, to this day, immediately recognizable for its unique combination of pared down, rectilinear forms with luxurious materials like vellum and shagreen, techniques like elaborate, shimmering straw marquetry. This genius of juxtaposition was evident as early as 1924 when he designed a set of furniture for Hermès, but only became widely recognized after he designed the apartment of Vicomte Charles de Noailles and his wife, famous patrons of the arts in Paris.
The 1930s were marked by a string of professional successes for Frank. In 1932 he and Adolphe Chanaux, his Parisian decorator, opened up a shop at #140 Rue du Faubourg Saint-Honoré. This collaboration culminated in illustrious work for both the Rockefellers and the Guerlains. And in 1937 he designed Nelson Rockefeller's famed Fifth Avenue apartment. It was, moreover, during this decade that he created many of his most famous designs, including the beautifully simple piece known as the Parsons Table.
This period came crashing to an end at the start of the Second World War. During the winter of 1939-40, Frank fled France for Argentina. He took an apartment in Buenos Aires, and a position as the Artistic Director of Comte, executing a variety of projects with an old friend and former business partner Ignacio Pirovano. Among his clients were the Born family, whose local mansion remains intact to this day and is widely regarded as Frank's most glamorous and important project.
In 1941, on a trip to New York, Frank, who'd grown overcome by depression, threw himself from the upper floors of a Manhattan apartment building and ended his life.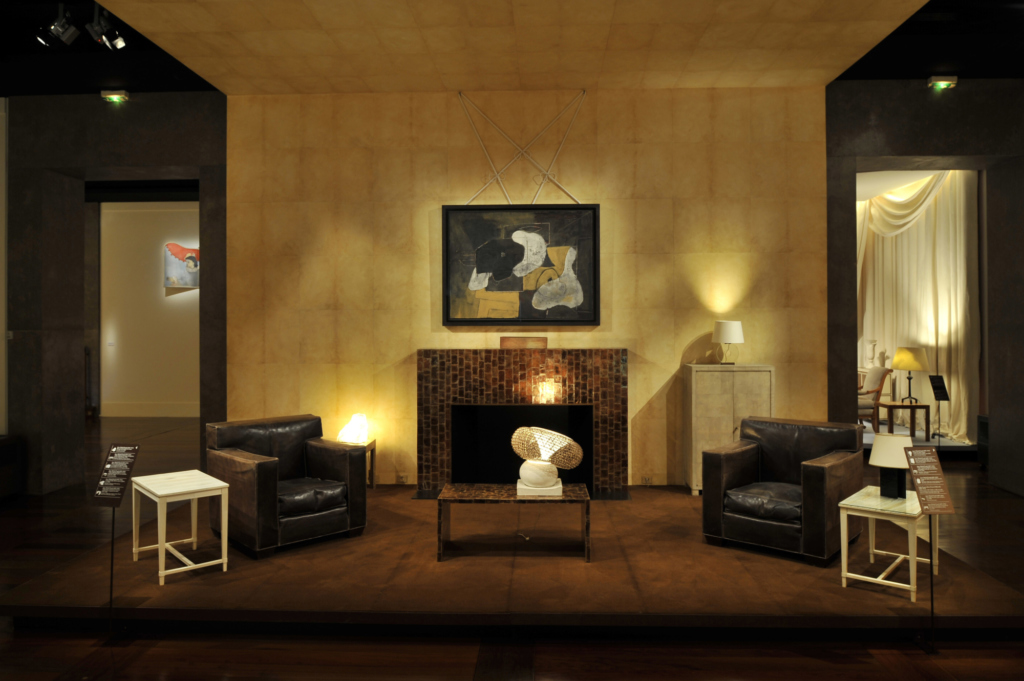 Frank's work is still celebrated in museums today, and you can buy reproductions of some of his most iconic furniture pieces designed for Hermès.