The Last Thing That You Acquired #57 (Post Pandemic Edition)
Hi all,
Based on Lexi's good judgement, research or memoryhere is '57. I hope there's appetite for it now various lockdowns are starting to ease, or perhaps you have a backlog of fantastic finds from the past year acquired while socially distanced! I am sure we'd all love to see what we've everyone has found.
I got this very cool Børge Mogensen 4853 sofa, I am not confident to say it's manufactured by Tage Kristensen as it came from a house with a of Mogensen Fredericia branded sofa table and Leif mentioned to me that the sleigh legs are much like the Mogensen daybed he owns, which is Fredericia. And I am assuming Tage Kristensen was earlier, this must have been made in the 60's as Gabriel Savak was designed in the early 60s.
Anyway, I feel very lucky. I love the design and the fabric is something I've wanted to upholster something in regardless for a long time. So to hit both notes with a functional sofa is pretty brilliant.
walked into a second hand store last week and they were literally just putting out a wegner ge 375 three-piece sofa and two armchairs...  probably my greatest find ever ! currently have them as two two-seater and one armchair format. some pics below.
one of the seats has a sticker on (also below). does anyone have any idea as to the age of the pieces ? any help would be appreciated 🙂
btw, lovely sofa and great choice of material kyle !
cheers all,
jonny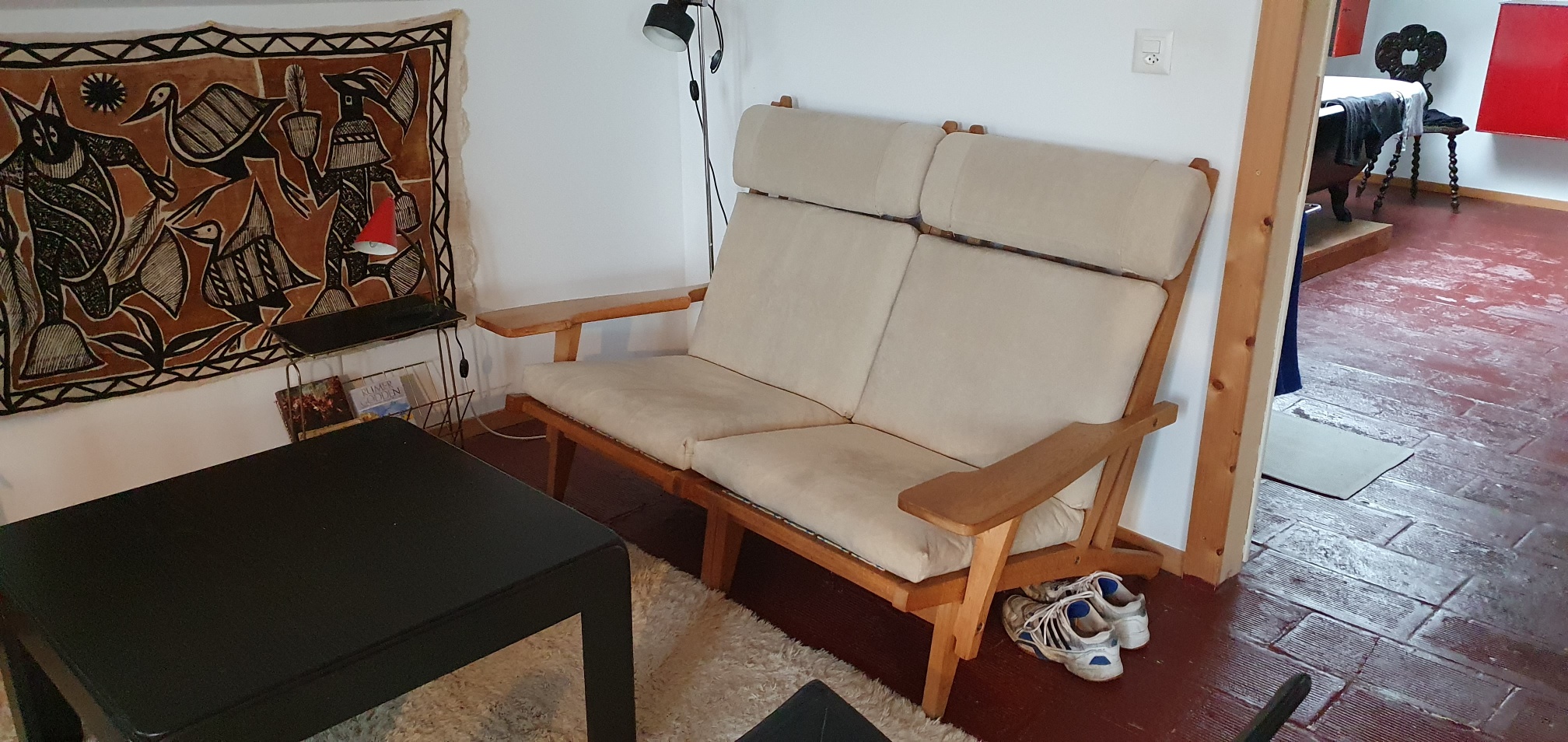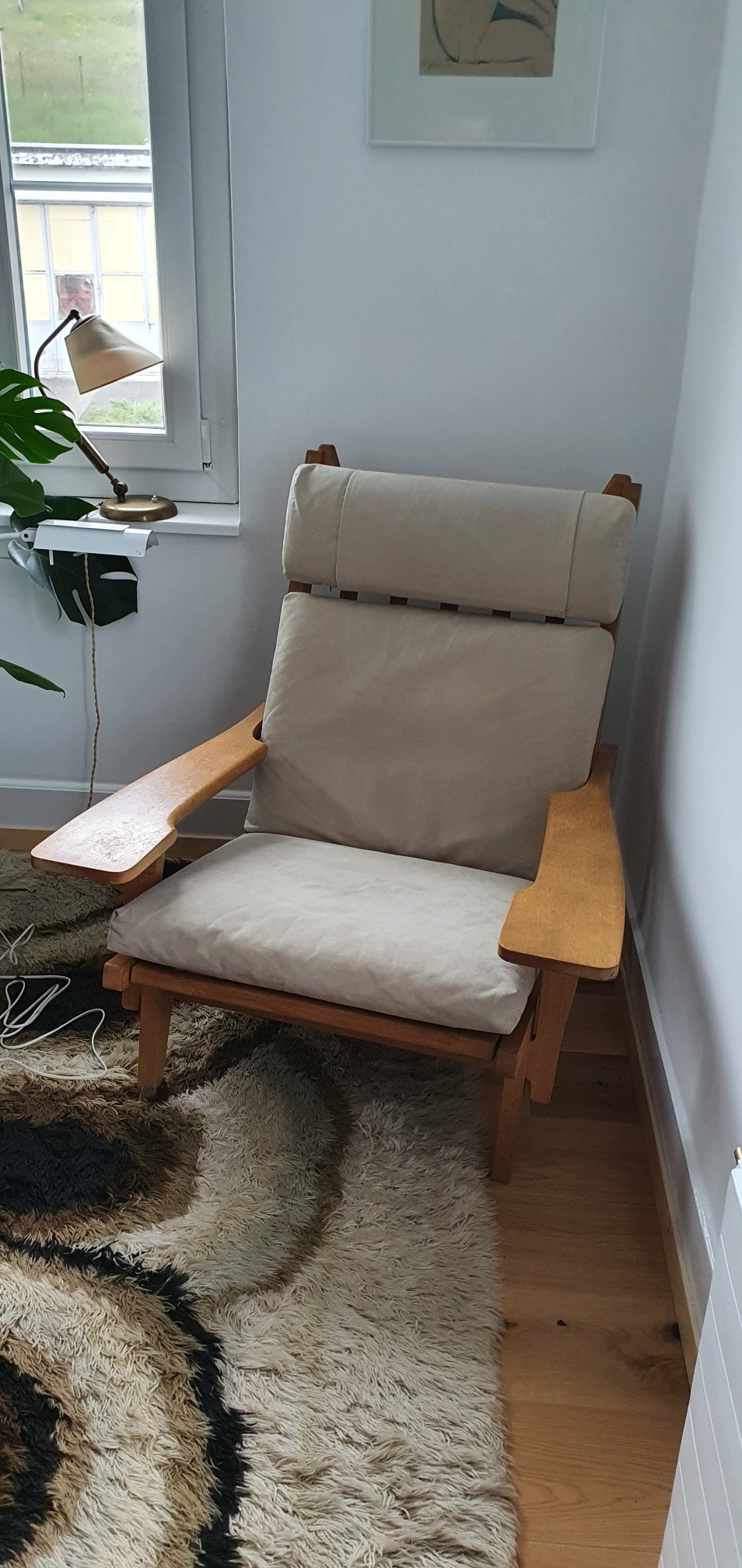 @jonnym I have no clue about the age of the pieces but the design of the sticker makes me assume that they probably weren't produced before the 80s, maybe even the 90s. But maybe @cdsilva can help with his extensive knowledge about makers marks? 
"People buy a chair, and they don't really care who designed it." (Arne Jacobsen)
hi @kyle-barrett, hi @herringbone,
thanks for the info and yes, definitely think it's my luckiest find, even better than the finn juhl chieftan's chair i found last year ... just kidding, but a boy can dream 🙂
i actually remember once on one of these threads some guy had picked up an eames lounge chair in goodwill for 100 bucks or something crazy like that... i think i actually felt sick with jealousy when i read that 🙂
@kyle-barrett attached are some pics of the construction. as you can see, the chairs are held together by bolts similar to the ones used in ikea furniture (where the bolt fits into a female piece within the wooden cross beams). there are three bolts on either side of the chair which correspond to three cross beams that seem to hold the chair together.  the sections with arms simply have longer bolts.
in addition to these bolts there are two screws that hold the seat to the frame. i haven't tried it, but i would not be surprised if once these bolts and screws are removed, the whole chair couldn't be simply deconstructed. the only part that i can see that has definitely been joined permanently are the arm rests.
thanks again for your kind comments and looking forward to seeing what other treasures have been discovered !
jonny
nice find, jonnym.
Herringbone, this chair is an interesting example, with two different marks. While the GE-375 doesn't appear in any Getama catalogs I have, the Jens Bernsen Wegner book lists a design date of 1969.
The block letter burn stamp is one of the earliest, if not the earliest, mark I have for Getama. This is consistent with other Salesco companies, whose earliest marks were also block letter burn stamps. I did not previously have this cursive logo foil label. But based on that cursive logo appearing on vintage docs and catalogs, I believe that was used mostly during the 60's and 70's Later Getama foil labels used block letters. My logo list here may not be fully accurate with chronology (left to right), but it's close. And jonnym's stamp clearly shows it's not comprehensive.
Based on the above, here is my guess: GE-375 chair/sofa parts were made in bulk early on, with some members burn stamped. The furniture would be assembled to order, with a foil label (sometimes) applied after the assembly was complete. My estimate of production date for jonnym's pieces is early to mid 70's, but I guess it could also be late 70's.
thanks @cdsilva,
the info is much appreciated. attached is a better photo of the foil label for your collection 🙂
i also thought that it might be earlier rather than later. the foil label with hans j. wegner as a cursive signature (in the photo you attached) feels like a more modern affectation. i would have thought that earlier iterations would not have thought to do this and would have used the block letters for his name as per my label ... but this is pure speculation on my part.
finally, yes, all of the chairs have the block letter burn stamp on the underside of the seat and also have traces of the foil label as well.
thanks again for the info !
jonny
Goppion actually produces high-quality display cases, mainly for museums, the Louvre etc. As far as I know, Sandro Goppion designed this shelf at the end of the 1970s, apparently not very many were privately owned, which was certainly due to the high price. I wasn't really interested in glass shelves either until I saw this one by accident.
Actually, I wanted to pick up an Alanda coffee table from Paolo Piva. Then it hung there, 20cm above the ground in front of a large glass front in a beautiful 1970s bungalow. 3 glass shelves equipped with an exclusive stereo system and the matching, very discreet halogen lamp. Next to it a black leather lounge chair, that really impressed me.
In the background the Alanda table, the same glass thickness, the same curves, the same cut, simple and clear, perfect for me.