Is there a reliable source for Moller tables?
The problem, as I see it, with the credit on that table is that it looks extremely like the one made by P. Jeppesen.  You can tell the difference by the bolts sitting proud of the legs on the Glostrup one.  And I will say that the Glostrup one is very finely made.  But that does not mean that Grete Jalk designed it and especially in the late 1960s and 1970s when the industry when dying fast and everyone was just trying to stay in business.  Did PJ stop producing it and Glostrup take it over?  Did GJ design an extremely similar table for Glostrup?  Did Glostrup just "take" the basic design and start selling it?  We need documentation.
I have midwhile two of these tables. Both came from old households in Germany. First hand.  Both tables came with a set of Moller chairs. Most likely a good sale combo in that period. First table had 4 Moller chairs #71. Second table 6 Moller chairs #79. So purchasing in the 1960s is very likely. 
I have seen the Jeppesen tables several times along with Glostrup being attributed to Jalk a lot, I wonder about this just being anything with a lipped top being credited to her. I recently picked up a pair of side tables and matching coffee table by Jeppesen however and they are marked as Ole Wanscher.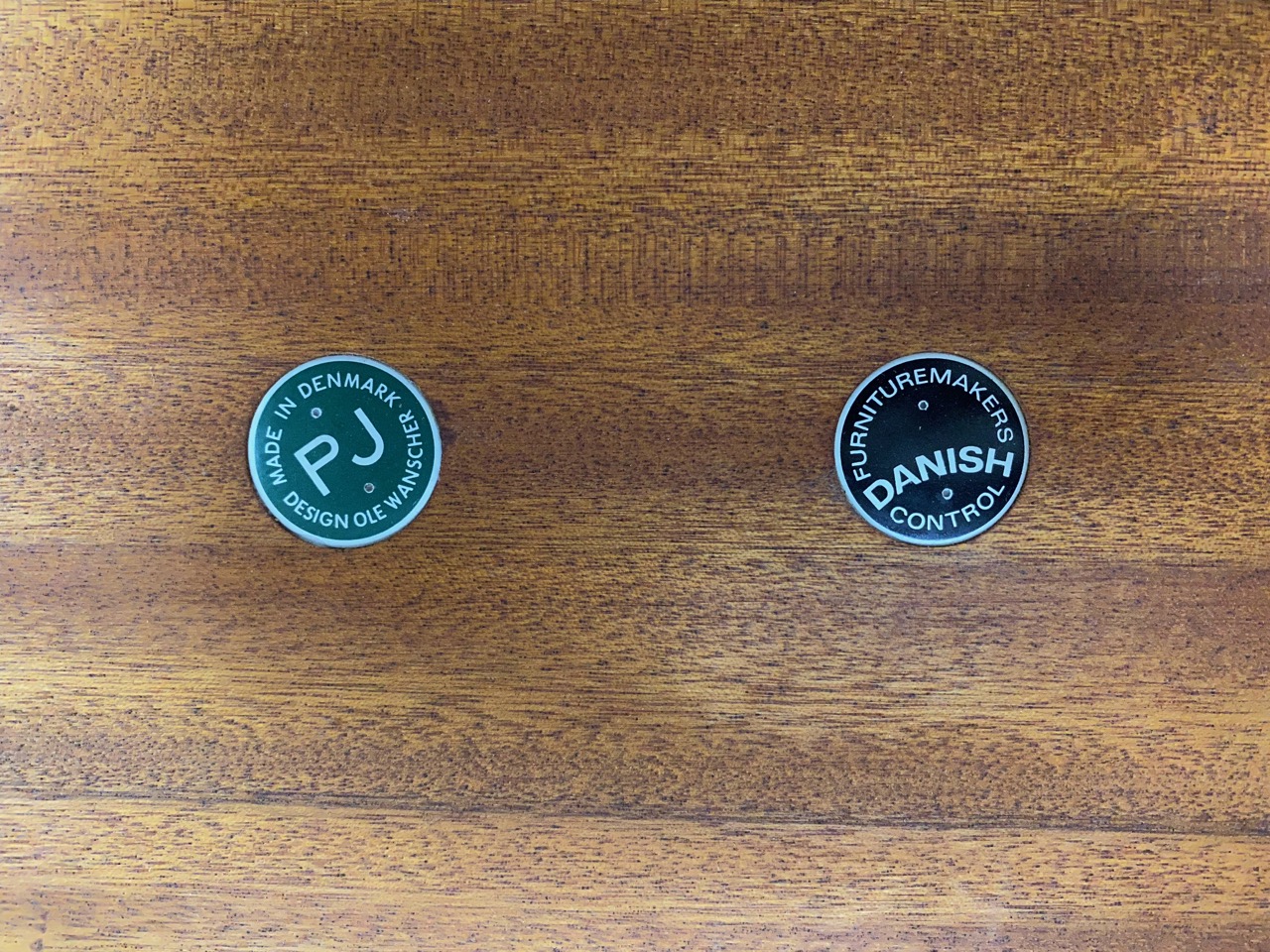 That flip-top bar cart is quite famous and always attributed to Jalk. 
Andersen, have you seen vintage catalogs, ads, or articles that credits Jalk with design the fliptop cart? All of the catalogs that I have specifically call out Jeppesen as the designer, separately from Jeppesen as the maker. If not for the occasional sticker on the carts themselves that say designed by Grete Jalk, I have not found any other vintage documentation that says that. It may be a case of Jalk being the actual designer, but Jeppesen holding the official design credit as the employer, similar to Arne Hovmand Olsen and Moller.
@cdsilva In the case of Jalk and Jeppesen, Jeppesen wasn't the employer. Hovmand Olsen worked at J.L. Møller's factory, if I get it right. Grete Jalk didn't. If the plates on the cart state that Jalk was the designer, I would take that as the most relevant "documentation". But of course it's interesting that the catalogs give a wrong information.
"People buy a chair, and they don't really care who designed it." (Arne Jacobsen)
It's not, just one or two catalogues, it is at least five that I've seen for different retailers. Personally, I believe the sticker on my cart that Grete was the designer. However, all of the catalog documentation that give Jeppesen credit indicates that there is not 100% certainty on who the designer was. One could envision a scenario where a factory worker mistakenly put some PJ stickers on these carts, which just so happened to have Grete's name on them and were intended for other designs.
Most of the marked Finn Juhl designs made by Niels Vodder have the 3 line mark, with FJ's name up top. Every now and then, a FJ design pops up with only the two line NV mark. Those cases are most easily explained by a workshop employee mistakenly grabbing the wrong brand out of the fire.
I am not really sure about putting all of this to a cabinetmaker who put a wrong sticker here and there. As for the Jeppensen piece, one could also imagine that for some reason the catalogues had the same origin or that it was more convenient to highlight the name of Jeppensen rather than of Jalk, but for which purpose I'm not sure because designer's names were an important selling point.
As for the Juhl pieces I guess it's a different scenario. Consider that a small part of the NV pieces were actually made by the NV workshop, as he had contractors, apart for the Chieftain chair that he made mostly himself (apart from Ivan Schechtler). So it might be that some contractors used only two lines and other three, simply because they did not agree that having the three lines was a must. Or maybe that changed over time.
I checked out the DFI. Found what looks like the table @raijin posted and Grete Jalk is named as designer and verified by her.
@raijin; what are the measurements on your table just to confirm we are talking about the same model. ( coffee table?)
So again we possibly have two designers for the same table ; albeit the same producer.
Or is it another case of an incorrect label?
Knowledge shared is Knowledge gained
There are a lot of these p Jeppesen carts with a designed by Grete Jalk marking. Note that P. Jeppesen had other marking for other designers. And those markings never accidentally end up on the cart. So this does not exactly follow the random accident phenomenon. What it is I do not know and I don't think we have the information to know. 
I wouldn't call that table a coffee table, more like a side table but I do have the coffee table as well. The smaller table measures aprox 75 x 44 x 51 in cm and the large coffee table is 165 w x 60 d x 42 in cm. All three tables are labeled the same as I posted above.
The only thing I can say is perhaps it has to do with the shelf. If the slats go one way or the other, if it is solid or if there are no slats at all. I know with Glen of California that they literally had the same dressers/nightstands/credenzas attributed to different designers where only the pull was different. There was Milo Baughman, Greta Grossman, Stanley Young pieces where that was the only difference.