Giving me Adrian Pearsall vibes, but what do I know?
Just picked up this sectional sofa and the wood casing and shape of the backrests point towards Adrian Pearsall, but just wondering if anyone might have more information. I dropped off at the upholsterer immediately so didn't get a chance to fully examine, but I do know that the legs are not original. Any help would be appreciated.
Thanks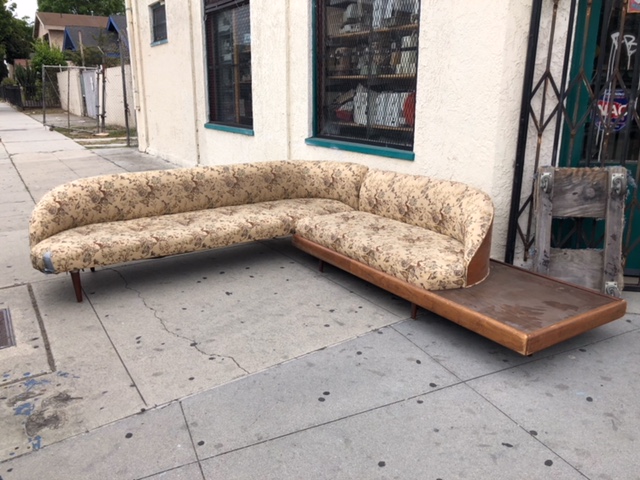 I don't think it's Pearsall. He did do a number of sofas with attached tables but I've never seen a Pearsall chair or sofa with wood-clad back. Kodawood was known for that feature but I don't think they did a sofa like this. Could be just a mashup of design features borrowed from others. A lot of American furniture is just that.
If you're lucky, the frame will be better quality construction than that of Pearsall upholstered pieces.
Yeah. Very strange. It looks like it should be skirted, but then the wood back and the high legs on the left side.. nah. I'd like to see the back of it out of morbid curiosity. The right-side-facing base part is lucky to hit the height and depth accurately, but otherwise seems generated by a randomizer..
What are you having the upholsterer do with it?