Beech Armchair
Okay, now I have an ID request.  Picked up a pair of these yesterday in Texas and image and keyword searches have so far returned only one other example - the pair on the right posted by a California consignment store but the link is dead.  Frames are beech and they're pretty wide at 22"/56cm.  I'm assuming they are not by a well known designer or maker but does anyone have any ideas?  Yugoslavian? And what do you call this arm style? Paddle arms?  Thanks.
@mark737. Yes: Paddle arms is the word I would use.
Knowledge shared is Knowledge gained
@lexi  I took the backrests off today and discovered red "Made in Norway" ink stamps on the stiles.  I did some more searching with this info but still came up empty.  The closest I found were the chairs in the 2nd photo attributed to Adolf Relling & Torbjørn Bekken.  Maybe you or one of your Norwegian friends might have a clue?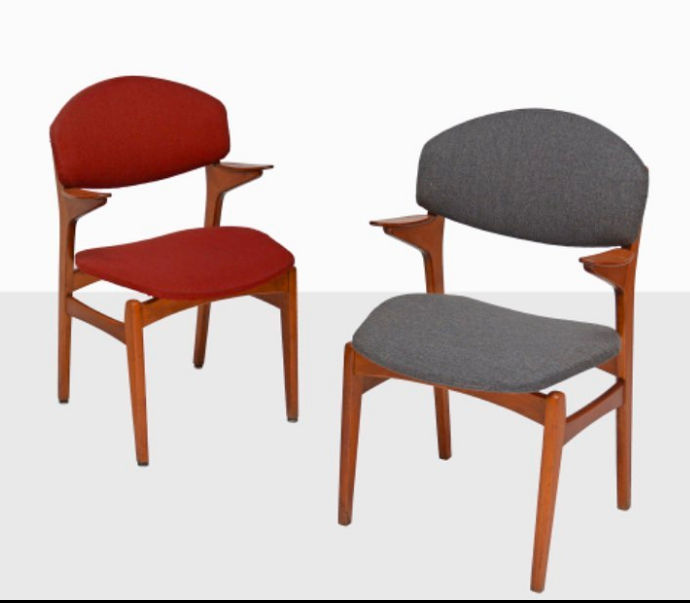 @mark737. Unfortunately, so far, no one has  identified the chairs you posted.
There were many smaller furniture makers in Norway and a lot made chairs , so it is probably hard to pin down a manufacturer for yours.
Gustav Bahus, for example, had numerous subcontractors making their designs; some are well known but others were more obscure.
Knowledge shared is Knowledge gained
@lexi  Thanks for trying.  I figured it was probably a obscure producer based on the lack of examples online.  I'm sure you or someone on the Norwegian forums will come across it eventually. 
@mark737. Only 1 year later.
Found this image of your chair. Unfortunately all other furniture on page is named but NOT your chair !
From a publication (2nd image) dated 1958.
Knowledge shared is Knowledge gained