1964 advert; chair identity
@tktoo2. Nice description of your search efforts. Know how you feel. Thanks anyway for trying.
Since the Google image search function became the "go to" option I have lost a well honed skill,  developed over the years, of using a  word search and gradually narrowing the search to a few "key" words, which worked a lot of the time.!!
😏
Knowledge shared is Knowledge gained
@tktoo2. more googling and retina "burning ". Found a chair designed by Katavolos, Littell & Kelley on a Vitra poster!!
Closest to frame shape/design I came across. From 1952.
Guess someone was "inspired" and designed the red chair above.
Knowledge shared is Knowledge gained
@lexi, 1952? Wow, that's even older than I am! Much earlier than I would've guessed. '64 seemed early for the red chair to me, too. Both look so futuristic even now.
I too put in some retina-burning time looking for this one before giving up .  I also saw the "T-chairs" by Katavolos, et al and thought it could lead somewhere, but it didn't, at least as it pertains to the red lounge.  I did learn that they were, and still are, made by Gratz Industries of Pennsyvania.  They have a nice website with interesting info on their history, such as their  early production of some Mies van der Rohe and le Corbusier designs for Knoll.    
I also thought maybe the other furniture in the ad could be a clue.  The black chair looks like a "Bachelor" chair by Verner Panton for Fritz Hansen.  And the lower half of that ad features a Jacobsen "Egg" chair.  So I was thinking odds were decent the red lounge lounge might be by FH too, but I  haven't found anything. Maybe someone has access to a 1963/64 catalog or book that covers that time period.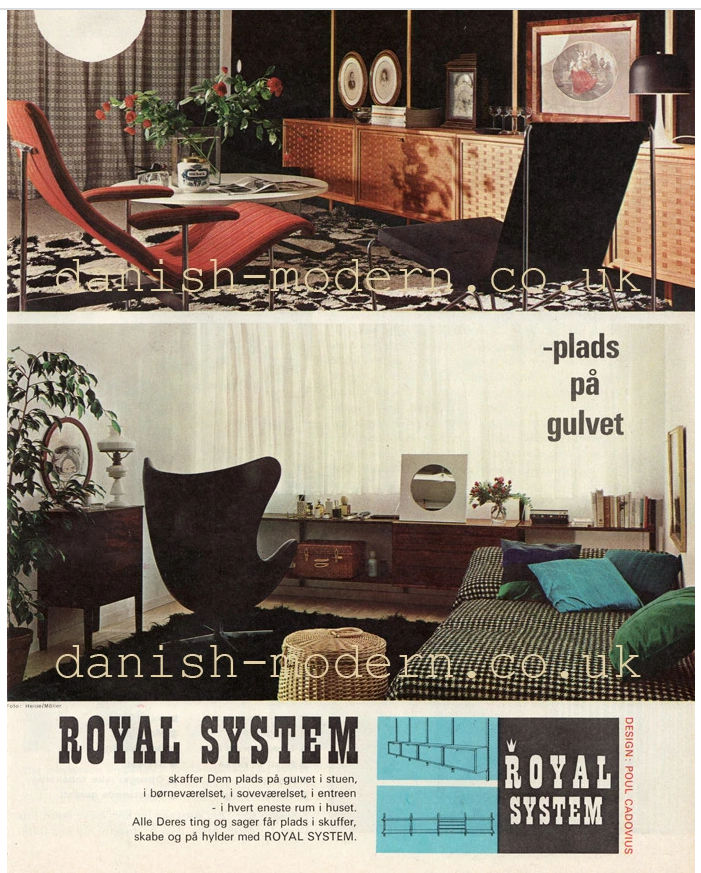 @mark737. I also went down the Fritz Hansen route. Got nowhere.
I found another Royal System advert which has a Ross Littell chair for ICF (Italy) but that line of search did not get me anywhere either.
Knowledge shared is Knowledge gained