Back to the 1990s and the design work of Philippe Starck: let's go!
Philippe Starck is a designer driven by commitments. Throughout his career reflecting on ecology and economics, he has succeeded in revolutionizing the world of design.
Born in 1949, Philippe Starck grew up in the French capital before being trained at the Ecole Camondo. He kicked off his career when he was hired some time later by Pierre Cardin as artistic director.
However, it was only at the end of the 1970s that Philippe Starck created his design studio Starck Product, which became Ubik. And to be known by the whole world, he still had to wait until the beginning of the 1980s, when he was commissioned by French President François Mitterand to decorate the apartments of the Élysée Palace.
Today, the creations of the French designer are innumerable; we would like to come back to some of them, produced during the 1990s.
Juicy Salif , Alessi (1990)
This is probably one of Philippe Starck's most popular designs. Juicy Salif was developed at the end of the 1980s and was released in 1990. Although its effectiveness has been questioned many times, the citrus juicer, made of molten aluminum, remains nonetheless a fascinating object by its simple form, but powerfully evocative.
Bubu Ier, 3 Suisses (1991); XO (1996)
Bubu Ier surprises with its adaptability according to tastes and desires. In particular, it can be used as storage, thanks to a hollow space hidden under the cover. Moreover, the furniture is available in several colors.
Louis XX, Vitra (1992)
Another piece of furniture named after an imaginary king, illustrating the humor of its creator. The Louis XX chair is very original, because it presents an opposition of materials: at the front, it has plastic legs, at the back it has polished aluminum legs.
Vicieuse Coffee Table, Driade (1992)
A giant screw, modular at will, as a tray for this three-legged pedestal table. It's both fun and practical!
La Marie, Kartell (1996)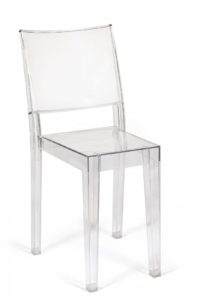 La Marie is an emblematic chair, the first entirely transparent – the paroxysm of minimalism. It illustrates Starck's desire to reach a stage close to immateriality. The use of polycarbonate also makes it a quality object.
Romeo Moon Suspension 2, Flos (1996)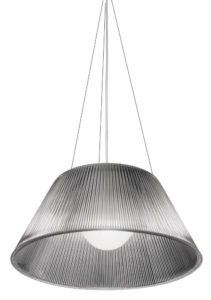 Transparency plays an important role in Starck's work, as is also shown by Romeo Moon Suspension 2, which is held up by steel cables. Its glass shade and inner diffuser allow the light to spread evenly.
Bubble Club, Kartell (1998)
Philippe Starck has a gift for innovating. Some time after his transparent chair, he proposed an armchair made entirely of plastic, winner of Compasso d'Oro : the Bubble Club. A mixture of straight and curved lines, between past influence and modernity.