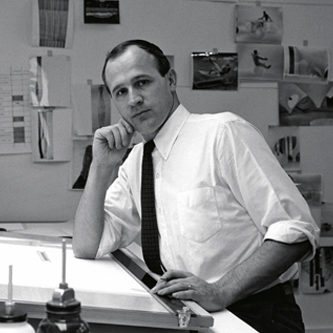 Zeischegg Walter
In 1921 the Zeischegg family moved to Graz. From 1932 to 1936, Walter Zeischegg visited the Federal Institute for Applied Architecture and the Graz School of Applied Arts and then began his sculptor studies at the Academy of Fine Arts Vienna.
He experienced the Second World War as a soldier and was only able to continue his sculptor studies in the master class of Fritz Wotruba in 1946. During his studies, Walter Zeischegg worked as a freelance designer (then the common name for designers) and dealt with, among other things, the handle design of tools, surgical instruments and machines.
In the meantime, he harbored the desire to continue his studies at the "Institute of Design" in Chicago.

On a journey through Switzerland, however, he had met Max Bill, with whom he led from then on a lively correspondence. In 1950 Zeischegg put back his artistic works in order to devote himself more to design.
Max Bill invited the student to come to Ulm as a lecturer at the "new Bauhaus". After receiving his diploma, Walter Zeischegg and Carl Auböck prepared the exhibition "Hand und Griff".
In 1951 Zeischegg followed the call Bill and worked until 1953 in the construction office of the future College of Design Ulm as a clerk for the Research Institute for product form, for the workshops wood, metal, plaster, plastics and the product form department.

In 1953 he became a lecturer in the product form department at the HfG Ulm.
In 1968, the college was closed. Following his lecturing activities, Walter Zeischegg set up his own business and founded a design office in Neu-Ulm. He now worked mainly for the company Helit.
In addition to these industrial assignments, he also devoted his attention to geometric form studies, from which several products, such as his sinus ashtray, but also sculptures, emerged. On 20 December 1983 Walter Zeischegg died in Ulm.