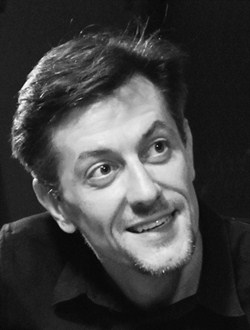 Salvi Riccardo
Riccardo Salvi lives and works in Milano, where he was born in 1965 and where he graduated in Architecture at the Politechnic University. From 1992 until 1996 he was part of Paolo Rizzatto's team and from 1996 until 1998 part of Antonio Citterio's. He started his professional career, concentrating initially on architecture and subsequently on interior and industrial design, designing furnishings and consumer goods for mass production.
Since 1998 Riccardo Salvi and Luca Rossire have been working in association founding a multidisciplinary office for architectural design, industrial design, graphics ad art exhibitions settings. The office also develops projects for residential buildings, restructuring of private complexes, planning of workspaces, offices, showrooms and retail stores. The office is also operational in the field of set design for 'D della Repubblica' and 'CA casamica del Corriere della Sera'.
They worked for Bernini, Puntouno, All Glass Murano, Luceplan, Cerruti 1881, Arflex, Natuzzi, Aprilia.