Kastholm Jorgen
After studies in the United States Jørgen Kastholm was trained as blacksmith in 1953 in his father's company. He went on to study at the School of Interior Design (Danish Design School) with Finn Juhl as his teacher. He graduated as an architect in 1958 with honors. Subsequently he studied at the graphic school in Copenhagen. In the same period he worked for Arne Jacobsen, where he helped to develop the Egg chair. Arne Jacobsen was a great inspiration to him, just as his stay in the United States, where he became acquainted with Charles Eames and Mies van der Rohe.
In 1960 Kastholm worked for Architect Ole Hagen design studio, where he met Preben Fabricius. And in 1961 they opened a design studio together in a basement in Gentofte. It is his partnership with the designer Preben Fabricius that propeled him to international fame. In 1968 they went their separate ways because of Jørgen Kastholms' desire to go his own way. He set up his own studio in Gamle Holte from 1968 to 1971. Jørgen Kastholm was during the period 1968-1971 editor of the furniture magazine Mobilia, where he wrote many articles and among other things, a book about Arne Jacobsen.
Kastholm moved to Germany in 1971, where he continued his architectural practice in Düsseldorf. Later he also established an design studio in Mallorca. In 1975 he was appointed architect and professor at the University of furniture design in Wuppertal. Kastholm designed chairs for the German Parliament and car seats for BMW. His Airport benches from Kusch + co. is represented in more than 120 airports around the world. He also designed furniture for many manufacturers such as: Kill international. Walter Knoll. Harvey Probber. Herman Miller, Gorden Russel, Kusch + Co, Wittmann, Brune, Dauphin, COR and Idea just to name a few of them. And for Danish producers: Poul Bachmann, Ivan Schlecter, Bo-Ex, Duba, Randers, og Getama. Kastholm always worked on the furniture with the aim of creating aesthetics. The furniture should be a pleasure to sit in and to look at. He also received as many honours and awards as any designer can hope to attain and his work is represented in museums worldwide.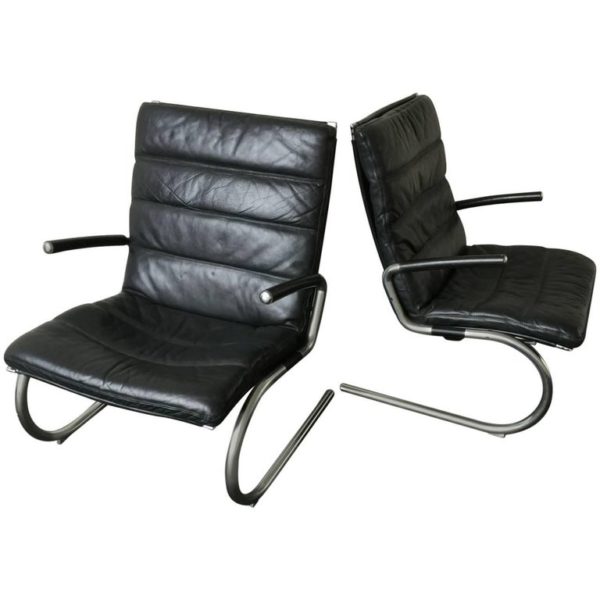 Rare Pair of Lounge Chairs by Jørgen Kastholm
Preben Fabricius & Jørgen Kastholm Hanging Light
Preben Fabricius & Jørgen Kastholm Coffee Table Model Scimitar