Parisi Ico
Domenico "Ico" Parisi(born September 23, 1916, Palermo, Italy–died December 19, 1996, Como, Italy) was an Italian designer and architect. Ico Parisi moved to Como, where his father worked as an art teacher, at a very young age and lived there almost all his life. He first studied construction and graduated in 1934, and that same year he started an apprenticeship with the influential Italian Modern Movement architect Giuseppe Terragni, who was also a prominent representative of the 1920s Rationalist architecture movement. Of particular importance in the development of Parisi's aesthetics was his 1936 participation in a photographic architectural study for the magazine Quadrante of the seminal Italian Modernist building Casa del Fascio, an administrative building in Como designed with a strict rationalist approach by Terragni. The building is considered one of the best examples of International Style architecture and housed the local branch of the National Fascist Party. 
In 1945, Ico Parisi organized the first contemporary furniture exhibitions in Como, and in 1947 he married Luisa Aiani, a former student of Gio Ponti at the Politecnico di Milano, with whom he established the design studio La Ruota in 1948 collaborating often on design and architectural projects. In 1949, the couple moved to Lausanne, Switzerland, where Ico studied architecture from 1949 until 1952 at the Institute Atheneum under Alberto Sartoris. Parisi defined himself as a Renaissance artist, who was interested in all forms of art. He did not want to be labeled as only an architect, industrial or furniture designer, painter, photographer, or installation artist, even though he pursued all these activities during his more than 50 years of creative life—both independently and with his wife, Luisa. Their studio La Ruota was a kernel of innovation and a meeting place for collaborations among established artists and designers of the day.
Between 1948 and 1950, Ico Parisi devoted himself to the study of furnishing elements and furniture design, and in 1951, he started establishing friendships and collaborations with artists, designers, and architects such as Lucio Fontana, Francesco Somaini, Bruno Munari, Mario Radice, Fausto Melotti, and Gio Ponti. These relationships deeply influenced his approach to architecture and furniture design and are an example of Ico Parisi's desire to integrate into his work a synthesis of the arts.
By the 1950s, Parisi had become one of the most influential Italian furniture designers, with a unique Modern aesthetic that uses soft woods often shaped in wide undulating curves, with metal slats and boldly colored upholstery. In 1954, Ico Parisi, in collaboration with Silvio Longhi and Luigi Antonietti, won the gold award in the X Triennale di Milano (Milan Triennial) designing the Living Room Pavilion (Padiglione di soggiorno). In 1956, he became a member of the Association for Industrial Design (ADI) (Associazione per il Disegno Industriale). During his career, Ico Parisi collaborated not only with Longhi but also with many of the other important manufacturers of the time, including Singer & Sons, Altamira, M.I.M., Cassina, and Cappellini.
Among the architectural projects that better represent Ico Parisi's aesthetic approach, composition, and the integration of art and architecture, are Casa Carcano in Maslianico (1949), in which he also involved painter Mario Radice and ceramicist and artist Fausto Melotti; Casa Notari at Fino Mornasco (1950), also in collaboration with Mario Radice; the four Cuomo houses built during the early 1950s: Casa Bini, Casa Zucchi, Casa Bertacchi, and Casa Boligiana, where Parisi integrates architecture, design, and fine art built around prewar architectural rationalism; the Chamber of Commerce, Industry and Agriculture in Sondrio (1953); Studio and Casa Parisi in Como (1958), in which he incorporated mosaic floors designed by Lucio Fontana and included many decorative objects by Somaini and Munari; and Casa Orlandi in Erba (1966). In 1968, Ico Parisi designed the Human Container (Contenitori Umani), a vertical structure with the silhouette of a reclining body, a project that may be mislabeled as an industrial design or furniture enquire but is really the result of Parisi's research of living spaces.
Ico Parisi 'Lord' Settee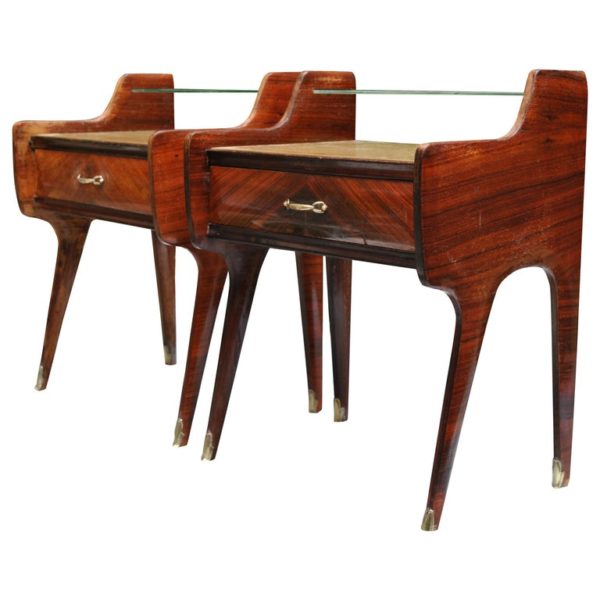 Ico Parisi Midcentury Italian Nighstands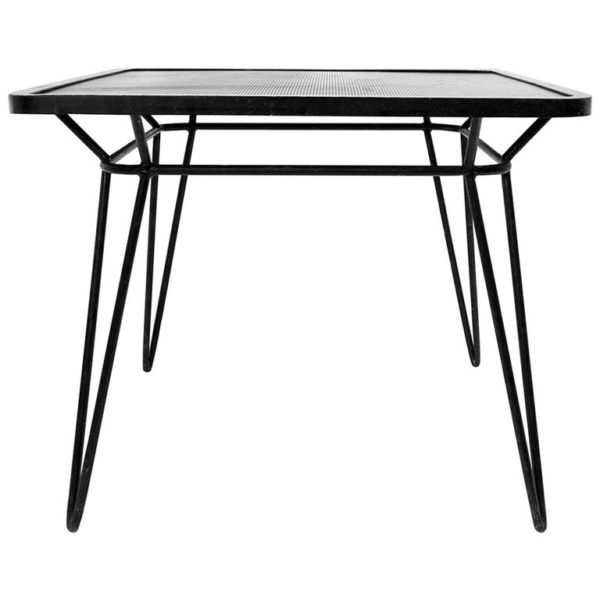 Wrought Iron Square Table by Ico Parisi