D'Urbino Donato
Born in 1935, Donato D'Urbino studied at the "Politico di Milano" University until 1966, when he opened his agency with Gionatan De Pas and Paolo Lomazzi. Their design agency was quickly successful with, for example, the "Blow" chair in 1967, or the so-called "Joe" chair, created in 1970 as a tribute to baseball player Joe DiMaggio.
Their artistic, humorous approach is very different from traditional Italian design. Evidenced by their works "Sciangai" and "Onda". Since the 1970s, they have participated in numerous exhibitions including the exhibition "De Pas, D'Urbino and Lomazzi" in Kyoto in 1987, and in 1992 "A heart with three voices" in Tokyo. A monograph on their work was published in 1989 by Rima Éditrice. They collaborated with big companies like Acerbis, Artemide, BBB Bonacina, Driade, Lumina Italia … On the death of Gionatan De Pas in 1991, Donato D'Urbino and Lommazi continued their collaboration, and from 1999 to 2008, were both professors of "Politecnico di Milano", and since 2005 at the IUAV of Venice.
Extensible trivet Augh!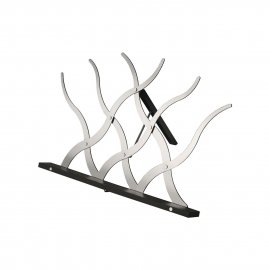 Foldable bookstand Fiamma
Extensible trivet Pescher