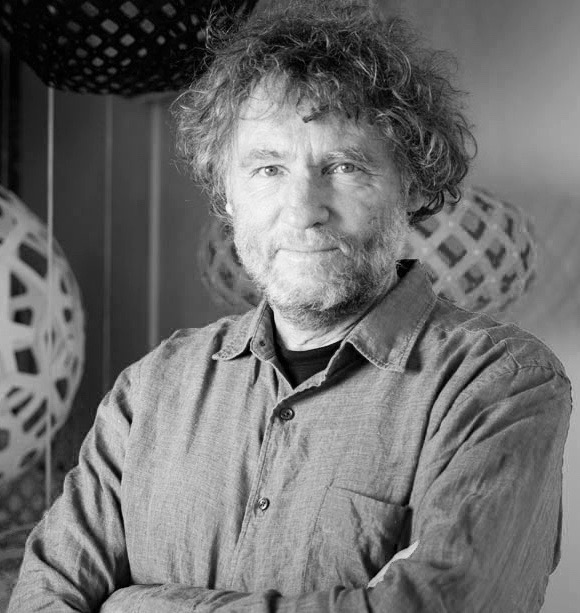 Trubridge David
David Trubridge graduated from Newcastle University in Northern England in 1972 with a degree in Naval Architecture (boat design). He taught himself furniture making while working part-time as a forester on a private estate. He went on to develop his own designs which were exhibited around Britain. Many commissions followed, most notably from the Victoria and Albert Museum, St Mary's Cathedral Edinburgh and the Shipley Gallery Newcastle.
During this time he married Linda, a Fine Arts graduate, and they had two sons, Sam and Billy. In 1981 they sold everything they had, bought the yacht 'Hornpipe' and set out on an open ended adventure around the world. For five years they sailed through the Caribbean and Pacific, stopping to work for a while in the Virgin Islands and Tahiti. David made whole house lots of furniture for expatriots on Tortola and Moorea.
They arrived in New Zealand in late 1985 basing themselves in the Bay of Islands from where they continued to sail on 'Hornpipe'. David started to make furniture influenced by their Pacific travels. A series of chairs were made like outrigger canoes : light flexible structures fastened with string lashings held graceful canoe forms as seats. Canoe Chair is in the entrance foyer of the New Zealand embassy in Tokyo.
When Sam and Billy entered High School they sold 'Hornpipe' and moved to Hawkes Bay. David was Artist-in-Residence at Hawkes Bay Polytechnic (now EIT). He developed a series of works derived from the East Coast landscape and its fractured friable rocks. They built a house in Havelock North, which David designed. This led on to further architectural commissions.
In 1999 David curated a national exhibition called 'Furniture in Context' for the Hawkes Bay Cultural Trust, which later travelled to the Dowse Art Museum. For it he made the first Body Raft 98 designs, which were exhibited with blue-prints of yacht designs.
The second version of the Body Raft was shown at Salone Satellite in the 2001 Milan Furniture Fair, where it was picked up for manufacture by Cappellini. This was the start of a whole new change in David's fortunes, life style and business model. His role has developed from that of a local designer/maker to an internationally known designer running his own design and manufacturing business with sales all over the world.