Refinishing Selig guitar pick table - rails and legs construction?
Hi Everyone
First post here, hoping someone more experienced could help me out. I picked up a selig guitar pick table recently in pretty bad condition, the previous owner started refinishing the top but gave up mid way. Yesterday I completed sanding the top and it looks great, so I decided to continue with the rails and legs so everything would match once i was done.
I assumed the legs and rails would be solid teak which I believe is what the top is (?), but was surprised the rail appears to be strips of laminated wood. You can see the parallel lines in the picture, and it is also much lighter in tone than the top and much much lighter than how it was finished originally.
Does anyone know whats going on here, what wood this is? Did I mess up trying to refinish the rails and legs? Were they stained originally? I've only done one side so far so I could always face that towards the wall but I was really hoping to completely refinish the piece.
thanks!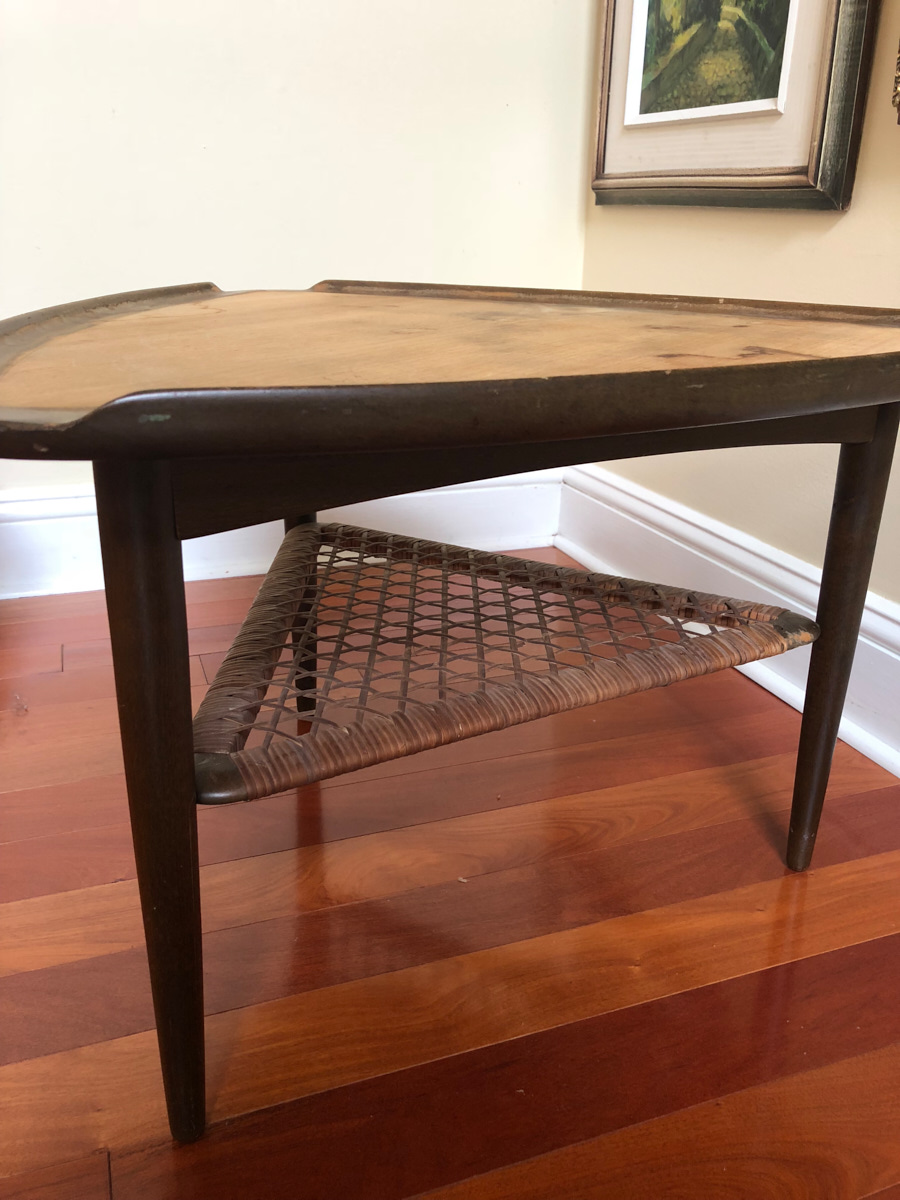 <img class="wpforoimg" src=" http://d1t1u890k7d3ys.cloudfront.net/cdn/farfuture/M8oiPIgBt79SwGF9LBJ
I agree with the Leif. The only way that is ever going to look as it originally did is with tinted lacquer. There are other ways, but they are certainly out of your skill set if you have to ask.
You may have to stain the beech frame first, and then lacquer over that to get them dark enough.
Are the legs walnut, or beech?
the legs are beech i believe, definitely not walnut or any darker wood. I have only sanded one side of one rail, which I stained with minwax dark walnut oil stain. as you can see (on the right) it's quite different in color and you can still see the grain and lines of the beech unlike the original. This is after one coat.
I'm pretty open to trying different things, either restarting and trying a gel stain or continuing with more coats of the oil stain then lacquer. Tinted lacquer..do you mean adding a dye to lacquer, or are there premade products you recommend? I'm not set up for spraying.
was the top also originally done with tinted lacquer? i never saw the original finish but assume they would do it differently than the beech wood.
ultimately i will hide this side of the table when i can.
thanks
Beech has very dense rays that absorb very little oil contrasted with wood that does absorb it, so a tinted oil just accentuates the ray pattern. A tinted lacquer is more like a semi transparent layer over the top with the tint in it so it colors everything evenly.
I retract my idea about a gel stain. It will just make everything worse.
I agree with Leif again.
you are going to find it to be quite the endeavor to match the sanded with the unsanded portions. The tinted lacquer (or toner) has aged/oxidized, which makes it even harder to match. Stains are not going to work, it has to be a toner or tinted film finish. Just be thankful it was not one of the walnut-colored toners that turned green, which were common from this time period.
At this point, I would sand the whole thing down, and finish with numerous coats of oil. If you are intent on protecting the top of the table for heavy use, you can use one or two coats of ARM-R-Seal, no more, or the film builds too much. Only use it on the top, as it is too thin for application on vertical members, and I would wait for a few weeks until the oil is good and cured, before applying the Arm-R-Seal.
Sure, the even walnut tone has its place, but so does naturally finished beech/walnut pieces. When finished naturally in oil, it will slowly darken with age.
i agree with you guys...i think it's crazy they would use the same lacquer finish on the top as they did on the beech considering how much it clouds the natural beauty of the walnut.
i was considering arm r seal due to all the good reviews it gets on woodworking forums... i'm worried because there is very little veneer left so refinishing might not be an option in the future. definitely don't want to heavy of a finish though. never tried pure oil due to long curing times but maybe a danish oil will be best of both worlds.
i'll finish the top in a couple weeks then decide how it looks with the current rails and legs. i don't love the ray pattern of the beech but maybe i'll end up going that way.
thanks again
ARM-R-SEAL is a wiping varnish, which only means that it has far more solvent (thinner) than a formulation that is predominantly resin (all polys, varnishes, alkyds, etc. are some mixture of resin, solvent, and other chemicals)
Danish Oil and Watco Teak Oil are a blend of linseed oil, resin, thinner, and often drying agents. These will cure far faster than straight tung oil, linseed oil, or boiled linseed oil. Also, since they typically have a little resin in them, they will build a film ... eventually. If you have low humidity and higher temperatures (75F or higher), oil will cure pretty quickly. you could do one coat per day for 3-5 days, then 2-3 coats per week for a week, then let it sit for a week or two, it will be a very thin film, that is reasonably protective. The Watco teak oil seems to have the highest resin content of the Watco products, as it seemingly film builds faster than the danish oil. (This is somewhat dependent on the viscosity of your product too; I have cans of oil that are near their end or have been left open , and the solvent has flashed off, making them thicker and more resin-rich. The teak oil will also impart a little darkness to the wood, and is not just for teak. The colored Danish Oils will have a tendency to make the beech blotchy, and will soak differently into the rays, so I would test this out on a sample piece of beech first to see if it is what you want.