Vintage gift ideas for Christmas
Want a little vintage touch for Christmas?
If you want to avoid the classic gifts that can be bought almost everywhere, you can opt for vintage gifts from the 20th century. A century during which many objects, toys and games have been created and have made the happiness of children and adults, especially in the 70s, 80s and 90s! Today, the vintage trend is in full swing and buying products from those years allows you to relive those periods, to plunge into your memories or those of your parents. It is also a way to share memories with the new generation, to reveal a part of our past and to make them discover objects that were essential.  Living in the past can be both a bad thing, and a good thing. If someone you love adores everything old school and retro, you can make their Christmas better than ever this year by picking them up something from this little list of examples of timeless products that they will adore!
GPO Bermuda Record Player

 
The GPO Bermuda is a record player in a classic look for the modern music lover. This Nostalgic record player can be placed on legs, transforming it into a freestanding music player! Bluetooth connectivity and even an aux input, it's a modern take on a classic. With a range of colors, it would make a great gift.
Nostalgia Vintage Kettle Popcorn Maker
Do you know anyone that doesn't like popcorn? Neither do we. With this Nostalgia popcorn maker, you can have fresh, warm and delicious popcorn whenever you desire. With a clear 360 degree viewing chamber, built-in stirring system, and so many more features, it really is incredible.
The GPO 746 phone

 
The GPO 746 with dial is one of the most popular phones ever designed and loved for its simplicity. No bells and whistles, but just plain dialing! In the 70's and 80's this was the phone that was in almost everyone's living room. Now fortunately available again in different retro colors, so your favorite color is always among them! The GPO 746 will make a great addition to any household and is fully functional as a working phone. Ideal for anyone that loves a little bit of vintage.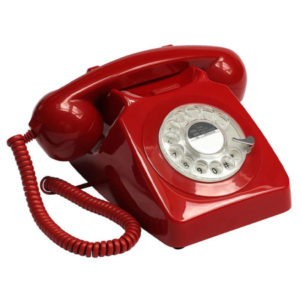 Roll-tup bread bin

 
If you liked the idea of a stainless steel, roll-tup bread bin with a vintage print on the front, this may interest you. It's a generously sized product with room for several loaves, rolls, or bagels, with all the necessary ventilation holes in the back to keep things nice and fresh. Outside, light yellow and mint green finish give it a retro-look that would blend in perfectly in a kitchen that's more 70s throwback than traditional farmhouse. Meanwhile, the French-themed print adds a certain charm that many fans of vintage style will find hard to resist.
Halley Retro 9.5″ Wall Clock
This beautiful Candy Apple Red wall clock is perfect for a kitchen, living room, office, classroom, school, diner or any space. The quartz silent movement ensures accurate time and allows you sleep in absolute silence. The 3" deep round plastic frame features the nostalgic classic 50s design and color. Black numbers and vintage hands against a white background make it easy to view from any angle. Your home, your style! Create a space you'll love with this gorgeous blue clock. It will surely bring you joy every hour of every day!
There's something about the holiday season that makes us want to feel a little nostalgic.  Hopefully, these selected items will inspire you to find the perfect gift, with a little touch of vintage for you and your loved ones. Design Addict wishes you all a Merry Christmas and a happy Holliday.