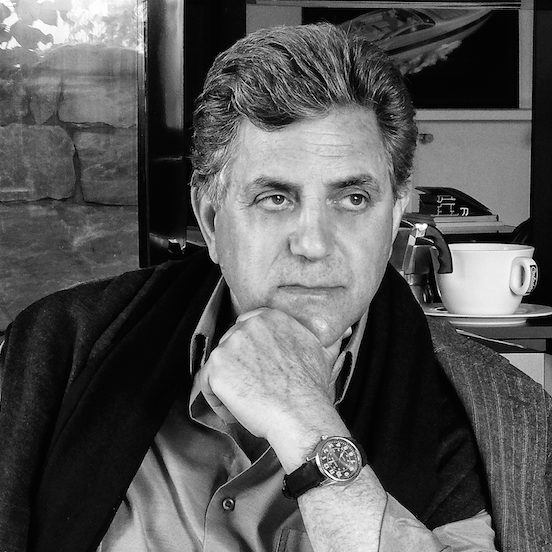 Spagnolo Pino
Pino Spagnolo was born on July 19, 1948 in Carmiano, a village in the district of Lecce.
 Since his early childhood he has shown great interest in sketching, modelling, shapes and colours searching: interests that still stir up his profession and his utter love for architecture and design.
Once full‐aged he moved to Turin, where, in 1966, he started collaborating with graphic and design studios and with important advertising agencies. 
At the same time he attended the "Politecnico" of Turin where he got his degree certificate in Graphic Science and Arts. In 1974, at the same University, he got his final degree in Architecture and he built up the so called Sigma Studio because of his deep interest in creating and developing innovative products following technological evolution and the raising ergonomics, design and economy requirements, according to the current market demand.
Ever since 1978 Sigma Studio has grown up and has become Sigma Design: a studio capable to follow up its clients step by step during the product development: from the very first idea‐sketch to product planning, engineering, processing and marketing. Pino Spagnolo's professional, commercial and cultural challenge is just this one: to fully devote himself to follow up every step and process of Industrial Design in order to be able to offer to his client a complete product from the initial idea to the packaging itself.
Starting from this long and successful experience, in 1990 he has started up the Pino Spagnolo Design which is today an outstanding design studio and an established reality which, following up its philosophy of a step by step care of the product development, can offer to its clients an outstanding service. It carefully follows every delicate product processing including model making and mould production out of any material. 
Pino Spagnolo's passion and skill for objects and their shapes, for material and its sensorial feature comes out in the outstanding hand making ability of his model making and technical laboratories, in his never abstract creativity with which he really loves playing.
Pino Spagnolo's interests range over all the fields of knowledge: from car design to nautical design, industrial and furniture design, interior and exterior architecture. 
His creations are very different but they all share an extreme style research for clean and round shaped lines, for simple and elegant material and a special care for every ergonomic detail. 
This is why important companies like Meliconi, Biesse, Lagostina, Zepter, Simac, Bialetti, Electrolux, Parmigiano Reggiano, Imetec, Lavorwash, Givi, Faema, Polti, Ariete, Inoxpran, Bimar, Imperia, Babyliss, Cuisinart, Conair, Saeco, Alfamerine, Pircher Garden and many others have chosen Pino Spagnolo's Design.
Some of his works are shown at the MoMa of New York and at the Victoria and Albert Museum of London. Pino Spagnolo, together with his working team, has obtained a lot of national and international rewards