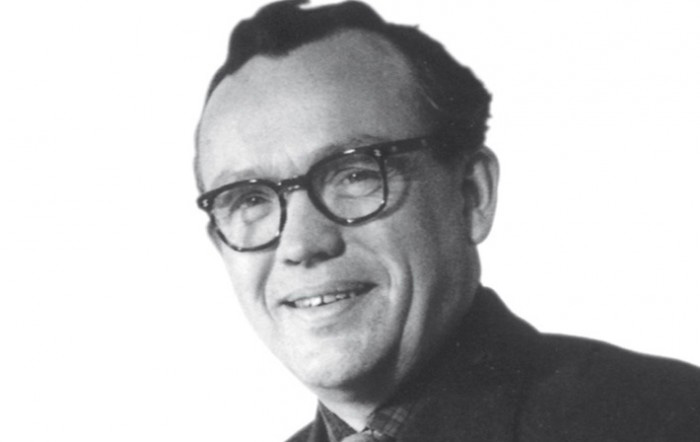 Juhl Finn
Finn Juhl was born on 30 January 1912 to an authoritarian father who was a textile wholesaler representing several English, Scottish and Swiss textile manufacturers in Denmark, and a mother who died shortly after he was born. He was admitted to the Architecture School at the Royal Danish Academy of Fine Arts where from 1930 to 1934. After graduating, Juhl worked for ten years at Vilhelm Lauritzen's architectural firm, where he had also apprenticed as a student.
In 1945 he left Vilhelm Lauritzen's company and set up his own design practice, in Nyhavn in Copenhagen, specializing in interior and furniture design. However, his work in furniture design began earlier than that.
Juhl made his debut in 1937 when he commenced a collaboration with cabinetmaker Niels Vodder which would continue until 1959 and exhibited at the Cabinetmakers' Guild Exhibitions, the 11th of its kind. Therefore, his early chairs were originally produced in small numbers, eighty at most, because the Guild-shows emphasized the work of the artisan over the burgeoning industry of mass production. However, they were almost all reissued later in his career.
The Guild Exhibitions were an important venue for the young designers who sought to renew Danish design, turning their backs on the traditional historicist styles, heavy and with ornaments and plush, instead creating modern furniture which fitted the new trends in architecture. The projects were highly controversial and Juhl's first work met much criticism. His Pelican chair, designed in 1939 and first produced in 1940, was described as a "tired walrus" and "aesthetics in the worst possible sense of the word". In spite of the initial criticism, Juhl's work began to influence the style of homes abroad throughout the 40s. In Denmark, however, his popularity did not reach that of his peers, Børge Mogensen, and Hans Wegner, who were less radical in their designs and relied more on Kaare Klint, leader of the furniture school at the Academy and the ancestor of modern Danish furniture design.
In 1948 Edgar Kaufmann, Jr., leader of the Department for Industrial Design at Merchandise Mart in New York, toured Scandinavia. He intentionally did not visit only the big Scandinavian exhibitions, but being impressed by Juhl's work he presented it in a large article in the Interiors magazine. In 1951 he participated in the Good Design exhibition in Chicago. In connection with the show, he was quoted in Interiors for stating that "One cannot create happiness with beautiful objects, but one can spoil quite a lot of happiness with bad ones". The work he did for them—24 pieces including chairs, tables, storage units, sideboards, and desks—represented his first successful marriage of modern mass production to his traditionally high craft standards.
At the Milan Triennale in the 50s, he won a total of five gold medals, further adding to his international reputation. During this decade he continued to design more specifically for the mass market that had been the case in the 40s. He died on 17 May 1989.