Gismondi Ernesto
Ernesto Gismondi was born on December 25, 1931, in San Remo. In 1957 he graduated from the Milano Politecnico in Aerospace Engineering. In 1959 he graduated at the Technical University in Rome from a study of rocket technology.
Since the beginning of the 1960s, he plans and produces lighting solutions. Together with the designer Sergio Mazza, he founded the studio Artemide S.a.s, from which the Artemide group developed. He established himself as an international designer and, as one of the founders, was involved in the avant-garde movement "Memphis". It started a fundamental development in the design sector in Italy and worldwide.
Under his leadership, the market share of the Artemide Group has grown steadily over the years. It has become internationally known and one of the most important companies in the lighting design sector.
From 1964 to 1984 he was a Privatdozent for rocketry at the Politecnico. He was vice-president of ADI (Federation of Industrial Design) and held various posts: in the Federation of Industrialists of Lombardy (Assolombarda), in the Federmeccanica, Confindustria, the Autonomous Exhibition Agency of Milan and the Ministry of Universities and Research. In addition, he was appointed by the Ministry of Public Education as a member of the Scientific and Scientific Committee of the I.S.I.A. (School of Art / Industrial Design) in Florence. He was a member of the Conciliation Committee of COSMIT (Organizing Committee of the Milan Furniture Fair) and of CNEL (appointed by the Office of the President of the Republic). He has participated in and guided design and design workshops and energy saving lighting techniques in Italy and abroad.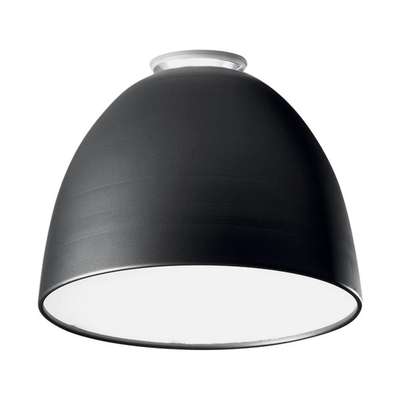 Artemide Nur 150W E26 or A19 Ceiling Light in Anthracite Grey
Artemide Miconos E26 Pendant Light in Chrome by Ernesto Gismondi